Diy house
Ombre Pendant Lampshade - Introduction - MarthaStewart.com. Make DIY wall art with office supplies. Even the artistically challenged can make modern, graphic artwork using office supplies.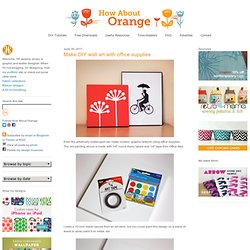 The red painting above is made with 3/4" round Avery labels and 1/4" tape from Office Max. I used a 10-inch blank canvas from an art store, but you could paint this design on a piece of wood or spray paint it on metal, too. If using a canvas, I'd suggest brushing a coat of Mod Podge or acrylic gel medium on first; it will smooth out the rough surface a bit so the paint will be less likely to bleed underneath the tape. When the surface is ready, arrange pieces of tape and stickers to form abstract plant shapes.
Burnish each piece with your thumbnail to make certain it's stuck down really well. Faceted Pendant Lights – The Large Drum Shade. So my large faceted sphere light has been attracting a lot of attention recently, and one reader asked how much light it cast and if they could use it to light a room.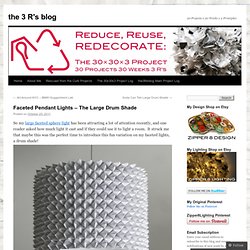 It struck me that maybe this was the perfect time to introduce this fun variation on my faceted lights, a drum shade! One thing I really love about the drum shade concept, is that no matter what you cover the shade with and how much light it might obstruct, you are still going to get plenty of light pouring out the top and the bottom of the fixture which can really light a room nicely.
It works really well over a table or another space perfect for spot lighting, but it also bounces a ton of light off of a white ceiling which can really help spread the light around an entire room. For this shade I once again went back to my trusty Ikea Lobbo shade to use as a base, and then I made a piece of what you could call 'fortune teller fabric.' Diy wednesdays: knot trivet. Last month i bought lauren a set of "the family creative workshop" books for her birthday. we've been having a blast learning all sorts of new things as we make our way through the incredible variety of projects collected in the volumes. one section we were particularly excited to explore was all about knots, which we've long admired both for their usefulness and their beauty. this project is based on a "carrick bend" and is great for creating trivets and placemats, but you could just as easily hang it on your wall to be admired for its decorative charm. have fun!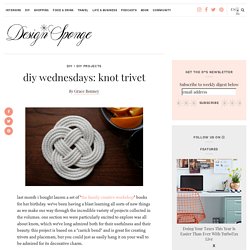 Derek & lauren CLICK HERE for the full project after the jump! Felt Ball Garland for Christmas. I meant to make a felt ball garland last Christmas but it seems lots of other folks had the same idea, because by the time I got around to ordering my supplies, they were super back-ordered so they ended up coming after Christmas.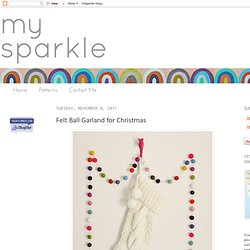 Which is perfect because I often buy things for Holidays and don't get around to making them until the next year anyway. So here it is next year... and since I already had all the supplies, I've made it! And though I haven't actually started decorating yet (though I have picked up a few festive things from Ikea already), I thought I'd share it in case you'd like to make one too, you'll have time to do it this year! Making a garland is easy as pie (can you thread a needle?). How to Make a 3d Paper Star. I was in need of a star to top a rolled paper Christmas tree I am working on, so to be all matchy matchy, I made it out of paper.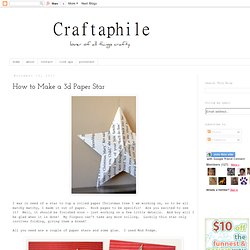 Book pages to be specific! Are you excited to see it? Well, it should be finished soon - just working on a few little details. And boy will I be glad when it is done! My fingers can't take any more rolling. Galaxy of origami stars. When my 5 yo goddaughter and I meet up, we love to hand each other our little handmade somethings.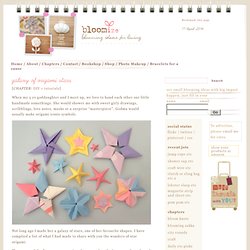 She would shower me with sweet girly drawings, scribblings, love notes, masks or a surprise "masterpiece". Godma would usually make origami iconic symbols. Denim Sunburst Textile Art. DIY: Chalkboard Mug. December 14th, 2011 Naturally when I discovered porcelain chalkboard paint I had to grab some.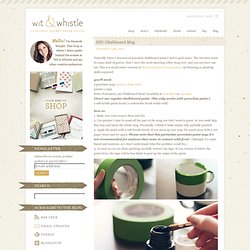 The inventor must be some kind of genius. How to Make a Paper Crane - Origami. Inspiration: Origami Cranes | Gift Ideas for poor creative souls (6) You know how it goes, a friend calls you and invites you to dinner at the last minute.
OMG! What gift can you take?! You scrabble around the cupboards trying to find a box of chocolates or a bottle of wine but find that most of the chocolates have been eaten and the wine has gone. I thought this was a wonderful idea. You could make a few of these and keep them to one side for just such an occasion. Carambola Flowers by Carmen Sprung. If you've been following me on Flickr for a while, you've probably seen this picture of Carambola Flowers before – I folded them ages ago!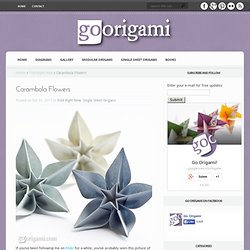 But since my Pro account is going to expire in a few days time (and I don't feel like upgrading it again), a lot of my old photos won't be displayed anymore. So I decided it would be a good idea to share the very best of them on my blog! These absolutely beautiful origami flowers were designed by Carmen Sprung and I just love them! Circle Zip Earbud Pouch Tutorial - Dog Under My Desk. UPDATE: I have completely re-written this tutorial with all new photos and better instructions and it is available as a licensed pattern in my pattern shop.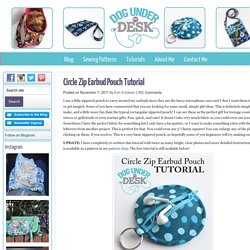 The free tutorial for personal use is still available below! I use a little zippered pouch to carry around my earbuds since they are the fancy microphone ones and I don't want them to break or get tangled. DIY $5 Flower Vase! | So, I finally just changed all the burnt out light bulbs in my house. So now my left with old light bulbs and being the environmentalist I am, I do not want to throw them out. I want to make art with them! So I was looking at different crafts and I came across this vase. I was ready to make it on the spot but sadly I do not have all the materials, so I decided to share it with all of you! Craft Ideas on 3 Levels | Hobbies On A Budget. This original page was a guest post with pictures from another site and has been removed due to copyright issues. If you are interested in information about crayon crafts, glow in the dark jars, universe in a bottle, or other ideas for how to pursue your hobbies, please feel browse Hobbies on a Budget!
I'm glad you're here! Ultimate List of Crayon Crafts Click here for some great Crayon Craft Ideas Glow in the Dark Jars. Little guiding stars. Since the new year has started I've been trying to think of ways to be more kind to my self. Especially when that nasty gremlins try to creep in and stump me. I remembered this origami star video on You Tube and had to get them involved in my plan. I thought it would be fun to make a whole bunch with kind words and "you are…." phrases inside. I made 60 of them, enough to last me the whole year if I open one a week, plus a few extra just in case. Do-it-Yourself DIY String Wedding Lanterns Yarn Chandeliers - StumbleUpon.
Jessica of Wednesday Inc shows us how to make those gorgeous twine chandeliers from the inspiration shoot she shared with us this morning. Using balloons, glue and twine, you can also make these lanterns for your wedding – and then bring it home and use it as your very own mid century lampshade. What you will need are: balloons, glue, yarn, tray for glue, corn starch 1/2 cup of Corn starch, 1/4 cup of Warm water, clear fast drying spray paint, hanging lamp cord or fishing line (depending on your desired final product), and a lighting kit if you're looking for a fully functional lantern. Jessica recommends using a sharpie to mark on the inflated balloon how much room you need to leave for the lighting cord.
How To Make A Stylish Photo Frame For Several Photos.
---