Strange things
We have had numerous mystery lists in the past, but, due to a recent question I asked on the Listverse fanpage on facebook , I decided to put together a new one. This list covers mysteries that are, hopefully, not well known to most of you (but including one previously published item with updated information), and ones that have something creepy about them. I hope you enjoy the list and be sure to mention other creepy mysteries in the comments. In 1930, aged 4, Shanti Deva from Delhi, India, told her parents that she had once lived in a place called Muttra (now known as Mathura), that she had been a mother of three, who died in childbirth, and that her previous name was Ludgi. Because the girl continually related the story, her parents investigated. It turned out there was a village called Muttra, and that a woman named Ludgi had recently died there.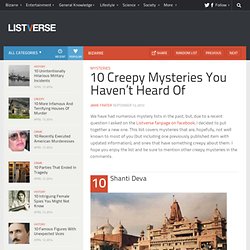 The Egg By: Andy Weir You were on your way home when you died. It was a car accident.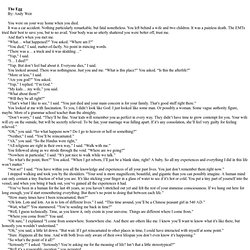 What is it about the bizarre and mysterious that piques our curiosity? It entertains our sense of wonder and excites our imagination, for sure. Luckily for us, history is marked with strange, logic-defying occurrences to amuse us. Here is a list comprised of 10 more unexplainable and interesting phenomenon and incidents that we crave so much. This list is made up of a mixture of two submissions to the Christmas competition which shared some items, so it seemed a good idea to combine the two to give us ten things never before shown on the site. Also note, this list is in the newly created category "Mystery" and all of our lists involving mysteries can now be found under that category in the archives or on the mystery category page.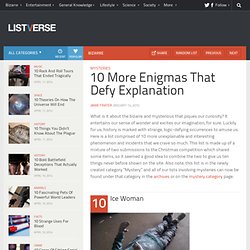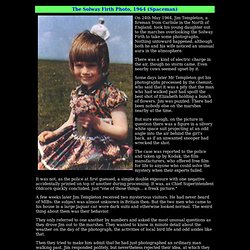 On 24th May 1964, Jim Templeton, a fireman from Carlisle in the North of England, took his young daughter out to the marches overlooking the Solway Firth to take some photographs. Nothing untoward happened, although both he and his wife noticed an unusual aura in the atmosphere. There was a kind of electric charge in the air, though no storm came. Even nearby cows seemed upset by it.
Would You Believe That?
Girl, 3, feet won't stop growing due to mystery condition - Mirror Online
Little Yu Yu is forced to go barefoot as her poverty-stricken family are unable to afford shoes big enough for her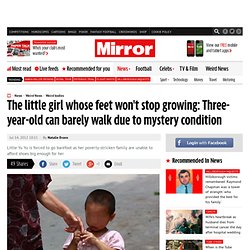 fun fun fun fun - clikr
Coordinates : Location of Dyatlov Pass, Russia The Dyatlov Pass incident resulted in the deaths of nine ski hikers in the northern Ural mountains on the night of February 2, 1959. It happened on the east shoulder of the mountain Kholat Syakhl (Холат-Сяхыл) (a Mansi name, meaning Mountain of the Dead ). The mountain pass where the incident occurred has since been named Dyatlov Pass (Перевал Дятлова) after the group's leader, Igor Dyatlov (Игорь Дятлов). The lack of eyewitnesses has inspired much speculation.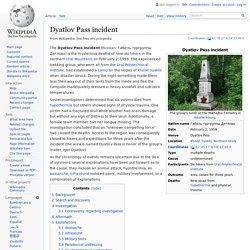 Quit Complaining About Your Job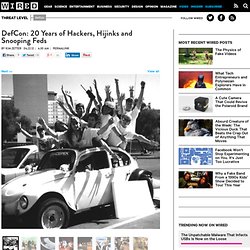 In 1992, former hacker Jeff Moss invited a bunch of hacker friends he'd met primarily on electronic bulletin boards to come to Las Vegas to party in the desert. That party grew into a legendary conference that's become one of the premiere gatherings for hackers from around the world - as well as for undercover intelligence agents who want to spy on them (or recruit them).
DefCon: 20 Years of Hackers, Hijinks and Snooping Feds | Threat Level | Wired.com
We like to feel superior to the people who lived centuries ago, what with their shitty mud huts and curing colds by drilling a hole in their skulls. But we have to give them credit: They left behind some artifacts that have left the smartest of modern scientists scratching their heads. For instance, you have the following enigmas that we believe were created for no other purpose than to fuck with future generations. The Voynich Manuscript The Mystery: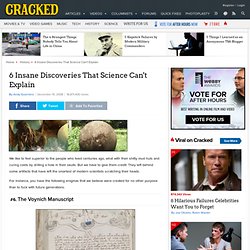 1994's MOST BIZARRE SUICIDE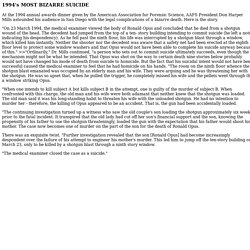 Epic | Smashing Arts
​ Martin Handford's Where's Waldo books have been adored by kids the world over since the absent minded candy striped hitchhiker first made his debut in 1987. That being said, this is not an effort to defame the Waldo (or "Wally" depending on where you're reading this) books because frankly, life would be much less cool without them. Instead, our ambition is to point out some of their most noteworthy peculiarities -- things that we didn't necessarily find mentioned on the scrolls and postcards adorning each map, or on the checklists in the back of each book. No, these are the images and concepts that stayed with us long after we found Waldo, and for probably the wrong reasons.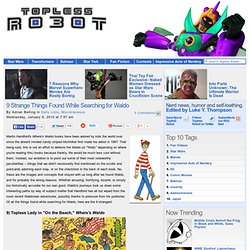 THE WORLD GEOGRAPHY: Top 9 Strange Streets in the World
1. Shortest Street in the World , Ebenezer Place – Scotland