Strange things
10 Creepy Mysteries You Haven't Heard Of. Mysteries We have had numerous mystery lists in the past, but, due to a recent question I asked on the Listverse fanpage on facebook, I decided to put together a new one.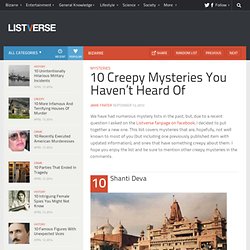 This list covers mysteries that are, hopefully, not well known to most of you (but including one previously published item with updated information), and ones that have something creepy about them. I hope you enjoy the list and be sure to mention other creepy mysteries in the comments. In 1930, aged 4, Shanti Deva from Delhi, India, told her parents that she had once lived in a place called Muttra (now known as Mathura), that she had been a mother of three, who died in childbirth, and that her previous name was Ludgi. Because the girl continually related the story, her parents investigated. Voices. The Egg. The Egg By: Andy Weir You were on your way home when you died.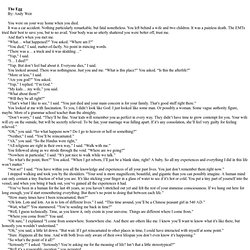 It was a car accident. 10 More Enigmas That Defy Explanation. Mysteries What is it about the bizarre and mysterious that piques our curiosity?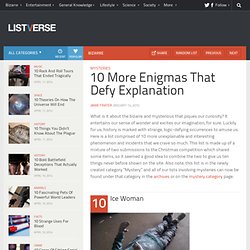 It entertains our sense of wonder and excites our imagination, for sure. Luckily for us, history is marked with strange, logic-defying occurrences to amuse us. Here is a list comprised of 10 more unexplainable and interesting phenomenon and incidents that we crave so much. This list is made up of a mixture of two submissions to the Christmas competition which shared some items, so it seemed a good idea to combine the two to give us ten things never before shown on the site. The Solway Firth Photo, 1964,(Spaceman) UFO Casebook Files.
On 24th May 1964, Jim Templeton, a fireman from Carlisle in the North of England, took his young daughter out to the marches overlooking the Solway Firth to take some photographs.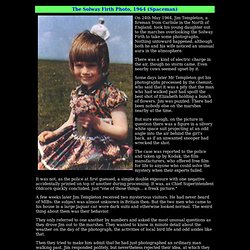 Nothing untoward happened, although both he and his wife noticed an unusual aura in the atmosphere. There was a kind of electric charge in the air, though no storm came. Even nearby cows seemed upset by it. Would You Believe That? Girl, 3, feet won't stop growing due to mystery condition. Little Yu Yu is forced to go barefoot as her poverty-stricken family are unable to afford shoes big enough for her Shuffling along the road, holding tightly onto her grandmother's hand, every step three-year-old Yu Yu takes is painful.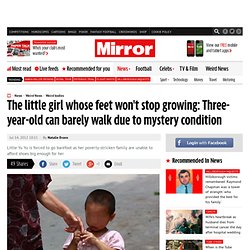 The toddler suffers from an undiagnosed condition which causes her feet to grow at an alarmingly rapid rate. The youngster is forced to walk barefoot as her poverty-stricken family are unable to afford shoes big enough for her. Fun fun fun fun - clikr. The Virtual Numerologist. Did You Know Archive & 15 Fun Facts you probably didn't know. Dyatlov Pass incident. Coordinates: Location of Dyatlov Pass, Russia The Dyatlov Pass incident generally refers to the mysterious deaths of nine ski hikers in the northern Ural mountains on the night of February 2, 1959.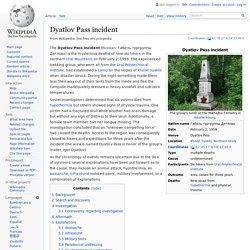 The incident happened on the east shoulder of the mountain Kholat Syakhl (Холат-Сяхыл, a Mansi name, meaning Dead Mountain). The mountain pass where the incident occurred has since been named Dyatlov Pass (Перевал Дятлова) after the group's leader, Igor Dyatlov (Игорь Дятлов). The lack of eyewitnesses has inspired much speculation. Quit Complaining About Your Job. ThreatTrack was established in 1994 as Sunbelt Software Inc. to provide best-of-breed security solutions to the rapidly growing Windows user base.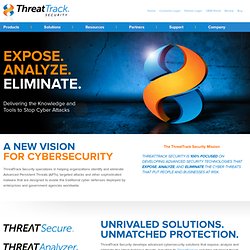 For the next decade, the company created a broad array of security solutions for consumers, businesses and large enterprises, including its popular CounterSpy anti-spyware software, iHateSpam email security product and the CWSandbox (now ThreatAnalyzer) automated malware analysis sandbox. In 2008, the company launched its VIPRE antivirus product line. VIPRE combined anti-malware and anti-spyware into a single, small-footprint antivirus solution designed to provide comprehensive malware protection to users without slowing down their PCs or networks.
Sunbelt Software was acquired by GFI Software Inc., in 2010, becoming the GFI Software Security Business Unit. DefCon: 20 Years of Hackers, Hijinks and Snooping Feds | Threat Level. In 1992, former hacker Jeff Moss invited a bunch of hacker friends he'd met primarily on electronic bulletin boards to come to Las Vegas to party in the desert.
That party grew into a legendary conference that's become one of the premiere gatherings for hackers from around the world - as well as for undercover intelligence agents who want to spy on them (or recruit them). More than 7,000 hackers and security professionals attend annually. Other hacker conferences have tried to copy DefCon's secret sauce throughout the years, but none have been able to match its successful mix of smart talks, organized chaos and hearty parties. Next month, DefCon will celebrate its 20th year, by bringing back some of the original speakers that made year one so special.Hackers on Board Jeff Moss (third from left in second row) packed into a VW with his band of happy hacker friends in Las Vegas during the first year of the DefCon hacker conference. 6 Insane Discoveries That Science Cant Explain. We like to feel superior to the people who lived centuries ago, what with their shitty mud huts and curing colds by drilling a hole in their skulls.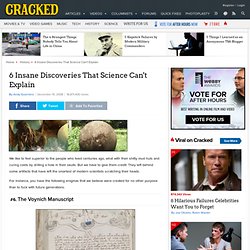 But we have to give them credit: They left behind some artifacts that have left the smartest of modern scientists scratching their heads. For instance, you have the following enigmas that we believe were created for no other purpose than to fuck with future generations. The Voynich Manuscript The Mystery: - StumbleUpon. 1994's MOST BIZARRE SUICIDE At the 1994 annual awards dinner given by the American Association for Forensic Science, AAFS President Don Harper Mills astounded his audience in San Diego with the legal complications of a bizarre death.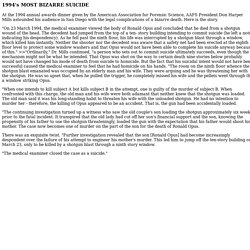 Here is the story. "On 23 March 1994, the medical examiner viewed the body of Ronald Opus and concluded that he died from a shotgun wound of the head. The decedent had jumped from the top of a ten- story building intending to commit suicide (he left a note indicating his despondency). Epic. 9 Strange Things Found While Searching for Waldo. ​Martin Handford's Where's Waldo books have been adored by kids the world over since the absent minded candy striped hitchhiker first made his debut in 1987. That being said, this is not an effort to defame the Waldo (or "Wally" depending on where you're reading this) books because frankly, life would be much less cool without them. Instead, our ambition is to point out some of their most noteworthy peculiarities -- things that we didn't necessarily find mentioned on the scrolls and postcards adorning each map, or on the checklists in the back of each book.
No, these are the images and concepts that stayed with us long after we found Waldo, and for probably the wrong reasons. Top 9 Strange Streets in the World. 1. Shortest Street in the World , Ebenezer Place – Scotland Ebenezer Place, in Wick, Caithness, Scotland, is credited by the Guinness Book of Records as being the world's shortest street at 2.06 m (6 ft 9 in).
In 2006 it surpassed the previous record (5.2 m, 17 ft) set by Elgin Street, Bacup, Lancashire. The street has only one address: the front door of No. 1 Bistro, which is part of Mackays Hotel. The street originated in 1883, when Ebenezer Place was constructed; the owner of the building, a hotel at the time, was instructed to paint a name on the shortest side of the hotel. 10 Of The Strangest Unclaimed Airline Baggage Items Ever Found.
---