Spa
Spas and Spa Resorts Hotels Retreats and Day Spas at Spa Index Guide and... The Luxury Dhigu Resort, Maldives | Luxury Furniture, Property, Travel &... - StumbleUpon. The luxury Dhigu Resort, Maldives Anantara Dhigu Resort & Spa is encircled by mystic lagoons and unspoilt crystal shores, the resort is a heavenly sanctuary on a secluded paradise island, offering barefoot elegance in one of the world's most celebrated tropical havens.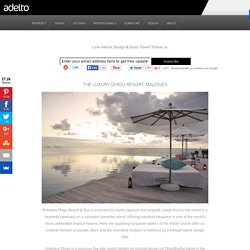 Here the sparkling turquoise waters of the Indian Ocean offer an endless horizon of aquatic allure and the evocative location is matched by a tranquil island design style. Anantara Dhigu is a luxurious five-star resort hidden on tropical terrain on Dhigufinolhu Island in the Maldives' South Male Atoll, a mere 35 minute speedboat journey from the island nation's international airport, or a scenic five minutes by private chartered seaplane. Male-based architect Mohamed Shafeeq from Group X Design Associates and Thailand-based interior design company, Abacus, headed by John Lightbody, have styled the resort's distinctive environment as a creative complement to the natural beauty of the island. Best Spa Treatments—Top Spas on ELLE. 1.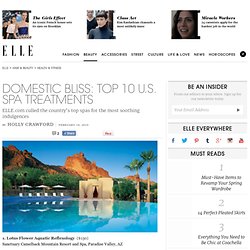 Lotus Flower Aquatic Reflexology ($150) Sanctuary Camelback Mountain Resort and Spa, Paradise Valley, AZ One dip in the Sanctuary Spa's heated outdoor Watsu pool and you'll achieve the ultimate relaxation. As you float weightlessly for an hour, a therapist gently manipulates and stretches your body to release tension and blockages, focusing on reflex points in your hands, feet, and ears. Book an after-dark time slot to enjoy the twinkling desert sky. 2.
---