Books
Fantasy - A Nerd's Guide to Reading
Image of the Day: 32 fictional fantasy world maps in one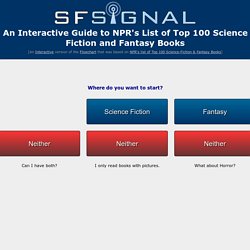 An Interactive Guide to NPRs List of Top 100 Science Fiction and Fantasy Books
Where do you want to start? Do you like Cyberpunk? Are you going to be upset when you don't find Harry Potter?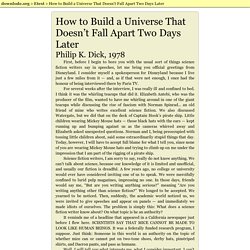 How to Build a Universe That Doesnt Fall Apart Two Days Later
First, before I begin to bore you with the usual sort of things science fiction writers say in speeches, let me bring you official greetings from Disneyland. I consider myself a spokesperson for Disneyland because I live just a few miles from it — and, as if that were not enough, I once had the honour of being interviewed there by Paris TV. For several weeks after the interview, I was really ill and confined to bed. I think it was the whirling teacups that did it.
Customized book side tables
74 Books to Read if You Love the Hunger Games
If you haven't read the Hunger Games you really should! They're pretty awesome. Check them out: If you're already a fan of the Hunger Games by Suzanne Collins... You should add these books to your to be read pile!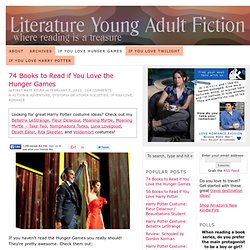 10 Fantasy Novel Series That Could Be Great TV Shows | Screen Rant
- StumbleUpon
- StumbleUpon
Science Fiction - A Nerd's Guide to Reading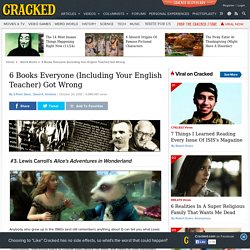 Lewis Carroll's Alice's Adventures in Wonderland Anybody who grew up in the 1960s (and still remembers anything about it) can tell you what Lewis Carroll's classic children's book was really all about: A girl takes a "trip" down the rabbit hole and finds herself in a surreal world where animals start talking to her. After she eats some "mushrooms," everything starts to change sizes before her eyes. She meets an over-stimulated "white rabbit" and a stoned caterpillar smoking a "shitload of drugs." We didn't really need Jefferson Airplane to clarify it; Alice in Wonderland is the Fear and Loathing of fairy tales.
6 Books Everyone (Including Your English Teacher) Got Wrong | Cracked.com
Amazing Fact Generator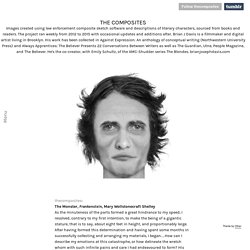 Casting Study: Miami Blues For the first in this series of comparing character descriptions against actors in adaptations, The Composites will look at Miami Blues, the 1984 novel by Charles Willeford and the 1990 film starring Alec Baldwin. Charles Willeford was unique among crime writers. His novels defied the conventions of the genre with naturalistic pacing, droll wit, and a melancholic worldview. During an exile from crime writing, Willeford self-published experimental poetry and memoir, including a book-length account of his hemorrhoidectomy, before returning to the genre with his Hoke Moseley series, the first of which is Miami Blues.
THE COMPOSITES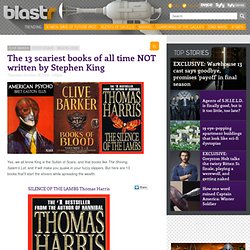 The 13 scariest books of all time NOT written by Stephen King | Blastr - StumbleUpon
Yes, we all know King is the Sultan of Scare, and that books like The Shining, Salem's Lot, and It will make you quake in your fuzzy slippers. But here are 13 books that'll start the shivers while spreading the wealth. SILENCE OF THE LAMBS Thomas Harris This isn't the first time we'd meet the psychopathic Hannibal Lecter—that'd be Red Dragon—but it was the most eerie.
Women's | Out of Print Clothing - StumbleUpon
gift guide for the book lover by Ellie on Etsy
Used, New, and Out of Print Books - We Buy and Sell - Powells Books
Books to Pass Down to Children - iVillage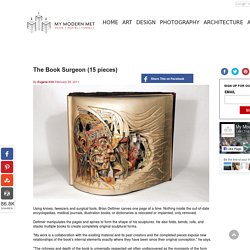 Using knives, tweezers and surgical tools, Brian Dettmer carves one page at a time. Nothing inside the out-of-date encyclopedias, medical journals, illustration books, or dictionaries is relocated or implanted, only removed. Dettmer manipulates the pages and spines to form the shape of his sculptures. He also folds, bends, rolls, and stacks multiple books to create completely original sculptural forms. "My work is a collaboration with the existing material and its past creators and the completed pieces expose new relationships of the book's internal elements exactly where they have been since their original conception," he says.
The Book Surgeon (15 pieces) - My Modern Metropolis - StumbleUpon
Amazing Scenery Carved out of the Books | Funny Images, News and Stories
- StumbleUpon
Tequila Mockingbird
Share Book Recommendations With Your Friends, Join Book Clubs, Answer Trivia - StumbleUpon
setting book lists