Marvel
Crazy Cool VENOM Body Paint!
Avengers director Joss Whedon revealed in a recent interview with MTV that he's excited about director James Gunn 's vision of Guardians of the Galaxy saying, "He has a very twisted take on it, but it all comes from a real love for the material." It was surprising to me when I first heard Marvel was looking to adapt Guardians of the Galaxy for the big screen, but I love the idea! It's different from anything else they're doing and will expand the Marvel movie universe deeper into the darkness of space, and will introduce some very cool and interesting characters. Whedon now has a hand in all the Marvel movies being made, as one of his new titles at the studio is creative advisor. He seems very confident that Guardians of the Galaxy is going to be a great film, and most of his confidence comes from the fact that Gunn is directing the movie. James is what makes me think it will work.
Joss Whedon Says GUARDIANS OF THE GALAXY Will Be Twisted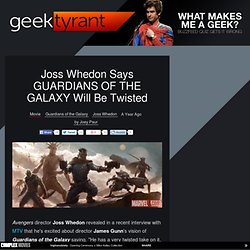 Ultron - Marvel Universe Wiki: The definitive online source for Marvel super hero bios.
Arguably the greatest and certainly the most horrific creation of scientific genius Dr. Henry Pym , Ultron is a criminally insane rogue sentient robot dedicated to conquest and the extermination of humanity. Years ago, inspired by his studies of Professor Gregson Gilbert's synthetic Dragon Man , Pym began experimenting with artificial intelligence.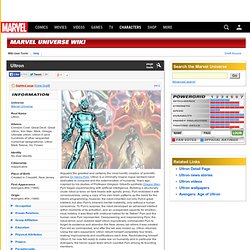 MODOK - Marvel Universe Wiki: The definitive online source for Marvel super hero bios.
Average technician George Tarleton found his fate forever changed thanks to a random selection by his boss, the Scientist Supreme of A.I.M. , who needed a unique, bio-engineered "living computer" in order to plumb the mysteries of the Cosmic Cube . Tarleton was subjected to hideous experiments, mutating his body into a massive-headed being possessing superhuman intelligence and extraordinary psionic powers, and the process drove him mad. Given the code-name MODOC ("Mobile Organism Designed Only for Computing"), Tarleton instead turned on his superiors, slaying them all and declaring himself Scientist Supreme. Moreover, he changed his name to MODOK, with the "K" standing now for "Killing." Knowing only the barest of information, S.H.I.E.L.D. sent its Agent 13 to gather intelligence about A.I.M. and MODOK, but she was captured and Captain America was then sent to the rescue.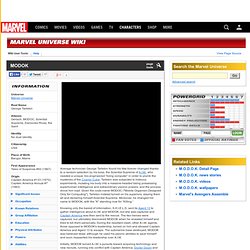 Thanos | Characters
IRON MAN 3 Mark VIII Armor Concept Art
Mystique | Characters
Magneto | Characters
Omega Red | Characters
Cable | Characters
Red Skull | Characters
She-Hulk (Jennifer Walters) | Characters
Daredevil | Characters
Deadpool | Characters
Spider-Man | Characters