Communications
Campaigner Email Marketing Service | Email Marketing Made Easy
Email Newsletters | Email Marketing API Integration | Email Auto
Send welcome emails, drip campaigns and happy birthday messages with our powerful triggered email tool. Create email campaigns that look great on desktop and mobile devices. No coding required.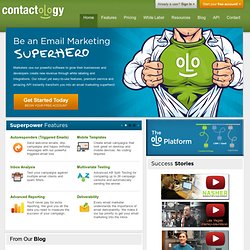 Email Marketing by StreamSend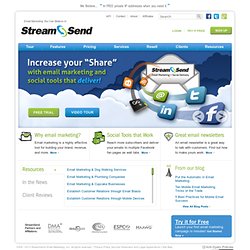 "Hands down, nobody could compete with StreamSend. It was far and away the most cost-effective email marketing solution we found, easy to use with powerful features that make our emailings more successful at a fraction of the cost. Choosing StreamSend from a field of other email service providers was really a no-brainer." - Jason Marrone, e-Commerce Manager, Jelly Belly Candy Co.
Email Marketing Tools – Mobile Marketing – GraphicMail Featuresl
How to create an email newsletter Email marketing is affordable and proven to be the most effective direct marketing tool. It allows you to generate sales leads and helps with your client communication strategy. Create a free account with GraphicMail to benefit from 300 free email marketing templates, an easy to use editor that helps make your email newsletter for bulk emailing purposes look great, including tools which help you analyze the success of your email newsletter campaign and fine tune it to get even more subscribers to open your newsletter and click through your content. GraphicMail has a vast resource centre and live online demos, but for a quick start,why don't you check out these links: Tutorial Videos and Download The ABC of Email Marketing
EasyContact | Easy Email Marketing Services & Solutions
My Events
Commun.it - Community Management for Twitter that Makes a Difference
Pastor Michael
My Events
Voice - Inbox
Home - Windows Live