Math Resources and Portals
CR Algebra Review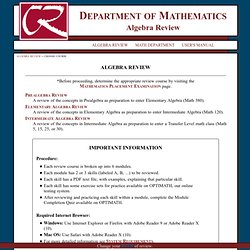 Prealgebra Review A review of the concepts in Prealgebra as preparation to enter Elementary Algebra (Math 380). Elementary Algebra Review A review of the concepts in Elementary Algebra as preparation to enter Intermediate Algebra (Math 120). Intermediate Algebra Review A review of the concepts in Intermediate Algebra as preparation to enter a Transfer Level math class (Math 5, 15, 25, or 30). Important Information Procedure: Each review course is broken up into 6 modules. Each module has 2 or 3 skills (labeled A, B, ...) to be reviewed.
Insight Maker | Free Simulation and Modeling in Your Browser
Algebra Tiles
Math Fortress | College Math Video | Math Video | Equation Sheets | Math Work Sheets | Math Resources | Algebra | Geometry | Calculus | Linear Algebra | Differential Equations | GRE
Project MATHEMATICS!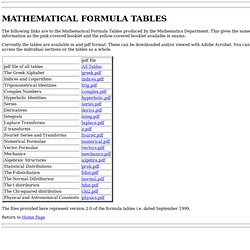 Mathematical Formula Tables
The following links are to the Mathematical Formula Tables produced by the Mathematics Department.
Making Math and Science Connections
Fill-It-In Outline Mathematics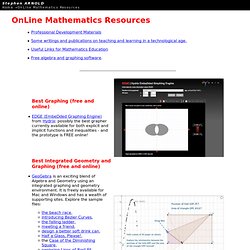 What about free graphing and algebra on your mobile phone?
Free Mathematics Resources OnLine
Authentic Assessment in Mathematics Home Page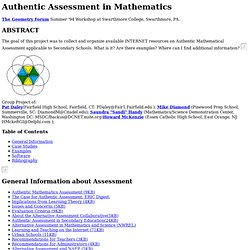 The Geometry Forum Summer '94 Workshop at Swarthmore College, Swarthmore, PA. The goal of this project was to collect and organize available INTERNET resources on Authentic Mathematical Assessment applicable to Secondary Schools. What is it?
MacTutor History of Mathematics
Go to my home page Participate in The Most Pleasing Rectangle Web Poll which recently moved to jimloy.com. "He must be a 'practical' man who can see no poetry in mathematics." - W.
Jim Loy's Mathematics Page