Math Resources and Portals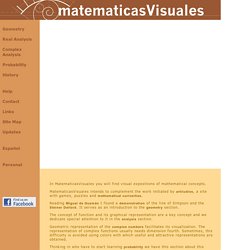 Matematicas Visuales | Home
In MatematicasVisuales you will find visual expositions of mathematical concepts. MatematicasVisuales intends to complement the work initiated by artiludios , a site with games, puzzles and mathematical curiosities . Reading Miguel de Guzmán I found a demonstration of the line of Simpson and the Steiner Deltoid . It serves as an introduction to the geometry section. The concept of function and its graphical representation are a key concept and we dedicate special attention to it in the analysis section. Geometric representation of the complex numbers facilitates its visualization.
CR Algebra Review
Prealgebra Review A review of the concepts in Prealgebra as preparation to enter Elementary Algebra (Math 380). Elementary Algebra Review A review of the concepts in Elementary Algebra as preparation to enter Intermediate Algebra (Math 120). Intermediate Algebra Review A review of the concepts in Intermediate Algebra as preparation to enter a Transfer Level math class (Math 5, 15, 25, or 30). Important Information Procedure: Each review course is broken up into 6 modules. Each module has 2 or 3 skills (labeled A, B, ...) to be reviewed.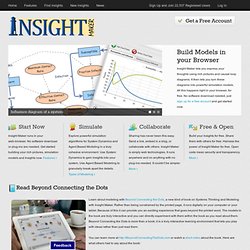 Insight Maker runs in your web-browser. No software download or plug-ins are needed. Get started building your rich pictures, simulation models and Insights now. Features Explore powerful simulation algorithms for System Dynamics and Agent Based Modeling in a truly cohesive environment.
Algebra Tiles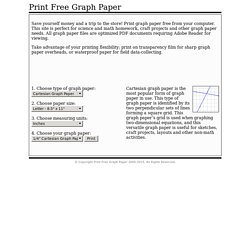 Save yourself money and a trip to the store! Print graph paper free from your computer. This site is perfect for science and math homework, craft projects and other graph paper needs.
Math Fortress | College Math Video | Math Video | Equation Sheets | Math Work Sheets | Math Resources | Algebra | Geometry | Calculus | Linear Algebra | Differential Equations | GRE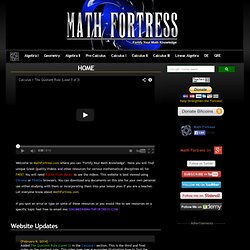 Welcome to MathFortress.com where you can "Fortify Your Math Knowledge". Here you will find unique Great Quality Videos and other resources for various mathematical disciplines all for FREE! You will need Adobe Flash Player to see the videos. This website is best viewed using Chrome or Firefox browsers.
Project MATHEMATICS!
DVDs available in English & Spanish Project description Project MATHEMATICS! videos explore basic topics in high school mathematics in ways that cannot be done at the chalkboard or in a textbook.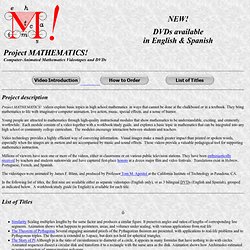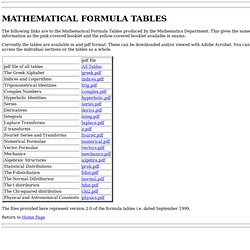 Mathematical Formula Tables
The following links are to the Mathematical Formula Tables produced by the Mathematics Department. This gives the same information as the pink-covered booklet and the yellow-covered booklet available in exams. Currently the tables are available in and pdf format. These can be downloaded and/or viewed with Adobe Acrobat. You can access the individual sections or the tables as a whole.
Welcome to AlgebraLAB, an online learning environment that focuses on topics and skills from high school mathematics that students must be able to draw upon in their introductory science courses. Since math is the language of science, science courses are often where students first realize "Oh, so this is why we learned that in algebra …" In many cases students often discover that it is one or more math skills that initially block their ability to understand and internalize new science concepts. In science classes students must learn how to recognize when particular mathematics procedures are applicable so that they can select from their "mathematics toolboxes" the correct methods needed to solve new problems.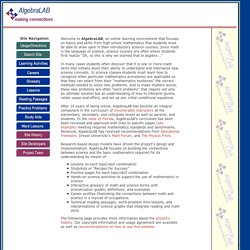 Making Math and Science Connections
Fill-It-In Outline Mathematics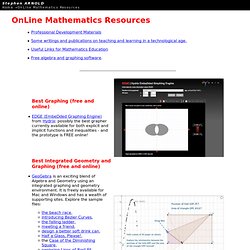 What about free graphing and algebra on your mobile phone? XCalc is a free Java Applet which offers a graphing calculator for any mobile phone which runs Java (which is nearly all of them now!) Think about the possibilities for classes that do not yet have access to graphing calculators! While limited (it does not yet have a trace facility) it DOES offer 2d and 3d graphing which is quite fast and powerful.
Free Mathematics Resources OnLine
Authentic Assessment in Mathematics Home Page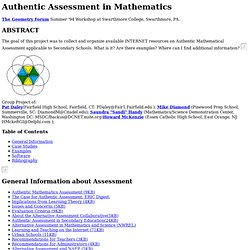 The Geometry Forum Summer '94 Workshop at Swarthmore College, Swarthmore, PA. The goal of this project was to collect and organize available INTERNET resources on Authentic Mathematical Assessment applicable to Secondary Schools. What is it?
MacTutor History of Mathematics
Go to my home page Participate in The Most Pleasing Rectangle Web Poll which recently moved to jimloy.com. "He must be a 'practical' man who can see no poetry in mathematics." - W.
Jim Loy's Mathematics Page