crafts
Get flash to fully experience Pearltrees
So, I finally just changed all the burnt out light bulbs in my house. So now my left with old light bulbs and being the environmentalist I am, I do not want to throw them out. I want to make art with them!
Since the new year has started I've been trying to think of ways to be more kind to my self.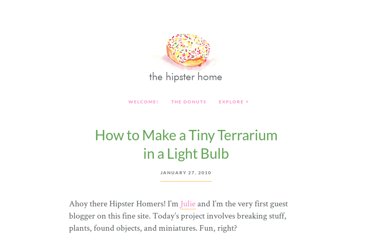 Ahoy there Hipster Homers! I'm Julie and I'm the very first guest blogger on this fine site. Today's project involves breaking stuff, plants, found objects, and miniatures.