Security
Google is the best answer to any of your search queries 24x7. But do you know Google has a hidden secret world, which can be opened by typing-in a few codes in the Google Search. These Google hacks expose the security loop holes within websites, and much more. Just enter a few secret codes in Google's search box, and there-after you can have access to security cameras around the world, access to personal & confidential documents or maybe even download in-numerable free stuff from the internet. Take a jump to see how it's done. # Hack security camera s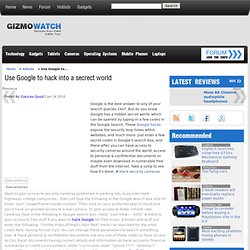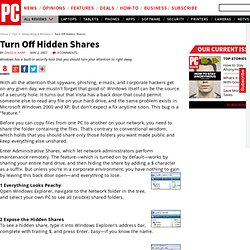 With all the attention that spyware, phishing, e-mails, and corporate hackers get on any given day, we mustn't forget that good ol' Windows itself can be the source of a security hole. It turns out that Vista has a back door that could permit someone else to read any file on your hard drive, and the same problem exists in Microsoft Windows 2000 and XP. But don't expect a fix anytime soon. This bug is a "feature." Before you can copy files from one PC to another on your network, you need to share the folder containing the files.
Turn Off Hidden Shares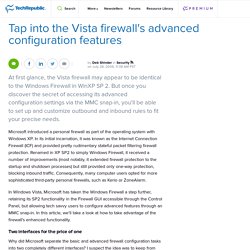 The TechRepublic CIO50 list celebrates the most influential and innovative tech chiefs, voted by their fellow CIOs Microsoft introduced a personal firewall as part of the operating system with Windows XP. In its initial incarnation, it was known as the Internet Connection Firewall (ICF) and provided pretty rudimentary stateful packet filtering firewall protection. Renamed in XP SP2 to simply Windows Firewall, it received a number of improvements (most notably, it extended firewall protection to the startup and shutdown processes) but still provided only one-way protection, blocking inbound traffic.
Tap into the Vista firewall's advanced configuration features
How to surf anonymously without a trace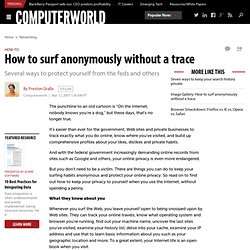 March 12, 2007 12:00 PM ET Computerworld - The punchline to an old cartoon is "On the Internet, nobody knows you're a dog," but these days, that's no longer true. It's easier than ever for the government, Web sites and private businesses to track exactly what you do online, know where you've visited, and build up comprehensive profiles about your likes, dislikes and private habits. And with the federal government increasingly demanding online records from sites such as Google and others, your online privacy is even more endangered. But you don't need to be a victim. There are things you can do to keep your surfing habits anonymous and protect your online privacy.
SECURITY OVERFLOW
'I'm incredibly impressed that one person could produce such a thorough coverage. Moreover, you make the stuff easy and enjoyable to read. I find it just as entertaining — and far more useful — than novels (and my normal science fiction). When I first got it in the mail, I said to myself "I'm never going to read all of that." But once I started reading I just kept going and going.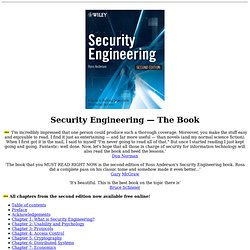 Security and Hacking Documentation
Default Password List
How To Attack a WEP/WPA Protected Wireless Network (eng) - UIC
Hacking tools are not black magic tricks
What's My IP: 198.27.80.99 (page loaded) date and time: Monday, 01-Apr-2013 07:58:53 GMT browser & OS: Mozilla/5.0 (X11; Ubuntu; Linux x86_64; rv:17.0) Gecko/20100101 Firefox/17.0 JavaScript status: ENABLED (lower security - CLICK HERE to find out stuff JavaScript knows about you) <span> Disabled (higher security) </span> Too often it seems so called experts on FOX and other infotainment network outlets stereotype "hackers" and sensationalize "hacking," so my goal with this part of my site is to put the risks into prospective and show people a few simple tricks of the trade.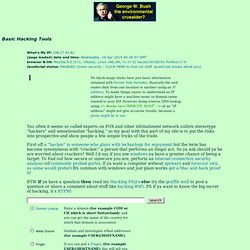 Our list of over 115 free tools for digital forensics analysis is updated several times a year. Please note that we provide no support or warranties for the use of listed software, and that it is your responsibility to verify licensing agreements. Inclusion on the list does not equate to a recommendation; it is up to the end user to determine a tool's suitability.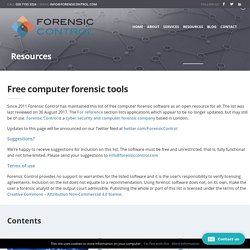 Default password list
Default Passwords | CIRT.net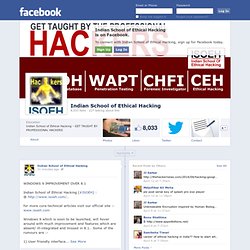 You are here: Home / Featured / Breaking In Windows XP Password Posted by Saurabh on July 25, 2008 · 116 Comments This post covers most of the ways of cracking windows XP users' password. Method 1: If you have an administrator account (Not Guest)
Breaking In Windows XP Password | Hackers Library
ASTALAVISTA.BOX.SK