Hardware and Software
48 best free software downloads from Microsoft. Everyone knows Microsoft for its Windows OS and Office productivity suite.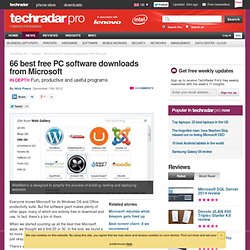 But the software giant makes plenty of other apps, many of which are entirely free to download and use. In fact, there's a ton of them. When we started counting up all the best free Microsoft apps, we thought we'd find 20 or 30. In the end, we found a lot more. How to Boost Your BitTorrent Speed and Privacy. First off, why would you suggest that one should stop seeding after a certain point?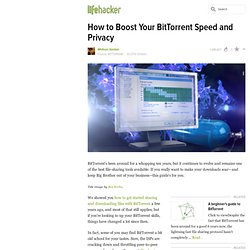 Isn't the whole of BT based on people continually sharing. If it's all about share ratio for you, you're doing it wrong. Gizmos Freeware Reviews. YouTorrent.com (BETA) - Your Torrents. Our Legal Downloads. Ultimate Guide for Speeding Up your Windows 7. Windows 7 is, finally, a great operating system.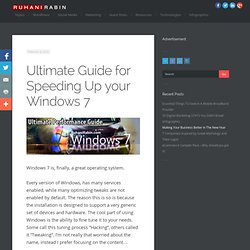 Advertisement Every version of Windows, has many services enabled, while many optimizing tweaks are not enabled by default. The reason this is so is because the installation is designed to support a very generic set of devices and hardware. The cool part of using Windows is the ability to fine tune it to your needs. TweakHound. Tweaks.
Tom's Hardware: Hardware News, Tests and Reviews. The 50 Best Registry Hacks that Make Windows Better. We're big fans of hacking the Windows Registry around here, and we've got one of the biggest collections of registry hacks you'll find.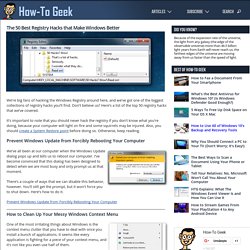 Don't believe us? Here's a list of the top 50 registry hacks that we've covered. It's important to note that you should never hack the registry if you don't know what you're doing, because your computer will light on fire and some squirrels may be injured. Also, you should create a System Restore point before doing so. Tech Support Help and Computer Hardware Expert Forums. Networking & Server software / hardware for Windows 2003, 2000, NT & Linux - ServerFiles.com. Server Fault. Software | Populair.eu. PCMech - Computers and Technology for Normal People.
Roy Longbottom's PC Benchmark Collection - Free PC Benchmarks. Roy Longbottom (born 1935) joined an organisation that later became the Central Computer and Telecommunications Agency (CCTA), the British Government computer purchasing department, in 1960.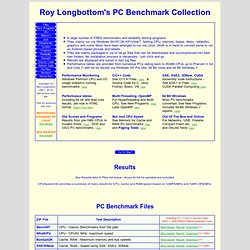 He was initially a technical consultant on computer reliability. This was followed by a period of responsibility for planning and supervising acceptance trials at departments and universities, then by added responsibility for evaluating new scientific computers (including the first supercomputers). Many of the projects included benchmarks. He then moved on to become a full time Performance Engineer/Consultant with work including sizing of systems, benchmarks and trouble shooting for commercial applications. These included huge mainframe based on-line systems, numerous UNIX configurations and, later, PC networks. Overclockers: The Performance Computing Community for Overclocking Hardware and How to Overclock Information. Oldversions of Windows, Mac, Linux Software & Abandonware Games.
Ninite - Install or Update Multiple Apps at Once. Portable | nedwolf.com. The best completely Free Windows Software - Freeware.
No shareware, no nagware, no adware. Reviewed continuously, Categorized conveniently. Always up-to-date. FreewareInternetUtilitiesOnlinePortableOfficeCloudSecurityGraphicsMultimediaProductivityWeb DeveloperEducationalInformationalFile TransferCollaborationChrome. MajorGeeks.com - Download Freeware and Shareware Computer Utilities. IsoHunt › the BitTorrent & P2P search engine.
FreewarePlanet :: Home page. Latest Technology News | Tech Blog.
---