Sharepoint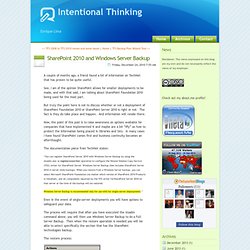 A couple of months ago, a friend found a bit of information on TechNet that has proven to be quite useful. See, I am of the opinion SharePoint allows for smaller deployments to be made, and with that said, I am talking about SharePoint Foundation 2010 being used for the most part.
SharePoint 2010 and Windows Server Backup
SharePoint 2010: Data View Web Part Series - Laura Rogers @WonderLaura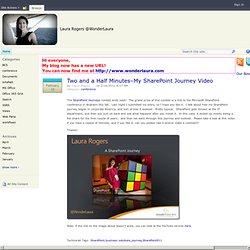 View in Web Browser /blogs/laura/_layouts/VisioWebAccess/VisioWebAccess.aspx?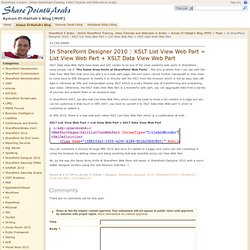 XSLT Data View Web Parts have been and still remain to be one of the most powerful web parts in SharePoint , some people call it " The Swiss Army Knife of SharePoint Web Parts " , the only problem that I can see with the Data View Web Part that once you add it to a web part page, the end users cannot further manipulate it, they have to come back to SPD Designer to modify it or directly edit the XSLT from the browser which is not an easy task (All data is retrieved as XML and manipulated using XSLT which is a very flexible way of transforming and presenting your data). Otherwise, the XSLT Data View Web Part is a wonderful web part, you can aggregate data from a variety of sources and present them in an awesome way.
In SharePoint Designer 2010 : XSLT List View Web Part = List View Web Part + XSLT Data View Web Part - Ayman El-Hattab's Blog [MVP]
MOSS 2007 Employee Directory web part using Search and Data View web parts « Shankar's Musings
i Rate This
Software developers can use the SharePoint 2010 business collaboration platform to build enterprise-class solutions for intranet portals and the web. Use the ten modules in this online course viewer to get started with development for SharePoint 2010 using Visual Studio 2010.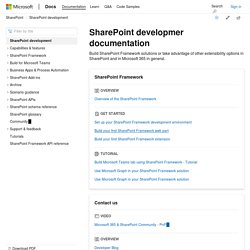 Get Started Developing on SharePoint 2010 | Training, Video | MSDN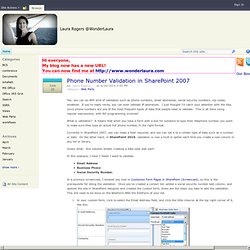 View in Web Browser /blogs/laura/_layouts/VisioWebAccess/VisioWebAccess.aspx?listguid={ListId}&itemid={ItemId}&DefaultItemOpen=1
Create a Web Part Page WITH a Quick Launch Menu - Laura Rogers @WonderLaura
SharePoint Server 2010 - Getting Started: Create Web Application | TechNet
Making the Quick Launch appear again on Web Part pages stored in a document library - Patrick Tisseghem's Blog [MVP SharePoint]