Programming
JAVA, JSP, SERVLETS, EJB, STRUTS, XML, ANT, LOG4J, WEBLOGIC
Web design, development and marketing - ILoveJackDaniels.com
Cette faq a été réalisée à partir des questions fréquemment posées sur les forums de http://www.developpez.com et de l'expérience personnelle des auteurs. Nous tenons à souligner que cette faq ne garantit en aucun cas que les informations qu'elle propose sont correctes. Les auteurs font leur maximum, mais l'erreur est humaine. Cette faq ne prétend pas non plus être complète.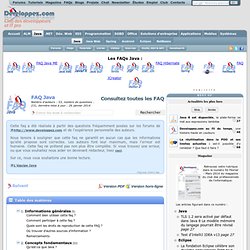 FAQ Java - Club d'entraide des développeurs francophones
Hibernate Mapping Cheat Sheet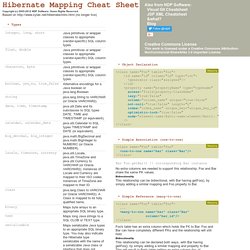 A many-to-many reference is basically a collection. Class A holds a reference to a set of class B instances (as in the one-to-many case), but B might have multiple A's. Scenario We have two classes, Foo and Bar which are related to each other as follows: Set Foo.getBars() // of Bar instances <class name="Foo" table="foo"> ...