Développement
Jarhoo
WikiModel - An event and object based model for wiki documents
This project contains a set of wiki-related libraries, such as a parsers for various wiki syntaxes, and common wiki model (event- and object-based). Projects goals The main goal of this project is creation of a "standard" model for wiki documents. It contains two different models: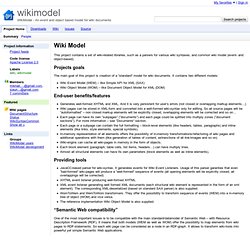 Annuaire WebOnorme sur les standards du web et l'accessibilite web
Crystal Clear From Wikimedia Commons, the free media repository Jump to: navigation, search Icons from the Crystal Clear icon set (archived page as of 10 October 2012 at Internet Archive) by Everaldo Coelho. – The icons are licensed under the GNU Lesser General Public License (LGPL). These icons can be downloaded in a single package at Open Icon Library. You can also view these icons sorted by type.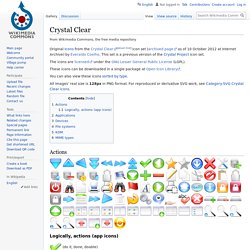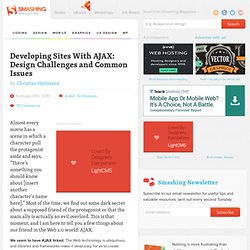 Developing Sites With AJAX: Design Challenges and Common Issues - Smashing Magazine
Advertisement Almost every movie has a scene in which a character pull the protagonist aside and says, "There's something you should know about [insert another character's name here]." Most of the time, we find out some dark secret about a supposed friend of the protagonist or that the main ally is actually an evil overlord.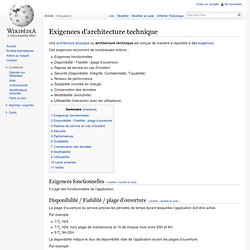 Un article de Wikipédia, l'encyclopédie libre. Ces exigences recouvrent de nombreuses notions : Exigences fonctionnellesDisponibilité / Fiabilité / plage d'ouvertureReprise de service en cas d'incidentSécurité (Disponibilité, Intégrité, Confidentialité, Traçabilité)Niveaux de performanceScalabilité (montée en charge)Conservation des donnéesModifiabilité (évolutivité)Utilisabilité (interaction avec les utilisateurs) Exigences fonctionnelles[modifier | modifier le code]
Exigences d'architecture technique
Objectreferenceanalyser (ORA)