Développement
Sonar " Open Source Quality Management Tool. Javadoc. Jarhoo. WikiModel - An event and object based model for wiki documents. This project contains a set of wiki-related libraries, such as a parsers for various wiki syntaxes, and common wiki model (event- and object-based).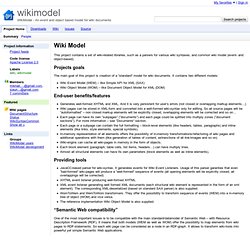 Projects goals The main goal of this project is creation of a "standard" model for wiki documents. It contains two different models:
Pagination
Images. Optimization. Plugin. Annuaire WebOnorme sur les standards du web et l'accessibilite web. Ecm. Versioncontrol. Open Source Software in Java(tm) Crystal Clear. Crystal Clear From Wikimedia Commons, the free media repository Jump to: navigation, search Icons from the Crystal Clear icon set (archived page as of 10 October 2012 at Internet Archive) by Everaldo Coelho. – The icons are licensed under the GNU Lesser General Public License (LGPL).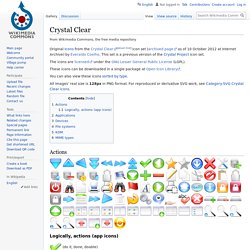 These icons can be downloaded in a single package at Open Icon Library. You can also view these icons sorted by type. Textile. Developing Sites With AJAX: Design Challenges and Common Issues - Smashing Magazine. Advertisement Almost every movie has a scene in which a character pull the protagonist aside and says, "There's something you should know about [insert another character's name here]."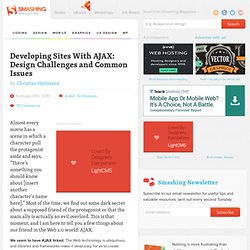 Most of the time, we find out some dark secret about a supposed friend of the protagonist or that the main ally is actually an evil overlord. Exigences d'architecture technique. Un article de Wikipédia, l'encyclopédie libre.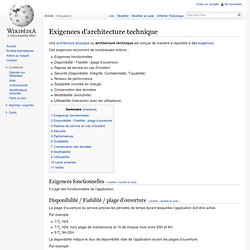 Ces exigences recouvrent de nombreuses notions : Exigences fonctionnellesDisponibilité / Fiabilité / plage d'ouvertureReprise de service en cas d'incidentSécurité (Disponibilité, Intégrité, Confidentialité, Traçabilité)Niveaux de performanceScalabilité (montée en charge)Conservation des donnéesModifiabilité (évolutivité)Utilisabilité (interaction avec les utilisateurs) Exigences fonctionnelles[modifier | modifier le code]
Java. Objectreferenceanalyser (ORA) Xforms. Css. Color. Architecture.
---