Library Jobs
Search For The Hottest Library Jobs Available
LISjobs.com
All the lists of job boards by state are moving to INALJ (I Need A Library Job). Please direct all updates and broken link notifications there. Totally unrelated to library jobs -- but cool for libraries.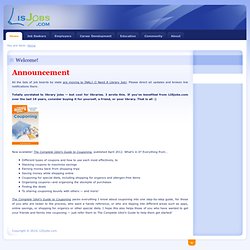 Library Jobs in the Pacific NW
unnamed pearl
Jobs Oregon State Library The Oregon State Library Jobline posts employment opportunities once a week To list a job announcement, email to Jessica Rondema the following: Job TitleClosing DateCity & StateBrief description of positionLink to the full job announcement.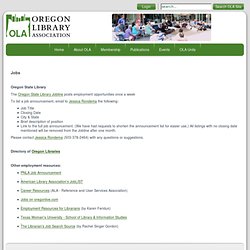 Oregon Library Association | Jobs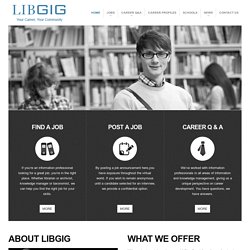 Library Jobs, careers, placement, recruiting | LibGig | Your Career, Your Community
About LibGig LibGig is designed for information professionals and information workers. Although our core focus is jobs for librarians of all types and levels, we also accept job postings for jobs related to information – whether selling and marketing information products or content, managing information or knowledge, creating organizational tools and technologies (taxonomists, catalogers, editors, indexers, archivists, etc.), or executive level positions for any organization that works with information in the information industry space. We believe that individuals with an information background need a way to connect with organizations that need information professionals, and we want to make those links. What We Offer
The Introvert's Guide to Landing a New Job | Library Jobs, careers, placement, recruiting | LibGig