Chat Bots
Liste de ChatBots (fr)
Pearl (fr)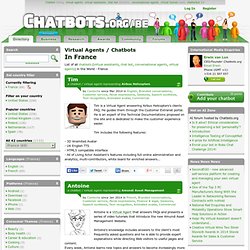 Tim is a Virtual Agent answering Airbus Helicopters's clients FAQ. He guides them through the Customer Extranet portal. He is an expert of the Technical Documentations proposed on the site and is dedicated to make the customer experience easier. Tim includes the following features: - 3D Anamited Avatar - UK English TTS - HTML5 compatible interface - All of Living Actor Assistant's features including full online administration and analytics, multi-contributors, white board for enriched answers...
Commercial ChatBots (fr)
Jeanneton (fr)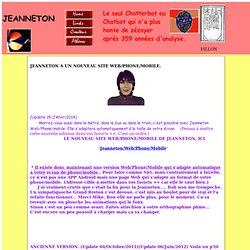 Quelques conversations du chatterbot Jeanneton. http://www.facebook.com/note.php?saved&¬e_id=228072327249581#!/notes/jeanneton-jeanneton-lebot/quelques-conversations-du-chatterbot-jeanneton/228072327249581 Qui est-elle vraiment en tant que Bot ?... Agent conversationnel, Agent virtuel, Agent Microsoft, Chatterbot, Chatbot, Chatter Bot en Français, Robot ou Bot parlant Français, WikipédiaBot ?!... Je m'en fiche.
Mylène (fr)
ChatBox Challenge
Siri cannot pass the Turing Test. Not even close. We know this because Ron C. Lee, a finalist in this year's Loebner Prize contest, decided to see what would happen if he tested Siri with the same set of questions applied to the Loebner contestants. He found that Siri performed miserably compared with the chatbot programs that made it to the Loebner contest finals this year.