Hona Design
Can i set two twitter accounts on instagram. Pantone Hotel. Pantone housewares (ornaments, tins, and mugs--oh my!)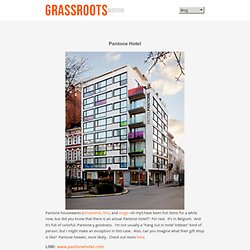 Have been hot items for a while now, but did you know that there is an actual Pantone hotel?? For real. It's in Belgium. And it's full of colorful, Pantone-y goodness. I'm not usually a "hang out in hotel lobbies" kind of person, but I might make an exception in this case. Natural disaster. Download 50 Splendid Retro Patterns for Photoshop. From Cosmic Pop art in the 60′s to neo Expressionism today, the colorful artworks of Peter Max have become an important part of the popular American culture.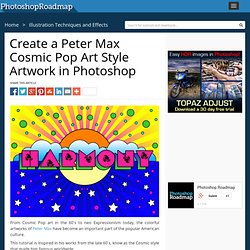 This tutorial is inspired in his works from the late 60′s, know as the Cosmic style that made him famous worldwide. This is a quite long tutorial, and for the sake of simplicity I will avoid explaining the basic use of tools and commands. This tutorial assumes you have a basic to intermediate general knowledge of Photoshop. At the end of the tutorial you will find a link to download the complete .psd file. Create a new work area of 800 x 600 pixels. Untitled. 20 Flash Websites You Wish Were Yours. There's something to be admired about Flash websites.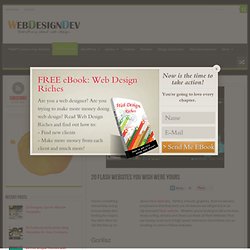 Perfect, smooth, graphics, fluid movement, interactivity and general in-your-face presence that they emit, are all reasons we still get lost in an immaculately designed and perfectly executed Flash website. Whether you're looking to kill some time, looking for inspiration, or just aimlessly surfing, sit back and check out these 20 Flash Websites That You Wish Were Yours. ∞ Box of Bundles. 25 fun fonts for font snobs. Updated: Hello wonderfuls!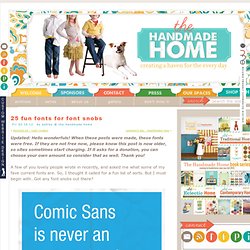 When these posts were made, these fonts were free. If they are not free now, please know this post is now older, so sites sometimes start charging. If it asks for a donation, you can choose your own amount so consider that as well. Eat Drink Chic. Fonts In Use - Type at work in the real world. How to Design the Perfect Business Card | Webdesigner Depot - StumbleUpon. In this post, we'll discuss how a thoughtful, well-designed business card can help your company give a good first impression and send the right message.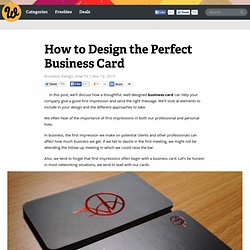 We'll look at elements to include in your design and the different approaches to take. We often hear of the importance of first impressions in both our professional and personal lives. In business, the first impression we make on potential clients and other professionals can affect how much business we get. If we fail to dazzle in the first meeting, we might not be attending the follow-up meeting in which we could raise the bar. 50+ Beautiful Patterns & Useful Tools for Web Designers - StumbleUpon. On 03.26.10, In Freebies, Patterns, Web High quality free seamless vector and pixel patterns that you may need for your web projects, prints or any other design related works.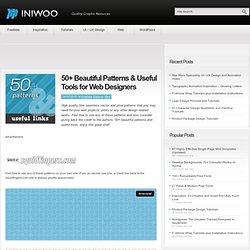 Feel free to use any of these patterns and also consider giving back the credit to the authors. 50+ beautiful patterns and useful tools, enjoy this great stuff. Decoratum - Pair of Armchairs with Leather `Sling Seats` and Ball Handles. Sorry, this item from Decoratum has been sold.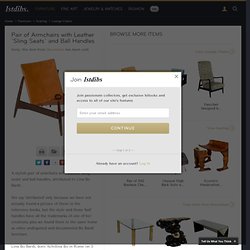 A stylish pair of armchairs with leather 'sling seats' and ball handles, attributed to Lina Bo Bardi. We say 'attributed' only because we have not actually found a picture of these in the reference books, but the style and those 'ball' handles have all the trademarks of one of her creations; plus we found them in the same home as other undisputed and documented Bo Bardi furniture.
Lina Bo Bardi, born Achillina Bo in Rome on 5 December 1914, died 20 March 1992 in São Paulo was an Italian- Brazilian modernist architect. She graduated in Rome, before moving to Milan where she started her career working with Gio Ponti. Welcome : Linzie Hunter, Illustration & Hand Lettering. Oh, hello friend: you are loved.
Londonist. Cataloging inspiration daily. A Beautiful Mess. Ill Seen, Ill Said. Design*Sponge | Your home for all things Design. Home Tours, DIY Project, City Guides, Shopping Guides, Before & Afters and much more. Inspiration for decoration. BAIRES Deco & Design ... Diseño de Interiores, Arquitectura y Decoración en un solo Sitio! Layered rugs. FlyingArchitecture visualizations | 3D architectural visualization services. NESTREST. Doesn't that picture look so peaceful and inviting?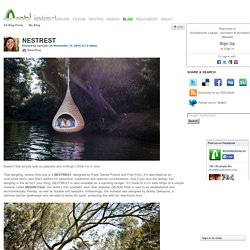 I think I'm in love. That dangling, serene little pod is a NESTREST, designed by Paris' Daniel Pouzet and Fred Frety. It's described as an over-sized bird's nest that's perfect for relaxation, meditation and open-air conversations. Weird and Wacky Furniture By Straight Line Designs | DeMilked - StumbleUpon. EmailEmail Straight Line Designs is a one-of-a-kind workshop that has been operating out of Vancouver, British Columbia for the past 25 years.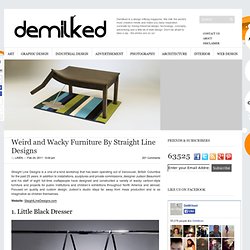 In addition to installations, sculptures and private commissions, designer Judson Beaumont and his staff of eight full-time craftspeople have designed and constructed a variety of wacky cartoon-style furniture and projects for public institutions and children's exhibitions throughout North America and abroad.
Master T-Shirt Graphic Designer - Glenn Jones | The Design Inspiration - StumbleUpon. Firefly Solar Lamp Table by Vuk Dragovic & Yanko Design. Replacing Candle-lit Dinners With Firefly The Firefly Table is honestly a very neat concept that I can foresee being snapped into production.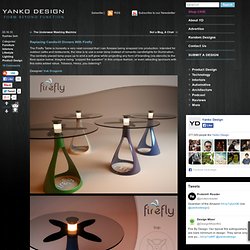 Intended for outdoor cafés and restaurants, the idea is to use a solar lamp instead of romantic candlelights for illumination. The centrally placed lamp pops up to emit a soft glow while projecting any form of branding (via stencils) to the floor-space below. Imagine being "popped the question" in this unique fashion, or even attracting sponsors with this extra added value. Free Texture Packs To Spice Up Your Designs - Noupe Design Blog - StumbleUpon.
Feb 25 2011 Every day we try our best to present to you some useful tips, dear reader, to inspire you with fresh ideas and to try out new things. Today, we've prepared a nice collection of free texture packs that you just may have been looking for to freshen up your designs you're working on. Enjoy! Amazing hotels – Santorini Grace | Digital Life. Brilliant Stairs photos - StumbleUpon. NounProject - StumbleUpon. - StumbleUpon.
---