Velo
This pioneering traveller from the Koga-Signature range will take you to the ends of the earth and back: from Canada to Australia, from India to Norway. Rated by connoisseurs for its reliability, respected for its quality which has been proven under the most extreme conditions. Not without reason do so many 'extreme cyclists' choose the WorldTraveller.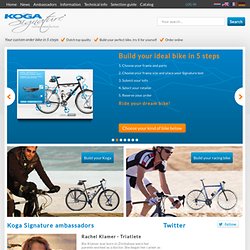 Koga Signature® - Koga Signature®... Custom Order Bicycles
Cannondale
XXcycle.com
1989 : KG 96 et les débuts de JalabertLe KG96 marque un tournant technologique : jusque là, les cadres LOOK étaient réalisés à partir de tubes conçus par TVT (le leader des composites tubulaires à l'époque). Avec le KG96, LOOK développe sa propre technique de soufflage réalisée à l'aide d'un platilon, une « poche » souple disposée à l'intérieur des tubes. La pièce en carbone est insérée dans un moule ; après fermeture de celui-ci, le platilon est gonflée à haute pression et plaque la pièce en carbone contre les parois du moule. Cette technique permet d'obtenir une meilleure résistance et de diminuer le poids, et est toujours utilisée pour la réalisation de certaines pièces.
Look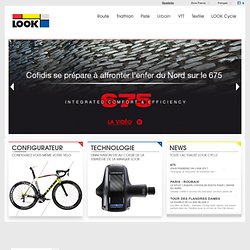 Polar | Listen to your body
Selle Smp - Sito ufficiale
Cycling the Alps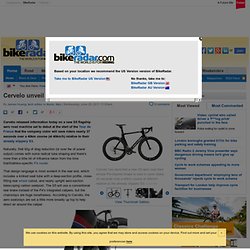 Cervelo has launched a new S5 aero road bike whose P4-inspired shape is said to save nearly 40 seconds over a 40km course at 40km/h relative to the already slippery S3. Cervelo View Thumbnail Gallery
Cervelo Unveil New S5 Aero Road Bike
Vélo occasion, achat et vente vélo course et VTT, enduro, velo route, vélo urbain sur Troc-Vélo
SIGMA SPORT® online - Compteurs cycle, Eclairages, Cardiofréquencemètres
SIGMA SPORT - WEBSHOP - DATA CENTER 2.0
SRAM | SRAM
Jey Clementz: the first-ever Enduro World Champion!
Mavic est un fabricant français de systèmes pour le vélo et d'équipements pour le cycliste haut-de-gamme.
Look Cycle - Pédales automatiques et vélos carbone
Site officiel Campagnolo - Composants Vélos de Route
Official Site
Continental Bicycle -
XLC : x-cellent Components
Selle Italia saddle - italian bicycle saddles