Net Neutrality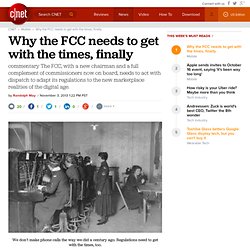 We don't make phone calls the way we did a century ago.
Why the FCC needs to get with the times, finally | Mobile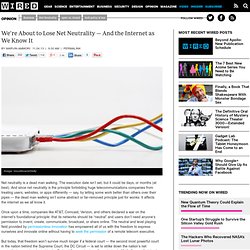 Net neutrality is a dead man walking.
An identity theft service that sells Social Security numbers, birth records, credit and background reports on millions of Americans has infiltrated computers at some of America's largest consumer and business data aggregators, according to a seven-month investigation by KrebsOnSecurity.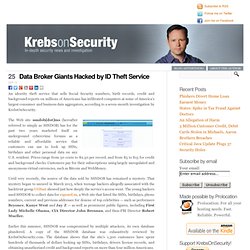 Data Broker Giants Hacked by ID Theft Service
September 24, 2013 | Like this article?
Verizon's Outrageous Plot to Crack Up the Internet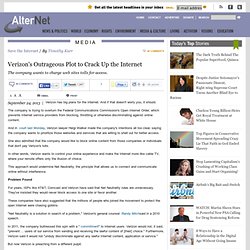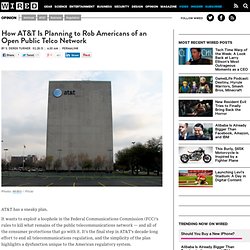 Here's How AT&T Is Planning to Rob Americans of an Open Public Telco Network | Wired Opinion
AT&T has a sneaky plan. It wants to exploit a loophole in the Federal Communications Commission (FCC)'s rules to kill what remains of the public telecommunications network — and all of the consumer protections that go with it. It's the final step in AT&T's decade-long effort to end all telecommunications regulation, and the simplicity of the plan highlights a dysfunction unique to the American regulatory system.
Susan Crawford on Why U.S. Internet Access is Slow, Costly, and Unfair on Vimeo
For years, the key rationale given by broadband providers for implementing data caps was that it was the only way they could deal with "congestion." Of course, for years, independent researchers showed that this was bogus , and there was no data crunch coming.
Cable Industry Finally Admits That Data Caps Have Nothing To Do With Congestion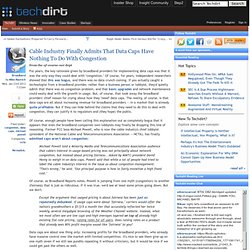 It's Clear Verizon Is Blocking Google Wallet Anti-Competitively - Google Wallet Delayed to Give Isis Development Time
Verizon has been trying to justify their blocking of Google Wallet on Verizon phones , insisting the app is blocked because Google Wallet uses the "secure element" on devices to store a user's Google ID.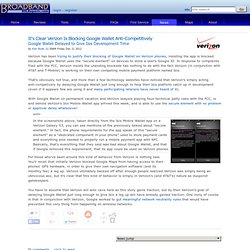 CappingTheNationsBroadbandFuture.pdf (application/pdf Object)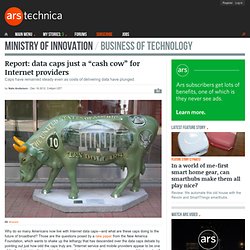 Report: data caps just a "cash cow" for Internet providers
Why do so many Americans now live with Internet data caps—and what are these caps doing to the future of broadband?
Verizon Wants The "Freedom" To Edit Your Internet | Blog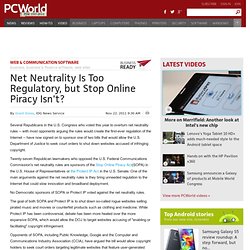 Net Neutrality Is Too Regulatory, but Stop Online Piracy Isn't?
Several Republicans in the U.S. Congress who voted this year to overturn net neutrality rules -- with most opponents arguing the rules would create the first-ever regulation of the Internet -- have now signed on to sponsor one of two bills that would allow the U.S.
Universal broadband should be about control, not just access. - By James Losey and Sascha Meinrath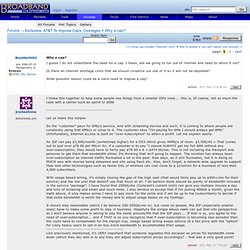 Why a cap? - | DSLReports Forums
I threw this together to help some people see things from a smaller ISPs view.... this is, of coarse, not as much the case with a carrier such as sprint or att&t Let us make this simple- So the "customer" pays for 6Mb/s service, and with streaming movies and such, it is coming to where people are constantly using that 6Mb/s or close to it. The customer says "I'm paying for 6Mb I should always get 6Mb". Unfortunately, Internet access is built on "over-subscription" to attain a profit.
AT&T will cap DSL and U-Verse internet, impose overage fees (update)
Ladies and gentlemen, the days of unlimited broadband may be numbered in the United States, and we're not talking wireless this time -- AT&T says it will implement a 150GB monthly cap on landline DSL customers and a 250GB cap on subscribers to U-Verse high speed internet starting on May 2nd. AT&T will also charge overage fees of $10 for every additional 50GB of data, with two grace periods to start out -- in other words, the third month you go over the cap is when you'll get charged. DSLReports says it has confirmation from AT&T that these rates are legitimate, and that letters will go out to customers starting March 18th. How does AT&T defend the move? The company explains it will only impact two percent of consumers who use "a disproportionate amount of bandwidth," and poses the caps as an alternative to throttling transfer speeds or disconnecting excessive users from the service completely.
No, Net Neutrality Is Not A Government Takeover Of The Internet
Internet Service Without Net Neutrality
The fight over Net Neutrality -- that fundamental principle that keeps the Internet open and free from discrimination -- can get pretty wonky. It's sometimes hard to find the right words when you're trying to communicate to policymakers, geeks and the general public at the same time. How do crucial issues like "paid prioritization" harm the open Internet? What are the dangers of "specialized services"? But a picture can be worth, well, you know.
Craig Aaron: A Scary Picture for the Future of the Wireless Web
Please read Prof. William Jones: The Common Carrier Concept as Applied to Telecommunications: A Historical Perspective Telecommunication Carriers are a subset of Common Carriers Statutory 47 U.S.C. § 153(h)(1991) " Common carrier " or "carrier" means any person engaged as a common carrier for hire, in interstate or foreign communication by wire or radio or in interstate or foreign radio transmission of energy, except where reference is made to common carriers not subject to this chapter; but a person engaged in radio broadcasting shall not, insofar as such person is so engaged, be deemed a common carrier. Telecommunications carrier -- The term ''telecommunications carrier'' means any provider of telecommunications services, except that such term does not include aggregators of telecommunications services (as defined in section 226 of this title).
Common Carriers
[Submitted to the Federal Communications Commission as Appendix to the Reply Comments of International Business Machines Corporation in Competitive Carriers Rulemaking CC Docket No. 79-252 (filed April 4, 1980).] This paper is being lodged with the Clerk of the court for the convenience of the Court. It is referred to in the Brief for Intervenor International Business Machine Corporation in Computer & Communications Industry Association v. Federal Communications Commission, No. 80-1478 and consolidated cases (filed January 11, 1982).
CC Concept as Applied to Telecom
By JOHN FUND The Federal Communications Commission's new "net neutrality" rules, passed on a partisan 3-2 vote yesterday, represent a huge win for a slick lobbying campaign run by liberal activist groups and foundations. The losers are likely to be consumers who will see innovation and investment chilled by regulations that treat the Internet like a public utility. There's little evidence the public is demanding these rules, which purport to stop the non-problem of phone and cable companies blocking access to websites and interfering with Internet traffic. Over 300 House and Senate members have signed a letter opposing FCC Internet regulation, and there will undoubtedly be even less support in the next Congress.
John Fund: The Net Neutrality Coup
Four takes on why net neutrality matters
Al Franken: The Most Important Free Speech Issue of Our Time
Robert M. McDowell: The FCC's Threat to Internet Freedom
Network Computing
Net Neutrality Debate Intensifies
F.C.C. Poised to Pass Net Neutrality Order
The Level 3/Comcast Fight Is About Money, Not Net Neutrality
Verizon CEO Predicts Doom And Gloom Over Pending Ruling
The Truth About The FCC Proposed Rules On Net Neutrality
Opposing Net Neutrality Means Opposing Innovation