Cloud Computing
Cloud Computing 2013: The Amazon Gorilla Invades The Enterprise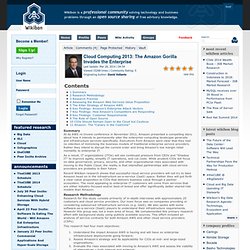 Summary At its AWS re:Invent conference in November 2012, Amazon presented a compelling story about how it intends to permanently alter the enterprise computing landscape generally and infrastructure services specifically. Executives from Amazon were clear that they had no intention of mimicking the business models of traditional enterprise service providers. Rather they intend to disrupt the current order and bring Amazon's low margin retail mentality to enterprise IT. As a result, IT organizations (ITOs) will see continued pressure from CEOs and "Shadow IT" to improve agility, simplify IT operations, and cut costs.
Open vSwitch is a production quality, multilayer virtual switch licensed under the open source Apache 2.0 license. It is designed to enable massive network automation through programmatic extension, while still supporting standard management interfaces and protocols (e.g. NetFlow, sFlow, SPAN, RSPAN, CLI, LACP, 802.1ag). In addition, it is designed to support distribution across multiple physical servers similar to VMware's vNetwork distributed vswitch or Cisco's Nexus 1000V.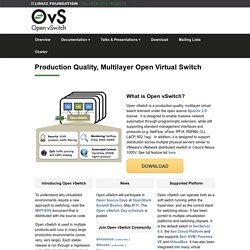 Cloud Networks: The Next Chapter In The Open Cloud
Wow! 2012 has been a great year for the open cloud at Rackspace. Actually, it's been the year of the open cloud for us and our customers. Over the past few months, our vision of what the open cloud can mean has really gained momentum — we've launched Cloud Databases, Cloud Servers powered by OpenStack, Cloud Monitoring and a new Cloud Control Panel. Also, just last week, we made Cloud Block Storage available to all of our customers. And we're not done yet.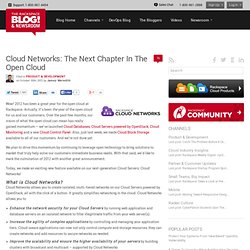 What's New in Networking
Published: June 26, 2013 Updated: June 26, 2013 Applies To: Windows 8, Windows Server 2012 The following networking technologies are new or improved in Windows Server® 2012.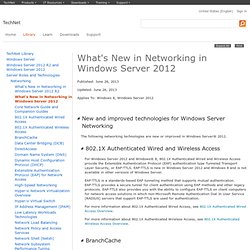 Hyper-V Network Virtualization Overview
With the success of virtualized datacenters, IT organizations and hosting providers (providers who offer colocation or physical server rentals) have begun offering more flexible virtualized infrastructures that make it easier to offer on-demand server instances to their customers. This new class of service is referred to as Infrastructure as a Service (IaaS). Windows Server 2012 R2 provides all the required platform capabilities to enable enterprise customers to build private clouds and transition to an IT as a service operational model. Windows Server 2012 R2 also enables hosters to build public clouds and offer IaaS solutions to their customers. When combined with Virtual Machine Manager to manage Hyper-V Network Virtualization policy, Microsoft provides a powerful cloud solution.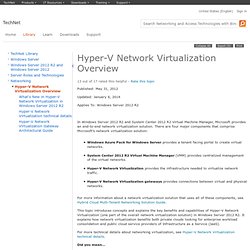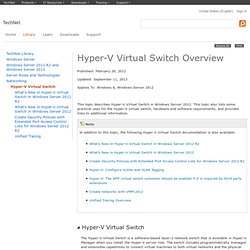 Published: February 29, 2012 Updated: September 11, 2013 Applies To: Windows 8, Windows Server 2012 This topic describes Hyper-V Virtual Switch in Windows Server 2012.
Hyper-V Virtual Switch Overview
Hyper-V Network Virtualization Gateway Architectural Guide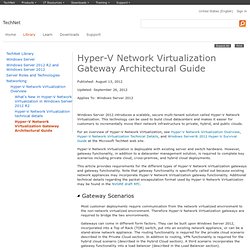 A load balancer provides the illusion of a single IP address (Virtual IP address or VIP) to clients requesting a service. The service is implemented on multiple different IP addresses (Direct IP address or DIP). A traditional load balancer maps network traffic from VIP to DIP via Network Address Translation (NAT). The load balancer re-writes the destination IP address (VIP) of the incoming packet with one of the IP addresses (DIP) behind the load balancer that performs the service. In the case where the load balancer is acting as a bi-directional NAT, the DIP sends a return packet to the load balancer and the load balancer rewrites the source IP (DIP) with the VIP. In this case the client only knows about the VIP and is unaware of the DIP.
The following diagram shows an example deployment of two customers moving in a cloud datacenter with the CA-PA relationship defined by the HNV policies. Figure 8: Multi-tenant deployment example Consider the example in Figure 8.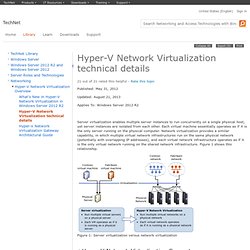 Network Virtualization technical details
Cloud Computing Central
Cloud Computing is a term that is often bandied about the web these days and often attributed to different things that -- on the surface -- don't seem to have that much in common. So just what is Cloud Computing? I've heard it called a service, a platform, and even an operating system. Some even link it to such concepts as grid computing -- which is a way of taking many different computers and linking them together to form one very big computer. A basic definition of cloud computing is the use of the Internet for the tasks you perform on your computer.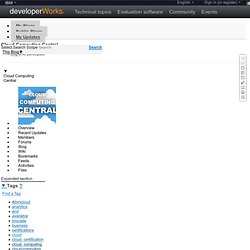 My esteemed co-tormentor of Twitter, Christian Reilly (@reillyusa,) did a fantastic job of describing the impact — or more specifically the potential lack thereof — of Facebook's OpenCompute initiative on the typical enterprise as compared to the real target audience, the service provider and manufacturers of equipment for service providers: …I genuinely believe that for traditional service providers who are making investments in new areas and offerings, XaaS providers, OEM hardware vendors and those with plans to become giants in the next generation(s) of Systems Integrators that the OpenCompute project is a huge step forward and will be a fantastic success story over the next few years as the community and its innovations grow and tangible benefits emerge.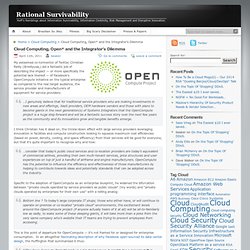 Cloud Computing, Open* and the Integrator's Dilemma | Rational Survivability
You or may not believe this, but I think we've reached a point with Cloud Computing where the discussions centered around "definitions" are almost over and we'll quickly be moving into a stage of people/companies wanting to do stuff. I know what you're thinking...thank goodness we can finally stop having every presentation begin with a NIST definition, or a stack showing *aaS this and *aaS that. That's the good news. The bad news?
Clouds of Change: Confused about Cloud Computing? You should be...
Roundup: CloudConnect 2011 Platforms and Ecosystems BOF
The need for cloud provider price transparency. What is a workload and how to move it. "Open"ness and what it means for a cloud service.
"Axiomatic Cloud Theory" (PDF) Working Paper, July 29, 2011 "Today, cloud computing has become of great interest technically and as it relates to business strategy and competitiveness. However, while there are numerous informal (verbal) definitions of cloud computing, rigorous axiomatic, formal (mathematical) models of clouds appear to be in short supply: this paper is the first use of the term "Axiomatic Cloud Theory." We define a cloud as a structure (S,T,G,Q,δ,q0) satisfying five formal axioms: it must be 1) Common, 2) Location-independent, 3) Online, 4) Utility, and 5) on-Demand.
Joe Weinman .com -- Papers
Mike Dahn pinged me via Twitter with an interesting and challenging question: I took this as a challenge in 5 minutes or less to articulate this in succinct, bulleted form. I timed it. 4 minutes & 48 seconds. Loaded with snark and Hoffacino-fueled dogma. Here goes: Cloud is only rocket science if you're NASA and using the Cloud for rocket science.
Hoff's 5 Rules Of Cloud Security… | Rational Survivability
Why the Cloud will Vaporize | The Bigger Truth
I was speaking to an enterprise account manager the other day regarding strategic engagements in Cloud Computing in very large enterprises. He remarked on the non-surprising parallelism occurring as these companies build and execute on cloud strategies that involve both public and private cloud initiatives. Many of them are still trying to leverage the value of virtualization and are thus often conservative about their path forward.
The Curious Case Of the MBO Cloud | Rational Survivability
Cloud 2011: The Year of the Network
Data Gravity – in the Clouds « McCrory's Blog
vCloud Director Resources, Product Documentation, Datasheets
four-reasons-we-choose-amazons-cloud-as
'Compute efficiency' and cloud computing | The Wisdom of Clouds
Incomplete Thought: Virtual Machines Are the Problem, Not the Solution… | Rational Survivability
VM Import - Bring Your VMware Images to The Cloud
Amazon Route 53 DNS Service Examined at thinking sysadmin
verizon-to-acquire-terremark-boosting-cloud-strategy-through-powerful-unified-enterprise-it-delivery-platform-114747369
Cloud Escape Velocity – Switching Cloud Providers « McCrory's Blog
VM Import - Bring Your VMware Images to The Cloud