SW vendor announcements
CHART OF THE DAY: Here's How Much Tech Companies Spend On Advert. Lithium Acquires Scout Labs....Alls Right with the World? | ZDNe. A few months ago, when I did my 2010 Watchlist for CRM Vendors, needless to say - now at least - Lithium was on it.There was a good reason for it too - they had been fast becoming one of the leading community platforms and increasingly vying for a significant position in the Social CRM world.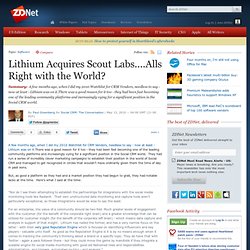 They had run a series of incredibly clever marketing campaigns to establish their position in the world of Social CRM and managed to get recognized in circles that wouldn't have ordinarily given them the time of day in past eons. But, as good a platform as they had and a market position they had begun to grab, they had notable lacks at the time. Here's what I said at the time: Scout Labs Acquired by Lithium Technologies - Scout Labs. Products & Solutions Online CommunitiesSocial Media ManagementSocial Media AnalyticsTechnology Social MarketingSocial Customer SupportCrowdsourcing Ideas.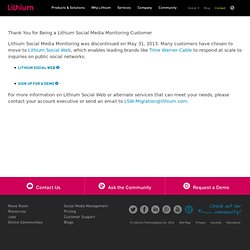 United States - SAP to Acquire Sybase, Inc. WALLDORF, Germany and Dublin, California, USA - May 12, 2010 - SAP (NYSE: SAP) and Sybase, Inc., Dublin, California (USA) (NYSE: SY) today announced that SAP's subsidiary, SAP America, Inc., has signed a definitive merger agreement to acquire Sybase, Inc., in a transaction that will bring the two information technology (IT) leaders together to enable companies to become better-run "unwired enterprises."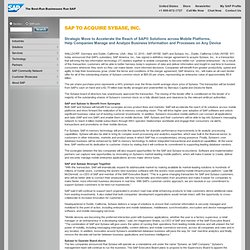 As a result of this transaction, customers will be able to better harness today's explosion of data and deliver information and insight in real time to business consumers wherever they work so they can make faster, more informed decisions. Companies will benefit from greater productivity, speed and agility to help their businesses grow. SAP acquires Sybase for $5.8 billion, but why? Rumors have been circulating the last days that SAP would announce a significant acquisition.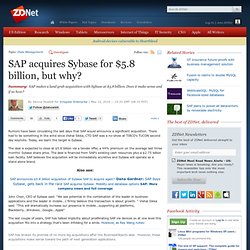 There had to be something in the wind since Vishal Sikka, CTO SAP was a no-show at TIBCO's TUCON second day keynote. Today, we learn the target is Sybase. SAP acquires Sybase for $5.8 billion. Business software provider SAP announced an agreement to acquire enterprise software and services company Sybase--parent of mobile messaging solutions provider Sybase 365--for $5.8 billion.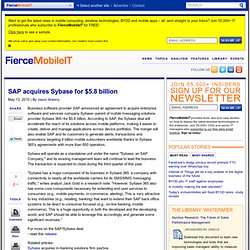 According to SAP, the Sybase deal will accelerate the reach of its solutions across mobile platforms, making it easier to create, deliver and manage applications across device portfolios. The merger will also enable SAP and its customers to generate alerts, transactions and promotions targeting 4 billion mobile subscribers worldwide thanks to Sybase 365's agreements with more than 850 operators. Sybase will operate as a standalone unit under the name "Sybase, an SAP Company," and its existing management team will continue to lead the business. Community Network Blogs. Sybase is SAP's largest acquisition ever at an estimated $5.8bn - bigger than Business Objects, which was a mere $4.8bn.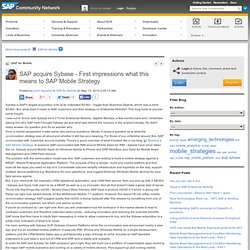 But, what does it mean to SAP customers and their strategy on Enterprise Mobility? This blog looks to provide some insight. I was out to dinner with Sybase Inc's CTO for Enterprise Mobility, Jagdish Bansiya, a few months back and I remember asking him why SAP hadn't bought Sybase yet and what was behind the rumours in the analyst industry. He didn't really answer my question and it's no wonder why. From a mobile perspective it asks some very serious questions.
SAP To Acquire Sybase For $5.8 Billion To Compete With Oracle. Enterprise software giant SAP is acquiring fellow business software company Sybase for $5.8 billion in an all-cash offer.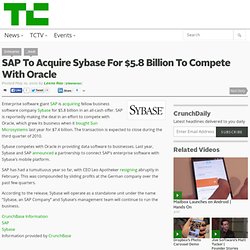 SAP is reportedly making the deal in an effort to compete with Oracle, which grew its business when it bought Sun Microsystems last year for $7.4 billion. The transaction is expected to close during the third quarter of 2010. Sybase competes with Oracle in providing data software to businesses. Last year, Sybase and SAP announced a partnership to connect SAP's enterprise software with Sybase's mobile platform. SAP has had a tumultuous year so far, with CEO Leo Apotheker resigning abruptly in February.
---