SW vendor announcements
CHART OF THE DAY: Here's How Much Tech Companies Spend On Advert
Lithium Technologies Acquires Scout Labs
Lithium Acquires Scout Labs....Alls Right with the World? | ZDNe
A few months ago, when I did my 2010 Watchlist for CRM Vendors, needless to say - now at least - Lithium was on it.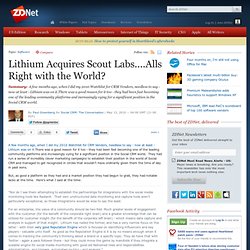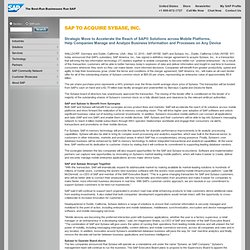 United States - SAP to Acquire Sybase, Inc.
WALLDORF, Germany and Dublin, California, USA - May 12, 2010 - SAP (NYSE: SAP) and Sybase, Inc., Dublin, California (USA) (NYSE: SY) today announced that SAP's subsidiary, SAP America, Inc., has signed a definitive merger agreement to acquire Sybase, Inc., in a transaction that will bring the two information technology (IT) leaders together to enable companies to become better-run "unwired enterprises." As a result of this transaction, customers will be able to better harness today's explosion of data and deliver information and insight in real time to business consumers wherever they work so they can make faster, more informed decisions. Companies will benefit from greater productivity, speed and agility to help their businesses grow.
SAP acquires Sybase for $5.8 billion, but why?
Rumors have been circulating the last days that SAP would announce a significant acquisition. There had to be something in the wind since Vishal Sikka, CTO SAP was a no-show at TIBCO's TUCON second day keynote. Today, we learn the target is Sybase.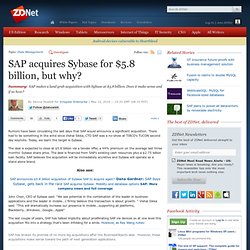 Business software provider SAP announced an agreement to acquire enterprise software and services company Sybase--parent of mobile messaging solutions provider Sybase 365--for $5.8 billion.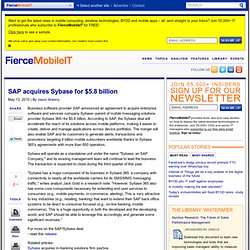 SAP acquires Sybase for $5.8 billion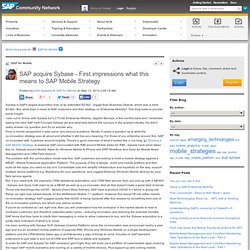 Sybase is SAP's largest acquisition ever at an estimated $5.8bn - bigger than Business Objects, which was a mere $4.8bn. But, what does it mean to SAP customers and their strategy on Enterprise Mobility?
Community Network Blogs
SAP To Acquire Sybase For $5.8 Billion To Compete With Oracle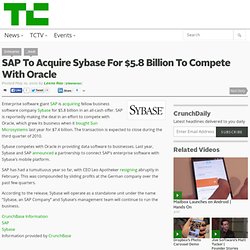 Enterprise software giant SAP is acquiring fellow business software company Sybase for $5.8 billion in an all-cash offer. SAP is reportedly making the deal in an effort to compete with Oracle, which grew its business when it bought Sun Microsystems last year for $7.4 billion.