Python
last updated 13-Apr-2013
paramiko: ssh2 protocol for python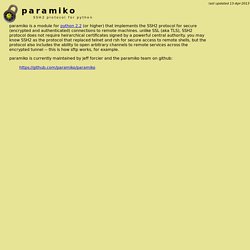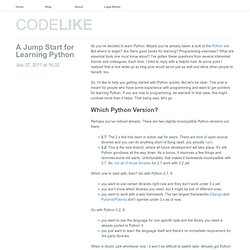 codelike
So you've decided to learn Python.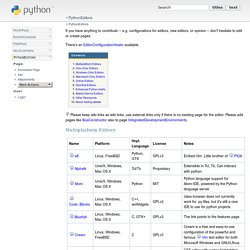 If you have anything to contribute -- e.g. configurations for editors, new editors, or opinion -- don't hesitate to edit or create pages. There's an EditorConfigurationHowto available. Please keep wiki links as wiki links, use external links only if there is no existing page for the editor.
os.listdir(path) renvoie une liste contenant les noms de tous les fichiers et répertoires de path >>> import os >>> os.listdir('c:/python24') ['DLLs', 'Doc', 'include', 'kinterbasdb-wininst.log', 'Lib', 'libs', 'LICENSE.txt', 'matplotlib-wininst.log', 'msvcp71.dll', 'msvcr71.dll', 'MySQL-python.exe-wininst.log', 'NEWS.txt', 'numarray-wininst.log', 'Numeric-wininst.log', 'PIL-wininst.log', 'psycopg-wininst.log', 'py.ico', 'pyc.ico', 'python.exe', 'python.exe.manifest', 'pythonw.exe', 'pythonw.exe.manifest', 'pywin32-wininst.log', 'README.txt', 'Removekinterbasdb.exe', 'Removematplotlib.exe', 'RemoveMySQL-python.exe.exe', 'Removenumarray.exe', 'RemoveNumeric.exe', 'RemovePIL.exe', 'Removepsycopg.exe', 'Removepywin32.exe', 'Scripts', 'share', 'tcl', 'Tools', 'w9xpopen.exe'] On peut également utiliser la fonction glob.glob(path) qui renvoie une liste contenant le chemin complet des fichiers ou répertoire contenu dans path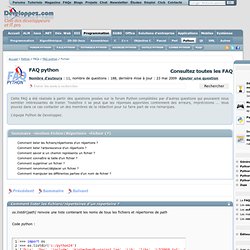 FAQ python
Think Python
Python for Newbies – Part1 January 26, 2011 Posted by rm42 in Computers, Python.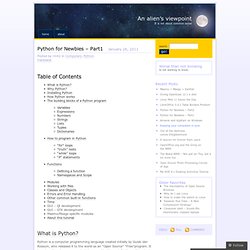 Python for Newbies – Part1 « An alien's viewpoint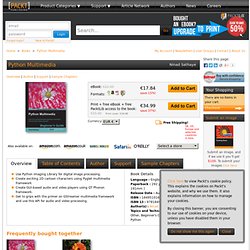 Python Multimedia Book & eBook
eBook: $26.99 Formats:
Dive Into Python 3
Welcome back to lesson four in our Python from Scratch series.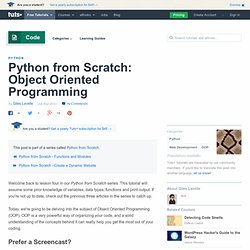 Python from Scratch: Object Oriented Programming
Python : Le développement autrement - Tour d'horizon de la plateforme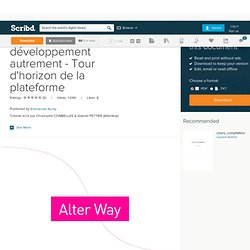 PYTHON : le développement autrement Alter Way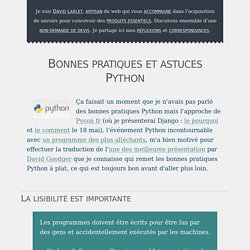 Bonnes pratiques et astuces Python, dans bonnes pratiques, conferences, django, python, traduction sur BioloGeek
Ça faisait un moment que je n'avais pas parlé des bonnes pratiques Python mais l'approche de Pycon fr (où je présenterai Django : le pourquoi et le comment le 18 mai), l'événement Python incontournable avec un programme des plus alléchants, m'a bien motivé pour effectuer la traduction de l'une des meilleures présentation par David Goodger que je connaisse qui remet les bonnes pratiques Python à plat, ce qui est toujours bon avant d'aller plus loin. La lisibilité est importante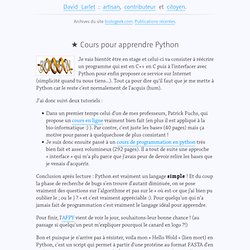 Je vais bientôt être en stage et celui-ci va consister à réécrire un programme qui est en C++ en C puis à l'interfacer avec Python pour enfin proposer ce service sur Internet (simplicité quand tu nous tiens...).
★ Cours pour apprendre Python, dans python sur BioloGeek, l'avis d'un freelance passionné par le web et son évolution.
Enhance your Python