JQUERY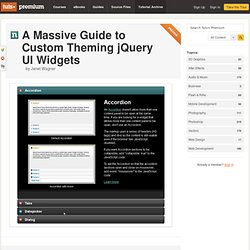 jQuery UI is an open source library of interface components that features interactions, animation effects and ready-to-use widgets. jQuery UI is based on the jQuery JavaScript library and is themeable, which makes integrating jQuery UI easy for developers of any skill level to integrate into their web pages and applications. This tutorial covers how to theme jQuery UI widgets and write custom CSS so that you can make your own jQuery UI theme. Having a basic understanding of CSS and JavaScript will help you successfully complete this tutorial.
A Massive Guide to Custom Theming jQuery UI Widgets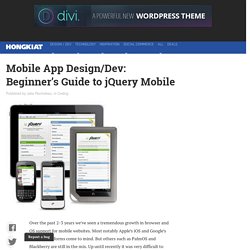 Building Websites and Browser Apps with jQuery Mobile: A Beginner's Guide
Over the past 2-3 years we've seen a tremendous growth in browser and OS support for mobile websites.
The Basics of jQuery ↩ Andrée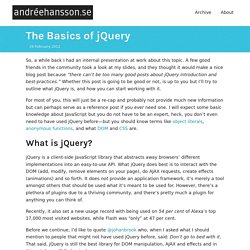 So, a while back I had an internal presentation at work about this topic. A few good friends in the community took a look at my slides, and they thought it would make a nice blog post because "there can't be too many good posts about jQuery introduction and best-practices." Whether this post is going to be good or not, is up to you but I'll try to outline what jQuery is, and how you can start working with it.
10 fresh jQuery plugins for UI
10 Oven Fresh jQuery Plugins for UI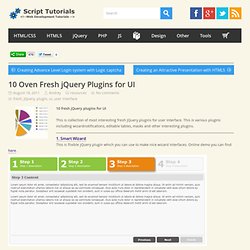 jQuery EasyUI - help you build your web page easily