Foodie
Salad in a Jar – SRC. Secret Recipe Club time, holla!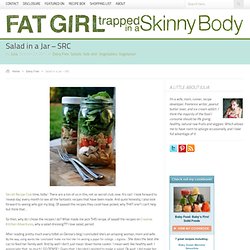 There are a ton of us in this, not so secret club, now. It's rad! I look forward to 'reveal day' every month to see all the fantastic recipes that have been made. Crock Pot Breakfast | Crock Pot Girls. 21-Day Vegan Kickstart / a Physicians Committee for Responsible Medicine (PCRM) site. Each day during the Kickstart, we provide recipes and suggestions for every meal.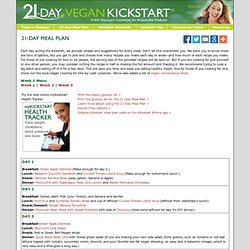 Don't let this overwhelm you. We want you to know there are tons of options, but you get to pick and choose how many recipes you make each day or week—and how much of each recipe you make. Peak-Season Map at Epicurious. Warm Toasted Marshmallow S'more Bars. The 500-Calorie Diet Solution at Epicurious. 4 of 8 Daily Tip: Fill Up with Fiber.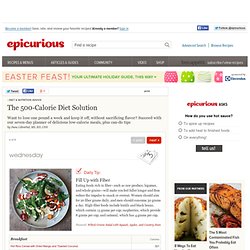 Oreo-Stuffed Chocolate Chip Cookies - Food on Shine. By Bon Appetit magazine We found these over at the blog Becky Bakes yesterday.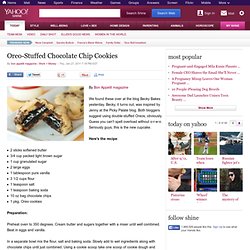 Becky, it turns out, was inspired by Jenny at the Picky Palate blog. Both bloggers suggest using double-stuffed Oreos, obviously. Our 5 Favorite Recipes to Make after a Thundersnow: BA Daily: Blogs. Chai-Spiced Hot Chocolate; Photo by Elinor Carucci Yet another storm has covered the Northeast in more than a foot of snow.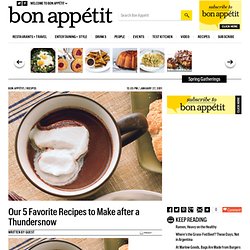 Schools are shut down, commuter trains are canceled, and yellow buses remain tucked safely in their garages. What a great excuse to cook! Start with mugs of chai-spiced hot chocolate–a sweet way to welcome kids back indoors after a snow ball fight. Then fill your home with the scent of freshly baked scones and let a pot of chili simmer the day away. Budget Boosters at Epicurious. 10 DIY Budget-Stretching Tips Do your own prep While it's tempting to buy those prepared fruit salads, precut vegetables, and precleaned greens, you can save a lot by doing a little bit of the work.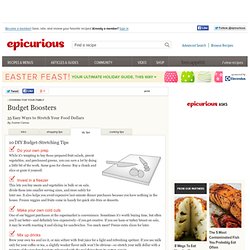 Same goes for cheese: Buy a chunk and slice or grate it yourself. Invest in a freezer This lets you buy meats and vegetables in bulk or on sale, divide them into smaller serving sizes, and store safely for later use. Baltimore Bang Recipe Details. Slow Cooking Made Simple at Epicurious. Get the most out of your slow cooker.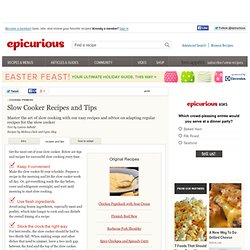 Below are tips and recipes for successful slow cooking every time. Keep it convenient Make the slow cooker fit your schedule. Prepare a recipe in the morning and let the slow cooker work all day. Or, get everything ready the day before, cover and refrigerate overnight, and wait until morning to start slow cooking. Day 10: The Food-Lover's Cleanse: BA Daily: Blogs. Follow along as food writer Sara Dickerman cooks her way through our Food-Lover's Cleanse, a two-week detox designed with rules and guidelines from nutritionist Marissa Lippert.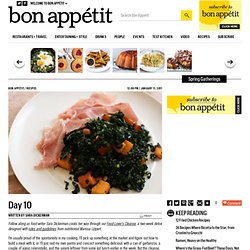 I'm usually proud of the spontaneity in my cooking. I'll pick up something at the market and figure out how to build a meal with it, or I'll just raid my own pantry and concoct something delicious with a can of garbanzos, a couple of aging celerystalks, and the salami leftover from some kid lunch earlier in the week. But the cleanse, of course, is already dictated for me.
---