Text analysis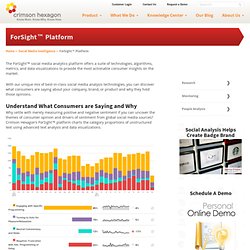 Social Media Monitoring and Analytics Platform - Crimson Hexagon
Discover Actionable Insights from Big Data Sources If you've made it this far into our website, you know that the vast sea of global online conversation is not really a sea at all…it's a Big Data goldmine waiting to be tapped. Here's how Crimson Hexagon can ensure that you're making the most of your brand every day. Crimson Hexagon ForSight™ Platform Empowers You:
Google Image Result for http://1.bp.blogspot.com/_tOOi3R89e74/TCkkaV_w1BI/AAAAAAAAABU/e6nPTnSbW2A/s320/esq3.JPG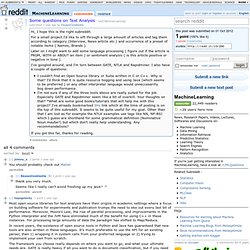 Hi, I hope this is the right subreddit. For a small project I'd like to sift through a large amount of articles and tag them according to category (Interview, News article etc.) and occurrence of a preset of notable items ( Names, Brands ). Later on I might want to add some language processing ( figure out if the article is FROM, WITH or ABOUT an item ) or sentiment analysis ( is this article positive or negative in tone ). I've googled around, and I'm torn between GATE, NTLK and Rapidminer.
Some questions on Text Analysis : MachineLearning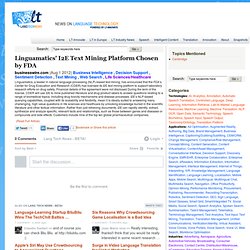 Linguamatics' I2E Text Mining Platform Chosen by FDA - businesswire.com - Industry News from LT-Innovate
Linguamatics, a leader in natural language processing (NLP)-based text mining, has announced that the FDA's Center for Drug Evaluation and Research (CDER) has licensed its I2E text mining platform to support laboratory research efforts on drug safety. Financial details of the agreement were not disclosed During the term of the license, CDER will use I2E to mine published literature and drug product labels to answer questions relating to a range of biomedical topics, including drug toxicity mechanisms and disease processes. I2E's NLP-based querying capabilities, coupled with its scalability and flexibility, mean it is ideally suited to answering many challenging, high value questions in life sciences and healthcare by unlocking knowledge buried in the scientific literature and other textual information.
AlchemyAPI is helping pioneer a computer's ability to understand human language and vision. Our web services for real-time text analysis and computer vision give you the intelligence needed to transform vast amounts of unstructured data into actions that drive your business. Now you can easily perform sentiment analysis, keyword extraction, entity extraction, image tagging and much more on the massive volumes of web pages, documents, tweets and photos produced every second.
The story of my PRfekt failure to analyze the human mind online Executive Summary: I failed, and now I give up. Full version: Is here. Kaffe, samtal och skrivande Det påstås att kaffe var Upplysningens bränsle. Voltaire drack fler än tio koppar om dagen.
Psychographic text analysis classifier for values (i.e. worldviews) - Mattias Östmar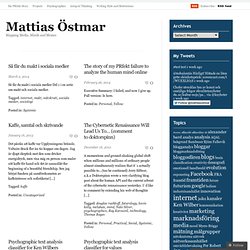 Keywords Alone Are Not Enough: Why Real Text Analytics Matters
Today's online businesses have no shortage of customer data: chat transcripts, emails, call recordings, CRM notes, web analytics, survey data, social media including blogs, Facebook, and Twitter… But despite the extraordinary amount of data available, translating this information into holistic, accurate, and actionable insights eludes most organizations. LP Insights combines your chat transcripts with all forms of structured and unstructured data, and delivers actionable insights that empower a wide range of management initiatives across the enterprise. In a quantum leap over existing transcript analysis and reporting processes, LP Insights monitors, measures, and makes sense of customers' words, behavior, reasons for contact, buying patterns, and sentiments, delivering turn-key intelligence to your desktop, in near-real-time.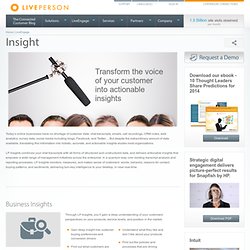 LP Insights Real-Time Business Intelligence | Products | LivePerson
DiscoverText - A Text Analytic Toolkit for eDiscovery and Research
Login Trial Registration DiscoverText is a cloud-based, collaborative text analytics solution. Generate valuable insights about customers, products, employees, news, citizens, and more.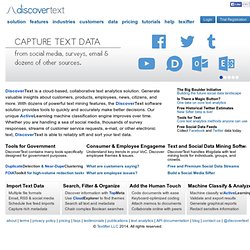 Text Analysis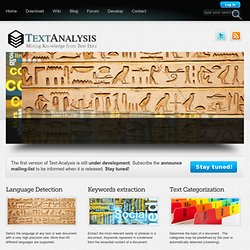 Language DetectionDetermine the language of any text. More than 60 different languages supported. The first version of Text-Analysis is still under development. Subscribe the announce mailing-list to be informed when it is released. Stay tuned!
Google Image Result for http://www.social-eyes.me/wp/wp-content/uploads/2012/03/einstein-roi
Speed, Scale, Automation and Comprehension: The True ROI of Text Analytics — Nectarine Imp
Natural Language Processing HUB – News about NLP I am contract web developer BDaddy WebGuru, an old hand at web development -- since 1995 -- currently focused on mobile-friendly device-aware responsive web design (ground up, or WordPress) that is W3C HTML/CSS3/mobileOK validated, WCAG/Section 508 accessibility checked, internationalization issue-free and hand-coded PHP/MySQL and jQuery/Javascript with embedded media, Semantic Web linked data (RDF/XML) and SEO. Here are seven ways I can go to work for you! Recorded at Equinox Studios in Georgetown, Seattle. www.equinoxstudios.org The first set of readings was not recorded; the second set has been recorded in full.
Good business: Scalable document management lends solid legal footing
Scalable document management is handy when accommodating changing numbers of documents, users and locations. But it takes on extra significance when a professionally diverse and geographically dispersed group of people use the technology for litigation support and e-discovery as part of legal proceedings. In the legal arena, document management is all about protecting, preserving and controlling access to any information that might be introduced as evidence in a court case.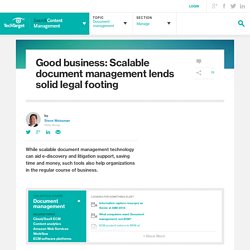 For many companies, understanding what's being said about them or their products and services in the real-time social media space will only become more important. Vendors of social and customer analytics solutions are aiming to fill the need: A couple of weeks ago, heavyweight Salesforce said the Twitter firehose will be funneled to its social analytics arm Radian6. Last week, Attensity announced the Attensity Pipeline, which is its foray into providing a semantically annotated social media data stream in real-time, as a cloud service, tapping into the full Twitter firehose as well as public Facebook and Google Plus posts, blogs, forums, and video and review sites. "We have had previous generations of this [technology] used in back end products that were more batch-oriented," says Catherine van Zuylen, vp, product at Attensity.
Attensity Pipeline: Social Media Conversations Analyzed, In Real-Time And In The Cloud At Scale
Converseon Gives Big Data a Human Touch and Added Value
Social data provides important insights into the desires, habits and inclinations of customers. While, many platforms survey customer remarks on social media outlets like Facebook and Twitter, such technology is often limited in its "word-spotting" approach which, taken out of context, may yield results irrelevant to a client's research aims. Converseon's new text analytics service ConveyAPI combines the speed, processing capacity and scalability of data software with the accuracy, understanding and analyses of social conversations that only a human touch can provide. ConveyAPI addresses the challenge Dr. Phillip Resnik, a Converseon data scientist, explains: "Where scientific jargon, marketing puffery, and a laundry list of features can often obscure what really matters: using a technology meant to measure human expression, are we obtaining the value of a human analysis?"
Google Image Result for http://farm8.staticflickr.com/7046/6821670486_e7e2e19950_z
What can text analytics learn from Crowdsourcing — Nectarine Imp
Or: What we can learn from crowdsourcing Text Analytics can learn a lot from a competing system for getting answers to analytical-like questions. Crowdsourcing is a voluntary effort where collaboration to solve a problem is key. Text analytics is a sort of involuntary collaboration of multiple voices gathered together in a corpus.
I have been selected to speak at the 2012 SAP BusinessObjects User Conference (twitter tag #SBOUC). My topic this year will be a follow-up of sorts to a topic I did last year called, "Designer Essentials." In the essentials topic I went over the basic requirements of universe design (setting up a connection, adding tables, building joins, and so on). I also covered additional steps that have to be done in order to ensure the correct results, like making sure all SQL traps are resolved.
Dave's Adventures in Business Intelligence » Go, Universe, Go!
Predictive Analytics Use Outside Legal Industry | Discovery Brain
In the legal industry, the use of analytics has been on the rise. It's most often used to speed up document review. Using text analytics, a small, representative data set can be used to quickly identify similar documents in a much larger population, allowing for more targeted, faster document review. Outside of the legal industry though, the technology is also gaining momentum and is seen as a great use for big data and cloud technologies. Forbes.com reports on analytics' use to predict future events or data patterns such as in fraud detection, production management, or by marketing (for analyzing customer retention).
HStreaming and Friends Lexalytics Text Analytics Solution to deliver a novel of Data | leblogvideodeluciano.com - Video Streaming
What is noisy text? - Definition from WhatIs.com
API Directory - ProgrammableWeb
UC-enabled "Multimodal Customer Experiences"
Text Classification for Automated Email Response | VirtualBlackSwanMarketing
I think, therefore I am an Artificial Intelligence
Blogs | Lexalytics.com
Roistr - Semantic Analysis and Text Analytics
Predictive Analytics: NeuralNet, Bayesian, SVM, KNN
An interesting philosophical kerfuffle | Mycotoxin Damage
What do your online conversations really say?
Beyond Goals: Site Search Analytics from the Bottom Up
insightful analytics blog :: Content Analytics
Text analytics broadens insight possibilities – Digital Reasoning
Using Google's N-Gram Corpus
Turns out I'm not crazy
popcomm-ontology - A population and community ontology
Call: Journal of Robotics 2012 issue on Cognitive and Neural Aspects in Robotics with Applications
Improving the Productivity of Knowledge Workers
brain of mat kelcey
Friday Data Story: Manufacturing Ontologies and Semantic Web
Optimizing Semantic Search : TaxoDiary
Sports Are The Semantic Focus In Britain At The BBC And In Brazil At Globo
terkait – Chrome Widget for semantic analysis of web content. Powered by VIE | IKS Blog – The Semantic CMS Community
Urgent tasks of modern Text Linguistics | Long Live Wauconda
Semantic Arts
Text Analytics
Information Interaction