Qualrus
Using Qualrus. What is Qualrus?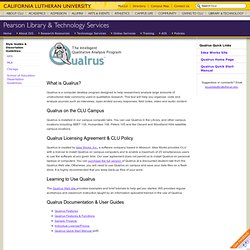 Qualrus is a computer desktop program designed to help researchers analyze large amounts of unstructured data commonly used in qualitative research. This tool will help you organize, code and analyze sources such as interviews, open-ended survey responses, field notes, video and audio content. Qualrus on the CLU Campus Qualrus is installed in our campus computer labs. You can use Qualrus in the Library, and other campus locations including SBET 139, Humanities 106, Peters 105 and the Oxnard and Woodland Hills satelllite campus locations. Qualrus - Demo download is on its way! Qualrus_Code_Editor. Qualrus - Support. Four Most Important Tips!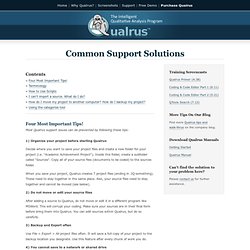 Most Qualrus support issues can be prevented by following these tips: 1) Organize your project before starting Qualrus Decide where you want to save your project files and create a new folder for your project (i.e. "Academic Achievement Project").
---