The Human Condition
Existentialism is a term applied to the work of a number of late 19th- and 20th-century philosophers who, despite profound doctrinal differences, [ 1 ] [ 2 ] [ 3 ] shared the belief that philosophical thinking begins with the human subject—not merely the thinking subject, but the acting, feeling, living human individual. [ 4 ] In existentialism, the individual's starting point is characterized by what has been called "the existential attitude", or a sense of disorientation and confusion in the face of an apparently meaningless or absurd world. [ 5 ] Many existentialists have also regarded traditional systematic or academic philosophies, in both style and content, as too abstract and remote from concrete human experience. [ 6 ] [ 7 ] Søren Kierkegaard is generally considered to have been the first existentialist philosopher, [ 8 ] [ 9 ] [ 10 ] though he himself did not use the term Existentialism.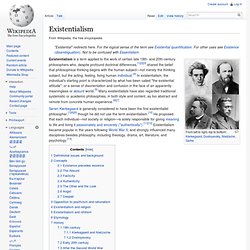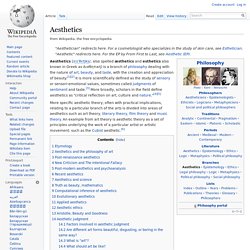 Aesthetics ( also spelled æsthetics ) is a branch of philosophy dealing with the nature of art , beauty , and taste , with the creation and appreciation of beauty. [ 1 ] [ 2 ] It is more scientifically defined as the study of sensory or sensori-emotional values, sometimes called judgments of sentiment and taste. [ 3 ] More broadly, scholars in the field define aesthetics as "critical reflection on art, culture and nature ." [ 4 ] [ 5 ] More specific aesthetic theory, often with practical implications, relating to a particular branch of the arts is divided into areas of aesthetics such as art theory, literary theory , film theory and music theory . [ edit ] Etymology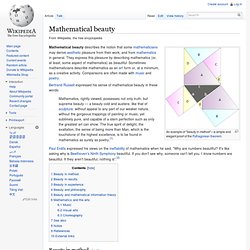 Mathematical beauty
Mathematical beauty describes the notion that some mathematicians may derive aesthetic pleasure from their work, and from mathematics in general. They express this pleasure by describing mathematics (or, at least, some aspect of mathematics) as beautiful . Sometimes mathematicians describe mathematics as an art form or, at a minimum, as a creative activity. Comparisons are often made with music and poetry . Bertrand Russell expressed his sense of mathematical beauty in these words: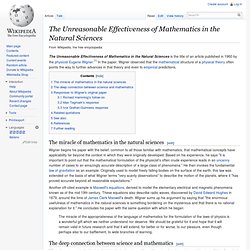 The Unreasonable Effectiveness of Mathematics in the Natural Sciences is the title of an article published in 1960 by the physicist Eugene Wigner . [ 1 ] In the paper, Wigner observed that the mathematical structure of a physics theory often points the way to further advances in that theory and even to empirical predictions, and argued that this is not just a coincidence and therefore must reflect some larger and deeper truth about both mathematics and physics . [ edit ] The miracle of mathematics in the natural sciences Wigner begins his paper with the belief, common to all those familiar with mathematics, that mathematical concepts have applicability far beyond the context in which they were originally developed. Based on his experience, he says "it is important to point out that the mathematical formulation of the physicist's often crude experience leads in an uncanny number of cases to an amazingly accurate description of a large class of phenomena."
The Unreasonable Effectiveness of Mathematics in the Natural Sciences
Humanistic psychology is a psychological perspective which rose to prominence in the mid-20th century in response to Sigmund Freud 's psychoanalytic theory and B.F. Skinner 's Behaviorism . [ citation needed ] With its roots running from Socrates through the Renaissance , this approach emphasizes an individual's inherent drive towards self-actualization and creativity. In the context of the tertiary sector beginning to produce more than the secondary sector , the humanistic psychology, which was sometimes referred to as a "third force," as distinct from the two more traditional approaches to psychology, psychoanalysis and behaviorism , began to be seen as more relevant than the older approaches. It also led to a new approach to human capital with the creativity - previously seen as work prerequisite for artists only - beginning for the first time in human history to be seen as a work prerequisite for employees that were in an increasing number working in cognitive-cultural economy .
In philosophy , " the Absurd " refers to the conflict between the human tendency to seek inherent value and meaning in life and the human inability to find any. In this context absurd does not mean "logically impossible", but rather "humanly impossible". [ 1 ] The universe and the human mind do not each separately cause the Absurd, but rather, the Absurd arises by the contradictory nature of the two existing simultaneously. Absurdism , therefore, is a philosophical school of thought stating that the efforts of humanity to find inherent meaning will ultimately fail (and hence are absurd) because the sheer amount of information as well as the vast realm of the unknown make certainty impossible.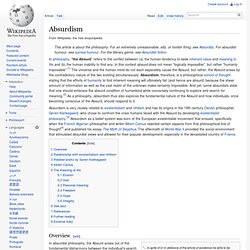 An interpretation of Maslow's hierarchy of needs, represented as a pyramid with the more basic needs at the bottom [ 1 ] Maslow's hierarchy of needs is a theory in psychology proposed by Abraham Maslow in his 1943 paper "A Theory of Human Motivation". [ 2 ] Maslow subsequently extended the idea to include his observations of humans' innate curiosity. His theories parallel many other theories of human developmental psychology , some of which focus on describing the stages of growth in humans. Maslow used the terms Physiological, Safety, Belongingness and Love, Esteem, Self-Actualization and Self-Transcendence needs to describe the pattern that human motivations generally move through.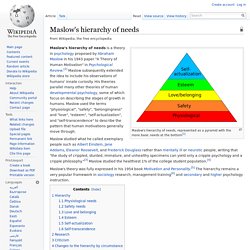 Logotherapy was developed by neurologist and psychiatrist Viktor Frankl . It is considered the "Third Viennese School of Psychotherapy " [ 1 ] [ 2 ] after Freud's psychoanalysis and Adler's individual psychology . Logotherapy is based on an Existential Analysis [ 3 ] focusing on Kierkegaard 's will to meaning as opposed to Adler's Nietzschean doctrine of will to power or Freud's will to pleasure . Rather than power or pleasure, logotherapy is founded upon the belief that it is the striving to find a meaning in one's life that is the primary, most powerful motivating and driving force in humans . [ 4 ] A short introduction to this system is given in Frankl's most famous book, Man's Search for Meaning , in which he outlines how his theories helped him to survive his Holocaust experience and how that experience further developed and reinforced his theories.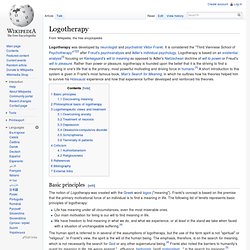 Logotherapy
Self-determination theory
Self-determination theory ("SDT") is a macro theory of human motivation and personality, concerning people's inherent growth tendencies and their innate psychological needs. It is concerned with the motivation behind the choices that people make without any external influence and interference . SDT focuses on the degree to which an individual's behavior is self-motivated and self-determined. [ 1 ] In the 1970s, research on SDT evolved from studies comparing the intrinsic and extrinsic motives, and from growing understanding of the dominant role intrinsic motivation played in an individual's behavior [ 2 ] but it was not until mid-1980s that SDT was formally introduced and accepted as a sound empirical theory. Research applying SDT to different areas in social psychology has increased considerably since the 2000s.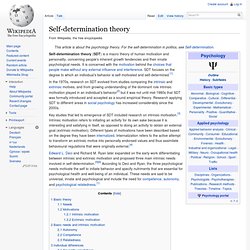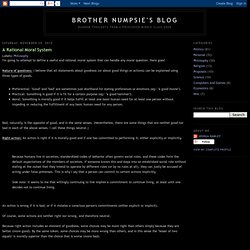 I'm going to attempt to define a useful and rational moral system that can handle any moral question. Here goes! Nature of goodness: I believe that all statements about goodness (or about good things or actions) can be explained using three types of goods. Preferential: "Good" and "bad" are sometimes just shorthand for stating preferences or emotions (eg/ "a good movie"). Practical: Something is good if it is fit for a certain purpose (eg/ "a good hammer"). Moral: Something is morally good if it helps fulfill at least one basic human need for at least one person without impeding or reducing the fulfillment of any basic human need for any person.
A Rational Moral System
Human evolution refers to the evolutionary process leading up to the appearance of modern humans . While it began with the last common ancestor of all life, the topic usually covers only the evolutionary history of primates , in particular the genus Homo , and the emergence of Homo sapiens as a distinct species of hominids (or "great apes"). The study of human evolution involves many scientific disciplines, including physical anthropology , primatology , archaeology , linguistics , evolutionary psychology , embryology and genetics . [ 1 ]
De Waal Traces Human Behavior to Apes
Humans may have more in common with monkeys, chimpanzees and other non-human primates than they think, according to Frans de Waal, C.H. Candler professor of primate behavior. De Waal, whom TIME magazine designated as one of "100 People Who Shape Our World," described the uncanny similarities between human and ape behavior in the inaugural lecture of the Life of the Mind lunchtime lecture series on Wednesday. De Waal's lecture, "Our Inner Ape: What Primate Behavior Teaches Us About Human Behavior," focused on shared behaviors such as social reciprocity, communication and cultural transmission, which the primatologist likened to certain politicians' behaviors.
Evolution of Language: Chomsky & Dennett
Jenny Cai Professor Grobstein March 14, 2011 Evolution of Language: Chomsky & Dennett Most conscious stories are told through the use of language and have been recorded in text and orally through time.
Dunbar's number is a suggested cognitive limit to the number of people with whom one can maintain stable social relationships . These are relationships in which an individual knows who each person is, and how each person relates to every other person. [ 1 ] Proponents assert that numbers larger than this generally require more restrictive rules, laws, and enforced norms to maintain a stable, cohesive group . It has been proposed to lie between 100 and 230, with a commonly used value of 150. [ 2 ] [ 3 ] Dunbar's number states the number of people one knows and keeps social contact with, and it does not include the number of people known personally with a ceased social relationship, nor people just generally known with a lack of persistent social relationship, a number which might be much higher and likely depends on long-term memory size.
Universal grammar
Universal grammar (UG) is a theory in linguistics , usually credited to Noam Chomsky , proposing that the ability to learn grammar is hard-wired into the brain . [ 1 ] The theory suggests that linguistic ability manifests itself without being taught ( see Poverty of the stimulus ), and that there are properties that all natural human languages share. It is a matter of observation and experimentation to determine precisely what abilities are innate and what properties are shared by all languages. [ edit ] Argument If human beings grow up under normal conditions (not conditions of extreme deprivation), then they will always develop a language with property X (for example, distinguishing nouns from verbs , or distinguishing function words from lexical words ) and therefore property X is a property of universal grammar in this most general sense (here not capitalized). There are theoretical senses of the term Universal Grammar as well (here capitalized).
Cultural universal
Reciprocal altruism
Fallibilism
Determinism Irrelevant
Classical limit