Political philosophy
Get flash to fully experience Pearltrees
A monopoly of the legitimate use of physical force (sometimes referred to as the state's monopoly on violence ) is the conception of the state expounded by sociologist Max Weber in his essay Politics as a Vocation (1919). According to Weber, the state is that entity which "upholds the claim to the monopoly of the legitimate use of physical force in the enforcement of its order." [ 1 ] Weber's conception of the state as holding a monopoly on force has figured prominently in philosophy of law and political philosophy in the twentieth century. Weber defines the state as a community successfully claiming authority on legitimate use of physical force over a given territory; territory was also deemed by Weber to be a prerequisite feature of a state.
The non-aggression principle ( NAP )—also called the non-aggression axiom , the zero aggression principle ( ZAP ), the anti-coercion principle , or the non-initiation of force —is a moral stance which asserts that aggression is inherently illegitimate. NAP and property rights are closely linked, since what aggression is depends on what a person's rights are. [ 1 ] Aggression, for the purposes of NAP, is defined as the initiation or threatening of violence against a person or legitimately owned property of another. Specifically, any unsolicited actions of others that physically affect an individual's property or person, no matter if the result of those actions is damaging, beneficial, or neutral to the owner, are considered violent or aggressive when they are against the owner's free will and interfere with his right to self-determination or the principle of self-ownership .
Right-wing authoritarianism ( RWA ) is a personality and ideological variable studied in political , social , and personality psychology . Right-wing authoritarians are people who have a high degree of willingness to submit to authorities they perceive as established and legitimate, who adhere to societal conventions and norms, and who are hostile and punitive in their attitudes towards people who don't adhere to them. They value uniformity and are in favour of using group authority, including coercion, to achieve it. [ 1 ] [ edit ] History
Or, Why Conservatives Have Left Liberals In the Dust by George Lakoff © copyright George Lakoff 1995 About the Author We may not always know it, but we think in metaphor.
Four core values lie at the heart of conservative or right-wing political thought: authority, hierarchy, property and community. These values are generally defended in a 'common-sensical' philosophy which rejects the idea that human beings can be perfected. Authority Conservative political thought began as a defence of authority in all social domains.
Russell Kirk's third canon of conservatism states: Conviction that civilized society requires orders and classes, as against the notion of a "classless society." With reason, conservatives have been called "the party of order." If natural distinctions are effaced among men, oligarchs fill the vacuum.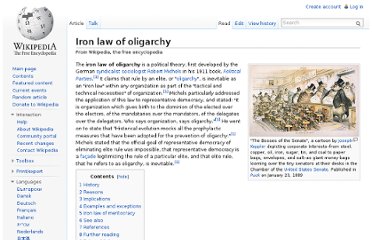 "The Bosses of the Senate", a cartoon by Joseph Keppler depicting corporate interests–from steel, copper, oil, iron, sugar, tin, and coal to paper bags, envelopes, and salt–as giant money bags looming over the tiny senators at their desks in the Chamber of the United States Senate . Published in Puck on January 23, 1889 The iron law of oligarchy is a political theory, first developed by the German syndicalist sociologist Robert Michels in his 1911 book, Political Parties . [ 1 ] It claims that rule by an elite, or " oligarchy ", is inevitable as an "iron law" within any organization as part of the "tactical and technical necessities" of organization. [ 1 ] Michels particularly addressed the application of this law to representative democracy, and stated: "It is organization which gives birth to the dominion of the elected over the electors, of the mandataries over the mandators, of the delegates over the delegators.
The propaganda model is a conceptual model in political economy advanced by Edward S. Herman and Noam Chomsky that states how propaganda , including systemic biases , function in mass media . The model seeks to explain how populations are manipulated and how consent for economic, social and political policies is "manufactured" in the public mind due to this propaganda.