Peripherals
Get flash to fully experience Pearltrees
In an impressive mix of visual sciences and sci-fi, the ICT Graphics Lab at USC has created a low-cost volumetric 3-D display that brings every kid's hologram dreams closer to reality. The process is not simple but can be defined through a few key concepts: spinning mirrors, high-speed DLP Projections, and very precise math that figures out the correct axial perspective needed for a 360-degree image (even taking into account a viewer's positioning.) USC ICT Graphics Lab's Volumetric Display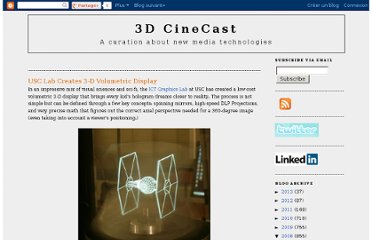 An ORDbot Quantum 3D printer Timelapse video of a hyperboloid object print (made of PLA ) using a RepRap "Prusa Mendel" 3D printer for molten polymer deposition Additive manufacturing or 3D printing [ 1 ] is a process of making a three-dimensional solid object of virtually any shape from a digital model . 3D printing is achieved using an additive process , where successive layers of material are laid down in different shapes. [ 2 ] 3D printing is considered distinct from traditional machining techniques, which mostly rely on the removal of material by methods such as cutting or drilling ( subtractive processes). A materials printer usually performs 3D printing processes using digital technology. Since the start of the twenty-first century there has been a large growth in the sales of these machines, and their price has dropped substantially. [ 3 ]
Wacom Bamboo Capture tablet and pen A graphics tablet or digitizer is a computer input device that enables a user to hand-draw images and graphics, similar to the way a person draws images with a pencil and paper. These tablets may also be used to capture data or handwritten signatures. It can also be used to trace an image from a piece of paper which is taped or otherwise secured to the surface. Capturing data in this way, either by tracing or entering the corners of linear poly-lines or shapes is called digitizing .
The modern Dvorak Simplified Keyboard (US layout) The Dvorak Simplified Keyboard ( i / d ᵊ ˈ v ɔr æ k / d- VOR -ak ) is a keyboard layout patented in 1936 by Dr. August Dvorak and his brother-in-law , Dr.
"Something's wrong with your keyboard," a friend borrowing my laptop would say. "When I type, all that comes out is gibberish!" "Nothing's wrong with my keyboard," I would reply with a grin.