Antisocial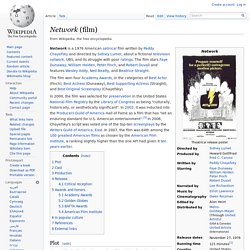 Network is a 1976 American satirical film written by Paddy Chayefsky and directed by Sidney Lumet , about a fictional television network , UBS, and its struggle with poor ratings . The film stars Faye Dunaway , William Holden , Peter Finch , and Robert Duvall and features Wesley Addy , Ned Beatty , and Beatrice Straight . The film won four Academy Awards , in the categories of Best Actor (Finch), Best Actress (Dunaway), Best Supporting Actress (Straight), and Best Original Screenplay (Chayefsky). In 2000, the film was selected for preservation in the United States National Film Registry by the Library of Congress as being "culturally, historically, or aesthetically significant". In 2002 , it was inducted into the Producers Guild of America Hall of Fame as a film that has "set an enduring standard for U.S. American entertainment". [ 2 ] In 2006, Chayefsky's script was voted one of the top-ten screenplays by the Writers Guild of America, East .
Network - Mad as Hell Scene
V for Vendetta is a 2005 political thriller film directed by James McTeigue and written by The Wachowski Brothers , based on the 1982 comic book of the same name by Alan Moore and David Lloyd . Set in London in a near-future dystopian society, Hugo Weaving portrays V — a bold, charismatic freedom fighter, attempting to ignite a revolution against the brutal fascist regime led by Adam Sutler ( John Hurt ) that has subjugated his country. Natalie Portman plays Evey , a working-class girl caught up in V's mission and Stephen Rea portrays the detective leading a desperate quest to stop V. The film was originally scheduled for release by Warner Bros. on Friday, 4 November 2005 (a day before the 400th Guy Fawkes Night ), but was delayed; it opened on 17 March 2006, to positive reviews.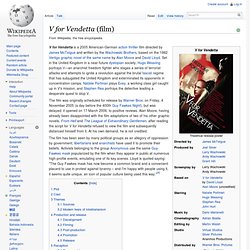 V for Vendetta (film)
V for Vendetta: The Revolutionary Speech (HD)
v for vendetta- remember remember the 5th of november
Office Space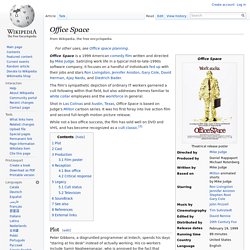 Office Space is a 1999 American comedy film satirizing work life in a typical 1990s software company . Written and directed by Mike Judge , it focuses on a handful of individuals fed up with their jobs portrayed by Ron Livingston , Jennifer Aniston , Gary Cole , David Herman , Ajay Naidu , and Diedrich Bader . The film's sympathetic depiction of ordinary IT workers garnered a cult following within that field, but also addresses themes familiar to white collar employees in general.
Avatar (2009 film)
Avatar is a 2009 American [ 7 ] [ 8 ] epic science fiction film written and directed by James Cameron , and starring Sam Worthington , Zoe Saldana , Stephen Lang , Michelle Rodriguez , Joel David Moore , Giovanni Ribisi and Sigourney Weaver . The film is set in the mid-22nd century, when humans are mining a precious mineral called unobtanium on Pandora , a lush habitable moon of a gas giant in the Alpha Centauri star system. [ 9 ] [ 10 ] [ 11 ] The expansion of the mining colony threatens the continued existence of a local tribe of Na'vi – a humanoid species indigenous to Pandora. The film's title refers to a genetically engineered Na'vi body with the mind of a remotely located human, and is used to interact with the natives of Pandora. [ 12 ]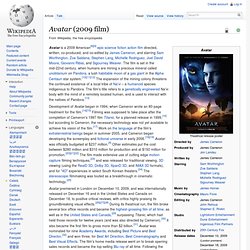 The Matrix is a science fiction action media franchise created by Andy and Larry Wachowski and distributed by Warner Bros. Pictures . The series began with the feature film The Matrix (1999), and continued with two sequels, The Matrix Reloaded (2003) and The Matrix Revolutions (2003). The characters and settings of the films are further explored in other media set in the same fictional universe , including animation, comics, and video games. The series features a cyberpunk story incorporating references to numerous philosophical and religious ideas.
The Matrix (franchise)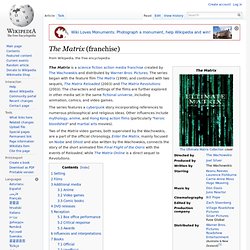 Matrix - The pill
Fight Club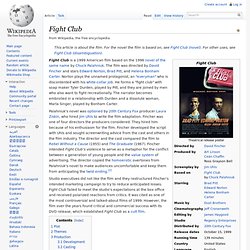 Fight Club is a 1999 American film based on the 1996 novel of the same name by Chuck Palahniuk . The film was directed by David Fincher and stars Edward Norton , Brad Pitt , and Helena Bonham Carter . Norton plays the unnamed protagonist, an " everyman " who is discontented with his white-collar job . He forms a "fight club" with soap maker Tyler Durden, played by Pitt, and becomes embroiled in a relationship with him and a dissolute woman, Marla Singer, played by Bonham Carter.
Fight Club Speech
Things you own
American Beauty is a 1999 American drama film directed by Sam Mendes and written by Alan Ball . Kevin Spacey stars as office worker Lester Burnham, who has a midlife crisis when he becomes infatuated with his teenage daughter's best friend, Angela ( Mena Suvari ).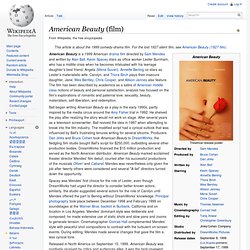 American Beauty (film)
American Beauty Intro