Antisocial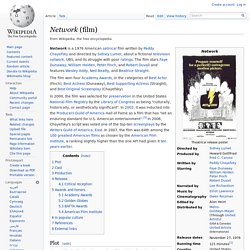 Network is a 1976 American satirical film written by Paddy Chayefsky and directed by Sidney Lumet, about a fictional television network, UBS, and its struggle with poor ratings. The film stars Faye Dunaway, William Holden, Peter Finch, and Robert Duvall and features Wesley Addy, Ned Beatty, and Beatrice Straight. Howard Beale (Peter Finch) delivering his "mad as hell" speech Diana Christensen (Faye Dunaway) heads the network's programming department; seeking just one hit show, she cuts a deal with a band of radical terrorists (a parody of the Symbionese Liberation Army called the "Ecumenical Liberation Army") for a new docudrama series called the Mao Tse-Tung Hour for the upcoming fall season. When Beale's ratings seem to have topped out, Christensen approaches Schumacher and offers to help him "develop" the news show. He says no to the professional offer, but not to the personal one, and the two begin an affair.
Network (film)
Network - Mad as Hell Scene
V for Vendetta is a 2006 American-German action thriller film directed by James McTeigue and written by the Wachowski Brothers, based on the 1982 Vertigo graphic novel of the same name by Alan Moore and David Lloyd. Set in London in a near-future dystopian society, Hugo Weaving portrays V—an anarchist freedom fighter, attempting to ignite a revolution against the brutal fascist regime led by Adam Sutler (John Hurt) that has subjugated the United Kingdom. Natalie Portman plays Evey, a working class girl caught up in V's mission, and Stephen Rea portrays the detective leading a desperate quest to stop V. The film was originally scheduled for release by Warner Bros. on Friday, 4 November 2005 (a day before the 400th Guy Fawkes Night), but was delayed; it opened on 17 March 2006, to positive reviews.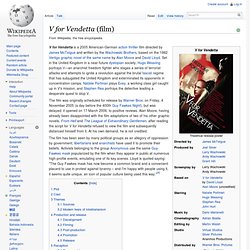 V for Vendetta (film)
V for Vendetta: The Revolutionary Speech (HD)
v for vendetta- remember remember the 5th of november
Office Space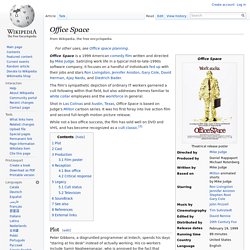 Office Space is a 1999 American comedy film written and directed by Mike Judge. Satirizing work life in a typical 1990s software company, it focuses on a handful of individuals fed up with their jobs portrayed by Ron Livingston, Jennifer Aniston, Gary Cole, David Herman, Ajay Naidu, and Diedrich Bader. The film's sympathetic depiction of ordinary IT workers garnered a cult following within that field, but also addresses themes familiar to white collar employees in general.
Avatar (2009 film)
Avatar is a 2009 American[8][9] epic science fiction action film directed, written, co-produced, and co-edited by James Cameron, and starring Sam Worthington, Zoe Saldana, Stephen Lang, Michelle Rodriguez, Joel David Moore, Giovanni Ribisi, and Sigourney Weaver. The film is set in the mid-22nd century, when humans are mining a precious mineral called unobtanium on Pandora, a lush habitable moon of a gas giant in the Alpha Centauri star system.[10][11][12] The expansion of the mining colony threatens the continued existence of a local tribe of Na'vi – a humanoid species indigenous to Pandora. The film's title refers to a genetically engineered Na'vi body with the mind of a remotely located human, and is used to interact with the natives of Pandora.[13]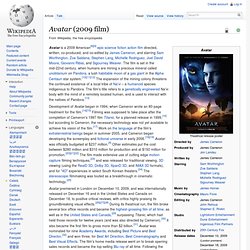 The Matrix is a science fiction action media franchise created by Andy and Larry Wachowski and distributed by Warner Bros. Pictures. The series began with the feature film The Matrix (1999), and continued with two sequels, The Matrix Reloaded (2003) and The Matrix Revolutions (2003). The characters and settings of the films are further explored in other media set in the same fictional universe, including animation, comics, and video games. The series features a cyberpunk story incorporating references to numerous philosophical and religious ideas.
The Matrix (franchise)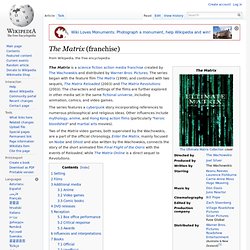 Matrix - The pill
Fight Club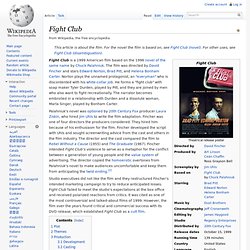 Studio executives did not like the film and they restructured Fincher's intended marketing campaign to try to reduce anticipated losses. Fight Club failed to meet the studio's expectations at the box office and received polarized reactions from critics. It was cited as one of the most controversial and talked-about films of 1999. However, the film later found commercial success with its DVD release, which established Fight Club as a cult film.
Fight Club Speech
Things you own
Spacey was Mendes' first choice for the role of Lester, even though DreamWorks had urged the director to consider better-known actors; similarly, the studio suggested several actors for the role of Carolyn until Mendes offered the part to Bening without DreamWorks' knowledge. Principal photography took place between December 1998 and February 1999 on soundstages at the Warner Bros. backlot in Burbank, California and on location in Los Angeles.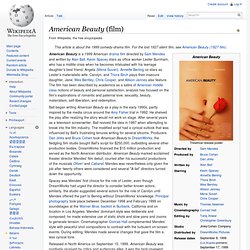 American Beauty (film)
American Beauty Intro