Metameerkat
Dorette
Co-Founder Uthango Social Investments in South Africa and social innovator...
TEDxCT. MetaMeerkat : oh! so classy & humble ... TEDx Simulcast Web Platform. The Psychological Price of Entrepreneurship | Inc. 5000. Editor's Note: This article is a finalist in the 2014 Annual Awards Contest of the Deadline Club, the New York City chapter of the Society of Professional Journalists.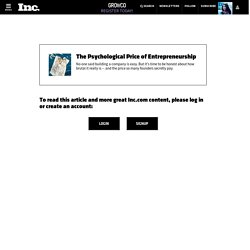 By all counts and measures, Bradley Smith is an unequivocal business success. He's CEO of Rescue One Financial, an Irvine, California-based financial services company that had sales of nearly $32 million last year. WATCH: Does Money Make You Mean? | TEDTalks. Posted: Updated: It's amazing what a rigged game of Monopoly can reveal.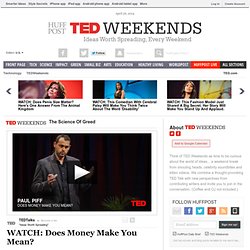 Psychologist Paul Piff shares research showing that people who feel wealthy tend to behave badly. Why is that? And what does it mean for America? Ideas are not set in stone. Please help Karen Borochowitz and share... - Dorette Steenkamp. So glad this was recorded Olly Malebane... - Dorette Steenkamp. Katie Melua _The Walls Of The World. Welcome to Alzheimer's South Africa — Alzheimer's South Africa. MetaMeerkat : nog steeds bietjie sneeu op... Shannon Hope - The Waiting Room. Mugabe blasts Mandela. Johannesburg - Zimbabwe President Robert Mugabe has blasted former president Nelson Mandela 's reconciliation policies, and has labelled him "too much of a saint" in a television interview, The Sunday Independent reported.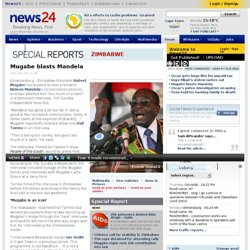 "Mandela has gone a bit too far in doing good to the non-black communities, really in some cases at the expense of [blacks]... ," Mugabe reportedly told talk show host Dali Tambo in an interview. "That is being too saintly, too good, too much of a saint," he said. The interview, filmed for Tambo's show People of the South , would be aired next Sunday, the newspaper reported. According to The Sunday Independent, the interview included footage of the Mugabe family and interviews with Mugabe's wife Grace at a dairy farm.
Tambo filmed the interview in Zimbabwe before Christmas and showed the family the final edit in Harare last weekend. Africa's sexy tech: Death by innovation? The Cc-Hub, in Lagos, is a hotbed of successful innovation.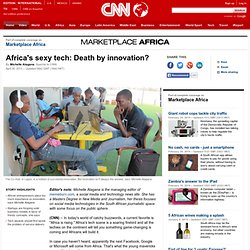 But innovation isn't always the answer, says Michelle Atagana. African entrepreneurs place too much importance on innovation, says Michelle AtaganaStartups are forgoing solid business models in favor of trendy concepts, she saysTech wizards should first tackle the problem of service delivery Editor's note: Michelle Atagana is the managing editor of memeburn.com, a social media and technology news site. She has a Masters Degree in New Media and Journalism, her thesis focuses on social media technologies in the South African journalistic space with some focus on the public sphere.
(CNN) -- In today's world of catchy buzzwords, a current favorite is "Africa is rising. " EverClip Automatically Imports Your iOS Clipboard to Evernote. Global NGOs Spend More on Accounting Than Multinationals - Jeri Eckhart Queenan. By Jeri Eckhart Queenan | 12:00 PM April 23, 2013 Benchmark data isn't sexy stuff, but occasionally the numbers reveal surprising findings.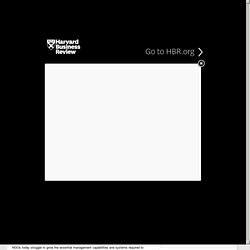 Who, for instance, would have guessed that global NGOs spend nearly 80% more to track their finances and employ nearly twice as many finance staff as comparable for-profit multinationals? This hardly seems right given that multinationals are thought to be awash in money and NGOs have the image of cash-strapped, waste averse organizations — which they are. But the data, gathered in our new study "Stop Starving Scale" and compared against benchmarks from APQC (American Productivity & Quality Center), hint at a little-known story: most global NGOs today struggle to master the complexities of managing efficient, integrated operations in large part due to restrictions placed on them by funders. Solar-powered mobile health centre rolls into Cape Town. Africa: How Mobile Media Is Transforming Africa for Good. Often has the question been asked: Who does technology serve?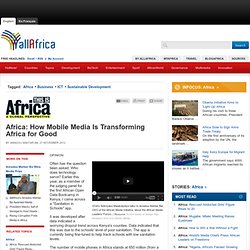 Earlier this year, as a member of the judging panel for the first African Open Data Bootcamp in Kenya, I came across a "Sanitation in Schools" app. It was developed after data indicated a worrying dropout trend across Kenya's counties. Kitely Roll Out New Opensim Asset System. This sounds like a great advancement because inventory is proving somewhat of a problem on OSgrid which is probably down to the huge storage requirement given they have the most registered avatars and regions.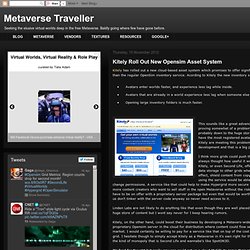 Clearly, Kitely are meeting this problem early on in their development and that is a big plus for using their service. I think more grids could push their databases to cloud and I always thought how useful it would be if a company like Kitely, or even Second Life, offered cloud based inventory data storage to other grids where Kitely or SL could, in effect, shield content from copy thieves since no grid owner using the service would be able to look at the data and change permissions. A service like that could help to make Hypergrid more secure and instill confidence in more content creators who want to sell stuff in the open Metaverse without the risks. Social Cooperation Within Virtual Worlds: Old Social Phenomena Emerging in New Environments | Diana Constantinescu.
I.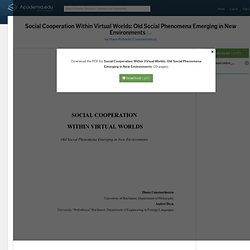 Introduction to virtual worlds What is a virtual world. MMORPG. The term MMORPG stands for massively multiplayer online role-playing game. Beloved Lindens Oskar and Yoz Let Go From Linden Lab. Kenya's mobile telephones: Vital for the poor. AFRICA'S "mobile decade", when telephones at last reached most corners of the continent, has meant a huge improvement in the lives of the poor.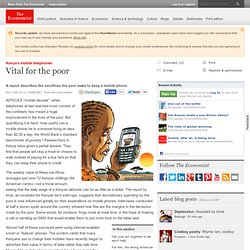 But quantifying it is hard. How useful can a mobile phone be to someone living on less than $2.50 a day, the World Bank's standard benchmark of poverty? Tech4Africa is the premier mobile, web & emerging technology event in Africa.Tech4Africa. Hurricane Sandy 3 Trees Fall And Fire. Manhattan Is Flooding and Sandy Hasn't Even Hit Yet. You know, I don't pay much heed to dire NYC hurricane warnings because they come a lot but mostly miss.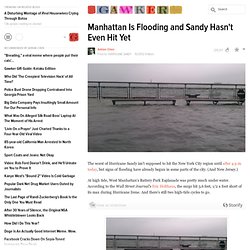 Those pictures though, already, with Ms. Duncan far from actually here yet - they give me pause. My apartment windows are open now, with those little half screens you buy at Rainbow. The window shut over the top six inches or so of said screen.
Psychology
Virtual Worlds & Gaming. With Words. Environment. Politics. Photography. Marketing. Social Media £ Networks. mXit. Storify. FaceBook. Twitter. Music. Business. Art & Design. CSO Support.
---
metameerkat Aug 15 2010

thank you again - i also manage @capetown in Twitter ;) will see what i can do to promote this awesome service
---