Wordpress
One of the primary reasons why WordPress is the most popular CMS platform available is the sheer level of customizability that it brings to the table. Today, we'll review the process of integrating one of those popular features, shortcodes , in the most user friendly way possible, into our theme.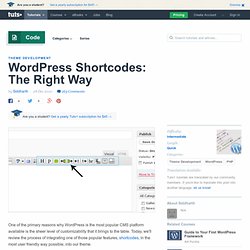 ene
Guía para entender los Shortcodes en Wordpress « ONtips.es – Aprende y comparte en Español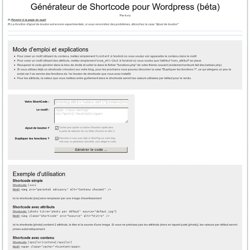 G?n?rateur de Shortcode pour Wordpress (b?ta)
Collez le contenu de cet encadré dans le fichier "functions.php" de votre thème (ou créez un nouveau plugin)
How to use WordPress shortcode outside in your theme files
WordPress shortcode: Automatically insert image by file name
Cómo usar los custom fields en WordPress « InfectedFX
21 / septiembre / 2009
Extend WordPress With Custom Fields - Smashing Magazine
WordPress' popularity has grown exponentially as of late.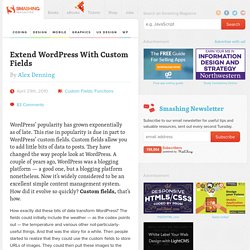 Just as I hoped, someone wrote in with a far nicer solution to my Global Custom Fields solution than I originally had .
Global Custom Fields, Take Two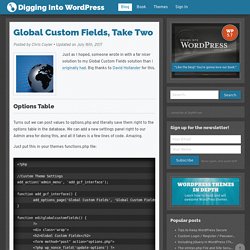 How to change WordPress editor font
Una de las grandes novedades que incorpora WordPress 3.0 es la posibilidad de crear Entradas Personalizadas (Custom Post Types) , es decir un nuevo tipo de entradas parecidas a las Entradas normales y a las Páginas, y que aparecerán también de manera separada en el menú de la izquierda del administrador de WordPress . ¿Qué ventajas nos ofrecen las Entradas Personalizadas? Una mayor facilidad de uso de nuestro tema, estructurando mejor los distintos tipos de entradas.
Crear una lista de productos con Wordpress 3.0 usando Entradas personalizadas, campos personalizados y taxonomías | emenia.es