Tools
Guide pour bloguer anonymement avec Wordpress & Tor Écrit par Ethan Zuckerman Traduit de l'anglais par Malek Khadhraoui Introduction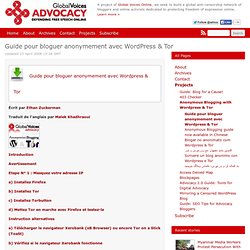 Guide pour bloguer anonymement avec Wordpress & Tor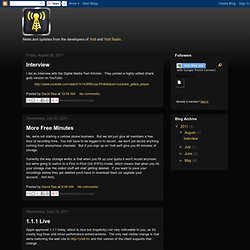 Yodl
No, we're not starting a cellular phone business. But we did just give all members a free hour of recording time. You still have to be logged in to record...we don't yet record anything coming from anonymous channels. But if you sign up on Yodl we'll give you 60 minutes of storage. Currently the way storage works is that when you fill up your quota it won't record anymore, but we're going to switch to a First In-First Out (FIFO) model, which means that when you hit your storage max the oldest stuff will start getting deleted. If you want to save your recordings before they get deleted you'll have to download them (or upgrade your account....hint hint).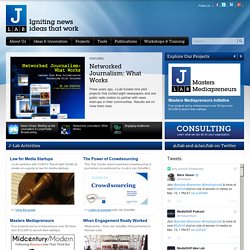 Networked Journalism: What Works Three years ago, J-Lab funded nine pilot projects that invited eight newspapers and one public radio station to partner with news start-ups in their communities. Results are in! View them here.
Validateur d'emails en ligne - Protimail.org, le vérificateur d'email gratuit en ligne.
Take the pulse of the social Web by hitting these rich targets Target audience: Nonprofits, cause organizations, brands, businesses, NGOs, educators, independent publishers, individuals. In this social media monitoring series: • Guide to monitoring social media conversations • 10 paid social media monitoring services for nonprofits • How to build & manage a monitoring dashboard Ready for a listening program? There are a wealth of free monitoring tools to choose from. 10 social media monitoring tools: a downloadable flyer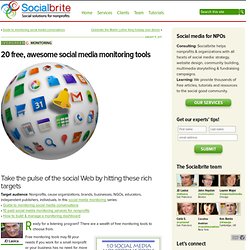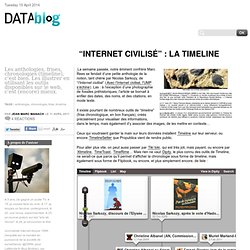 "Internet civilisé" : la timeline
La semaine passée, notre éminent confrère Marc Rees se fendait d'une petite anthologie de la notion, tant chérie par Nicolas Sarkozy, de "l'Internet civilisé" (Avec l'Internet civilisé, l'UMP s'échine). Las : à l'exception d'une photographie de fossiles préhistoriques, l'article se bornait à enfiler des dates, des noms, et des citations, en mode texte. Il existe pourtant de nombreux outils de "timeline" (frise chronologique, en bon français), créés précisément pour visualiser des informations, dans le temps, mais également d'y associer des images, de les mettre en contexte… Ceux qui voudraient garder la main sur leurs données installent Timeline sur leur serveur, ou encore TimelineSetter que Propublica vient de rendre public.