Social media info
Facebook en France : 20 millions d'utilisateurs actifs . Twitter : 3,3 millions d'utilisateurs dans l'Hexagone. Les deux géants américains du réseau social dominent le paysage internet français.
Twitter Reaches 200 Million Accounts [INFOGRAPHIC]
Carte du Monde des réseaux sociaux : Facebook domine
Facebook gagne toujours du terrain au niveau mondial, même s'il en a perdu récemment en Amérique du Nord. Avec ses 700 millions d'utilisateurs et sa domination dans 119 pays (sur 134 analysés ici), le bleu du réseau social couvre les deux tiers de la surface du globe. Ci-dessous une animation qui représente l'évolution depuis 2009 : Pour établir le classement des pays dans lesquels un réseau social en particulier domine, le blogueur italien Vincenzo Cosenza a utilisé Google Trends for Websites et Alexa. [source : vincos.it]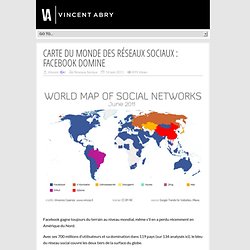 Things-That-Happen-On-Internet-Every-Sixty-Seconds-infographic.jpg (Image JPEG, 1191x842 pixels) - Redimensionnée (86%)
Quel est le meilleur jour/heure pour poster sur Facebook et Twitter ? [infographie]
Il Social Media Marketing lo amiamo, lo odiamo, lo analizziamo e lo studiamo. Usiamo i suoi strumenti per gioco, per entusiasmo, per diletto o perché "dobbiamo esserci perché ci sono tutti". Usiamo i social network per svago ma anche per lavoro. Perché allora non dare un merito a questa disciplina? E' entrata di forza nelle nostre vite quotidiane, cambiando i nostri comportamenti e anche il nostro modo di lavorare. Per questo, abbiamo pensato e realizzato un'infografica per dar merito a questa branca del marketing cosi affascinante e in continua evoluzione.
La tavola periodica del Social Media Marketing [Infografica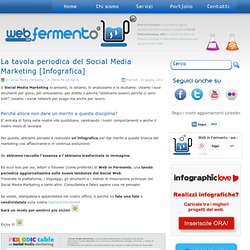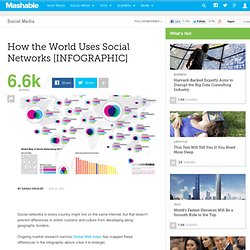 Social networks in every country might live on the same Internet, but that doesn't prevent differences in online customs and culture from developing along geographic borders. Ongoing market research service Global Web Index has mapped these differences in the infographic above (click it to enlarge). The research, run by London-based consultancy Trendstream, has conducted six waves of surveys about global consumer adoption of the Internet and social media in 36 markets. It used data from its February 2011 surveys of between 750 and 2,000 online users in each market to define three behavior types: messagers, groupers and content sharers. In some countries, many of them Asian, most people were focused on content sharing.
Medias sociaux retour vers le futur
The Stream - Al Jazeera English
Chaîne de AJEStream
Main Page - Comunica iGuides
Thank you for subscribing to NTEN:Change! > You can read the current issue online by clicking here. > Click here to download the current issue as PDF (no dynamic content) > access the text-only version of current articles (for accessibility or translation requirements) by clicking here.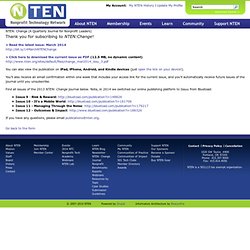 Change (A Quarterly Journal for Nonprofit Leaders)
Meet Duolingo, Google's Next Acquisition Target; Learn A Language, Help The Web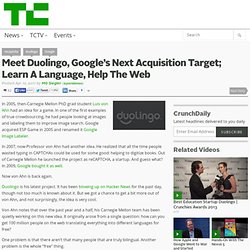 In 2005, then-Carnegie Mellon PhD grad student Luis von Ahn had an idea for a game. In one of the first examples of true crowdsourcing, he had people looking at images and labeling them to improve image search. Google acquired ESP Game in 2005 and renamed it Google Image Labeler. In 2007, now-Professor von Ahn had another idea.
Social Media 4 Good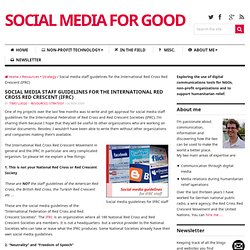 One of my projects over the last few months was to write and get approval for social media staff guidelines for the International Federation of Red Cross and Red Crescent Societies (IFRC). I'm sharing them because I hope that they will be useful to other organizations who are working on similar documents. Besides: I wouldn't have been able to write them without other organizations and companies making their's available. Social media guidelines for IFRC staff
Social media staff guidelines for the International Red Cross Red Crescent (IFRC) : Social Media 4 Good