Past Lives (to be added to OOB)
Reincarnation and near-death experiences. By Kevin Williams Reincarnation has been called by some to be the greatest unknown scientific discovery today.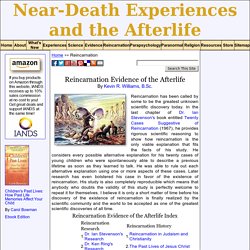 In the last chapter of Dr. Ian Stevenson's book entitled Twenty Cases Suggestive of Reincarnation (1967), he provides rigorous scientific reasoning to show how reincarnation is the only viable explanation that fits the facts of his study. Reincarnation. Reincarnation is the religious or philosophical concept that the soul or spirit, after biological death, begins a new life in a new body that may be human, animal or spiritual depending on the moral quality of the previous life's actions.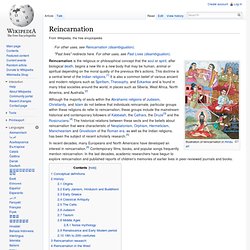 This doctrine is a central tenet of the Indian religions.[1] It is also a common belief of various ancient and modern religions such as Spiritism, Theosophy, and Eckankar and is found in many tribal societies around the world, in places such as Siberia, West Africa, North America, and Australia.[2] In recent decades, many Europeans and North Americans have developed an interest in reincarnation.[6] Contemporary films, books, and popular songs frequently mention reincarnation.
In the last decades, academic researchers have begun to explore reincarnation and published reports of children's memories of earlier lives in peer-reviewed journals and books. Conceptual definitions[edit] Reincarnation.
---