Education methods
Your Baby Can Read® - Receive free shipping and bonus 5-DVD set just for trying!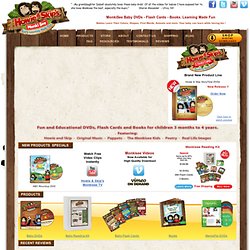 The MonkiSee collection of baby DVDs brings tons of fun to your little ones. Your baby will be exposed to upbeat music, original poetry, lovable puppets and real life images that will keep your baby excited while they learn. With all the fun and entertainment on the DVDs, the Monkisee Collection will quickly become your baby's favorite baby dvd series. This is a 30 minute break parents can feel great about. Why Do Parents Love MonkiSee? Parents love the MonkiSee Baby DVDs because they make babies happy, and everybody loves a happy baby.
Baby Learning To Read | Educational and Entertaining Baby DVDs | Monkisee.com
Adored by Children, Hailed by Experts "In just three months, Sydney was suddenly saying everything in French! She can enjoy it as entertainment but it's profoundly educational." Parents of Sydney W. "Our MUZZY kids are far more successful and heads above students arriving here who didn't have MUZZY."
MUZZY, the BBC Language Course for Children
Right Brain Education and accelerated early childhood learning methods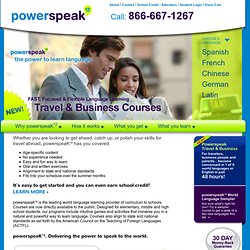 Whether you are looking to get ahead, catch up, or polish your skills for travel abroad, powerspeaK¹² has you covered. Age-specific contentNo experience neededEasy and fun way to learnOral and written exercisesAlignment to state and national standardsFits into your schedule over the summer months It's easy to get started and you can even earn school credit!
powerspeak12 Foreign Language Courses
Welcome to Dover Publications! Since 1941, we've offered great books at amazing prices, including over 600 titles that sell for less than $2.00! With over 8,000 value-priced titles we have books for almost every interest. Dover collections include fun, ed
Abacus Math Lesson 9 – Numbers up to 1000 April 16th, 2014 Abacus Math Lesson 9 – Numbers up to 1000
Nurtureminds.com - Whole Brain Development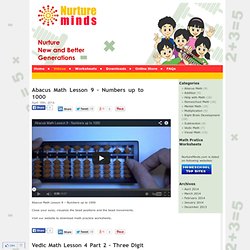 Early Education | Early Learning | Teach Baby to Read – Videos, Toys, Flash Cards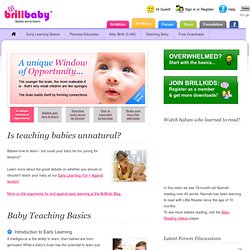 Is teaching babies unnatural? Babies love to learn - but could your baby be too young for lessons? Learn more about the great debate on whether you should or shouldn't teach your baby at our Early Learning: For + Against section!
The Bluedorns welcome you to Trivium Pursuit. Here are resources to apply Christian classical education to homeschooling. There is more than one legitimate way to approach classical education. In this chapter from our book Teaching the Trivium, we explain how to put the principles of the trivium into practice...(keep reading) In our culture, government school has somehow become the default setting for education, while homeschooling is considered an alternative for special situations.
Trivium Pursuit