Lesson Planning Resource
The UCLA Science and Engineering of the Environment of Los Angeles (SEE-LA) GK-12 program is supported by the National Science Foundation Graduate Teaching Fellows in K-12 Education (NSF GK-12). The NSF GK-12 is designed to partner K-12 teachers and scientists in an effort to improve science education. The SEE‐LA GK-12 program partners UCLA faculty, UCLA science and engineering graduate students (Fellows), middle and high school science teachers from LA Unified and Culver City Unified School Districts, and their students into a program of science and engineering exploration that brings the environment of Los Angeles into the classroom. UCLA GK‐12 Fellows serve as "scientists‐in‐residence" and work with teachers in their classrooms to enhance the science curriculum, and serve as science and engineering role models to students. • To improve communication and teaching skills of Fellows
SEE-LA GK-12 Program Home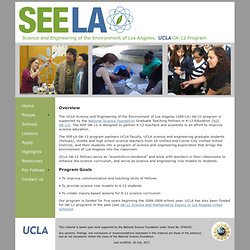 Abrupt Impacts of Climate Change is an updated look at the issue of abrupt climate change and its potential impacts on the physical climate system, natural systems, and human systems. This report summarizes the state of our knowledge about potential abrupt changes and abrupt climate impacts and categorizes changes that are already occurring, have a high probability of occurrence, or are unlikely to occur. [read more] In the United States, approximately 14 million people have had cancer and more than 1.6 million new cases are diagnosed each year. However, more than a decade after the IOM first studied the quality of cancer care, the barriers to achieving excellent care remain daunting. Delivering High-Quality Cancer Care: Charting a New Course for a System in Crisis presents a conceptual framework for improving the quality of cancer care.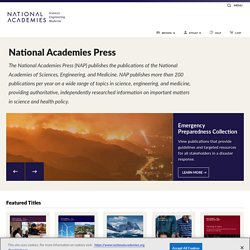 Welcome to ExploreBiology.com -- the Web site for Ms. Foglia's Biology classes at Division Avenue High School, Levittown and for her collection of resources to help other Biology teachers. There's a lot to see here.
Explore Biology | Biology Teaching & Learning Resources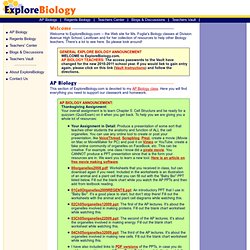 These experiments are from Robert Krampf - The Happy Scientist 211 - Egg in a Bottle - The experiment for this week is another classic, but a very misunderstood one. You will even find that many books of science experiments get this one wrong. 212 - Potato Clicks - Construct an electric cell. Produce electricity with various fruits and vegetables. This is one of the experiments that pops up quite often in science books, and it is also one of the experiments that seldom seems to work like the books say.
Science Experiments Fun Cheap Safe Dramatic Unusual Simple Household Items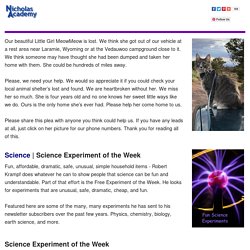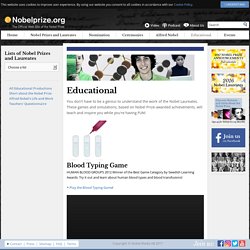 NEURO SCIENCES Find out more about our nervous system in 18 animated stops. Have a look! or watch the documentary The Mystery of Memory which provides a unique insight into the secrets of the brain's astounding ability to record and recall information, and includes interviews with some of today's most prominent scientists, such as Eric Kandel, 2000 Nobel Laureate in Physiology or Medicine.
PEER- TAMU
Environmental Hazards Index
"I stumbled upon your fun interactive geography games from a link on the Massachusetts Geographic Alliance Website. Since then, your games have become quite a hit with my competitive colleagues!" --Candice Gomes, Education Outreach Coordinator, Boston Public Library (Sheppard Software's geography games were featured in the Boston Public Library's 2006 Exhibition on Mapping)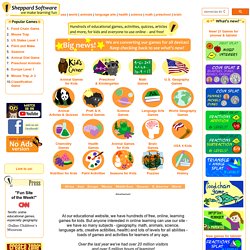 Special ScheduleSPRING BREAK HOURSApril 14 - April 25>>MORE<< Special ProgramKITCHEN SCIENCESaturday, April 19>>MORE<< Special EventsTHE FRANKLIN INSTITUTE AWARDSApril 22, 23, 24>>MORE<< Special ProgramLAUREATES LABORATORYTuesday, April 22>>MORE<<