Lesson Planning Resource
SEE-LA GK-12 Program Home. The UCLA Science and Engineering of the Environment of Los Angeles (SEE-LA) GK-12 program is supported by the National Science Foundation Graduate Teaching Fellows in K-12 Education (NSF GK-12).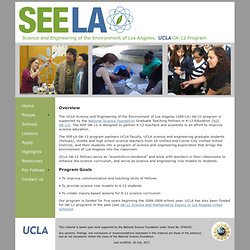 The NSF GK-12 is designed to partner K-12 teachers and scientists in an effort to improve science education. The SEE‐LA GK-12 program partners UCLA faculty, UCLA science and engineering graduate students (Fellows), middle and high school science teachers from LA Unified and Culver City Unified School Districts, and their students into a program of science and engineering exploration that brings the environment of Los Angeles into the classroom. UCLA GK‐12 Fellows serve as "scientists‐in‐residence" and work with teachers in their classrooms to enhance the science curriculum, and serve as science and engineering role models to students. • To improve communication and teaching skills of Fellows. The National Academies Press. Explore Biology | Biology Teaching & Learning Resources.
Welcome to Discovery Education. Home. Science Experiments Fun Cheap Safe Dramatic Unusual Simple Household Items. These experiments are from Robert Krampf - The Happy Scientist 211 - Egg in a Bottle - The experiment for this week is another classic, but a very misunderstood one.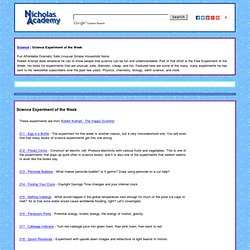 You will even find that many books of science experiments get this one wrong. 212 - Potato Clicks - Construct an electric cell. PhET: Free online physics, chemistry, biology, earth science and math simulations. Educational Games. NEURO SCIENCES Find out more about our nervous system in 18 animated stops.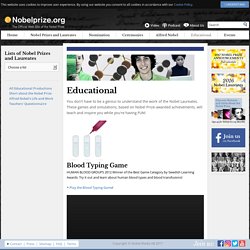 Have a look! Or watch the documentary The Mystery of Memory which provides a unique insight into the secrets of the brain's astounding ability to record and recall information, and includes interviews with some of today's most prominent scientists, such as Eric Kandel, 2000 Nobel Laureate in Physiology or Medicine. PEER- TAMU. Environmental Hazards Index. Home. Awesome Science Teacher Resources. Sheppard Software: Fun free online learning games and activities for kids. Science Learning Network: Home.
---