CV heuristique?
A mind map of 100+ tips for using Linkedin more effectively. Mar 18th, 2011 | By Chuck Frey | Category: Resources Linkedin.com is one of those networking tools that can be overwhelming.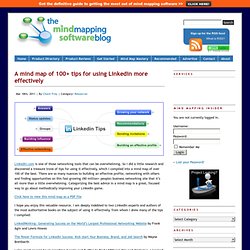 So I did a little research and discovered a treasure trove of tips for using it effectively, which I compiled into a mind map of over 100 of the best. There are so many nuances to building an effective profile, networking with others and finding opportunities on this fast-growing (90 million+ people) business networking site that it's all more than a little overwhelming. Crystal Mapping - CV's / Resumes. For every highly sought-after job prospective employers receive 100's if not 1000's of applications.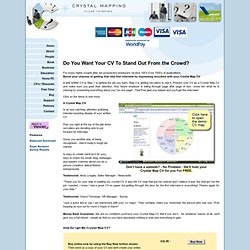 Boost your chances of getting that vital first interview by impressing recruiters with your Crystal Map CV. A well written CV is Step 1 to getting the job you want. Step 2 is getting recruiters to see it. CV. Démarquez-vous avec une carte mentale-CV - ActuDoc - Information. Il est commun d'entendre que nos DRH ont peu de temps pour lire les CV qu'ils reçoivent.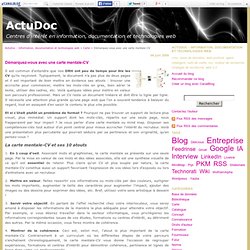 Typiquement, le document n'a pas plus de deux pages et il est important de bien mettre en évidence ses atouts : trouver une accroche pour commencer, mettre les mots-clés en gras, bien aérer le texte, utiliser des cadres, etc. Voilà quelques idées pour mettre en valeur son parcours professionnel. Mais un CV reste un document linéaire et doit être lu ligne par ligne.
Il nécessite une attention plus grande qu'une page web que l'on a souvent tendance à balayer du regard, tout en essayant d'en saisir le contenu le plus vite possible. Et si c'était plutôt un problème de format ? My Profile/CV Map. Le CV infographie, une nouvelle mode ? - Mode(s) d'emploi, tendances, conseils et actus sur le monde du travail.
---