Games & Fun
Loondon, the fairytale of Loondon game.
Test your typing speed and learn to type faster. Free typing game and competition. Way more fun than a typing tutor!
zizzo challenge (complete puzzles and arcade challenges - fun stuff) - game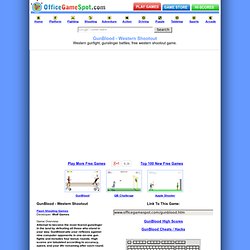 Game Overview: Attempt to become the most feared gunslinger in the land by defeating all those who stand in your way. GunBlood pits your reflexes against nine computer opponents in one-on-one gun fights and includes four bonus rounds. High scores are tabulated according to accuracy, speed, and your life remaining after each round. At the start of each level, the player and computer opponent each start with 6 shots.
Singapore-MIT GAMBIT Game Lab