Yoga
How To Do a Basic Sun Salutation | Yoga
Yoga | Yoga Exercises | Yoga Positions & Poses for Men, Women & More!
Yoga Basics: Your guide to Asanas, the Yoga Postures and Poses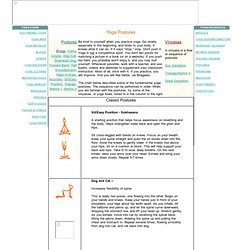 Be kind to yourself when you practice yoga. Go slowly, especially in the beginning, and listen to your body. It knows what it can do. If it says "stop," stop. Don't push it.