Resources
eLearning Template Library | eLearning Brothers | eLearning Template Library | Tons of templates to create awesome courses! Thinking & Learning. Plan differently. | Appfluence. EduScapes: A Site for Life-long Learners. eLearn Magazine.
Podcasting in Education | PoducateMe. Podcasting. Storytelling. Learning tools. Creativity Toolbox. ATutor Learning Management System: Information: DIY U: Build a Personal Learning Plan | Get to Work. I guess I've come to the end of this challenge - though my learning, of course, is only just beginning.
I've been into the idea of Edupunk for a long time without knowing what to call it, so it's good to have a challenge like this to put some structure to the idea, and Anya kamenetz's books, The Edupunk Guide and DIY U, have been invaluable. As part of this challenge I have defined my path and created a plan of my proposed learning, which you can see at Visible Darkness, a website I built in Wordpress as a space to contain my work in an organized way. Here you can also see a mind map of my initial Personal Learning Network - I'm sure this grow as I progress with my learning.
From this PLN I plan to nurture ongoing relationships that will, I hope, evolve into mentorship. Thinque - founded by Anders Sorman-Nilsson - Thought Leader on Innovation, Change Management, and Generational Trends | A Strategic Think Tank Focused on Your Future. Eduvant - Beta | Goalbook. PLATO® Online Learning Solution, Online Learning Management System | PLATO® Learning.
Social Media in Education. The Gallery of Teaching and Learning. 2020 Forecast: Creating the Future of Learning. Gary Vaynerchuk - Keynote Speech at Inc 500 Seminar 2011. How To Become Rich And Famous On YouTube. Flip Books. Academic Writing. Teachit PDF resources. Peer-Reviewed Open Access Journals.
Login. Research Tools | Economist.com | Economist.com. Secure Social Learning Network for Teachers and Students. » Directory of Learning & Performance Tools C4LPT. EmailShare 785EmailShare Here are over 2,000 tools for learning and working in education and the workplace.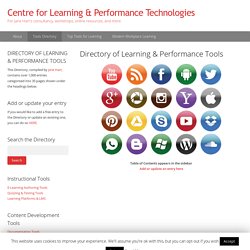 If you would like to submit a tool for this Directory, please use this form. Instructional Tools Tools for creating, delivering, managing and/or tracking learning and/or providing a formal social learning environment. Tech Literacy II: Skills for the Online Instructor. "Technology is just a tool.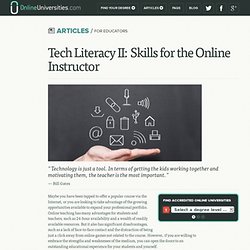 In terms of getting the kids working together and motivating them, the teacher is the most important. " — Bill Gates Maybe you have been tapped to offer a popular course via the Internet, or you are looking to take advantage of the growing opportunities available to expand your professional portfolio. Online teaching has many advantages for students and teachers, such as 24-hour availability and a wealth of readily available resources. But it also has significant disadvantages, such as a lack of face-to-face contact and the distraction of being just a click away from online games not related to the course. However, if you are willing to embrace the strengths and weaknesses of the medium, you can open the doors to an outstanding educational experience for your students and yourself.
Whiteboard. Collaborative Learning. ShowMe - The Online Learning Community. Great Video Lessons from Great Teachers | LearnZillion. Overview. Back In 2007⋅⋅⋅ In 2007, supported by five of the most prominent textbook publishers in higher education, CourseSmart started out with the simple goal of providing instructors in college and higher education a better textbook evaluation service.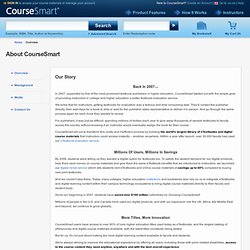 We knew that for instructors, getting textbooks for evaluation was a tedious and time consuming task. Live Video Learning at eduFire. Study Guides and Strategies. Edutopia. Find information about our now out-of-print magazine for educators.
Thanks for your interest in Edutopia magazine, an award-winning print publication for educators produced by The George Lucas Educational Foundation for six years. Due to changes in the publishing industry and a desire to focus our efforts on our website, we stopped producing the magazine in spring of 2010. Here's a blog post from the Foundation at that time, announcing the news: "A Look to the Future of Edutopia. " You may also read a message from our founder and chairman, George Lucas, to commemorate the end of the magazine. WiZiQ Free Online Teaching and E-Learning with Web Conferencing. Kerpoof Studio. The Zooming Presentation Editor.
---