Messen
Gatherwood - handmade
Böker 1869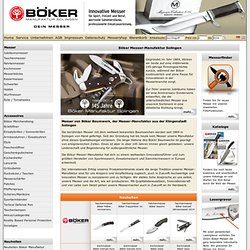 Gegründet im Jahr 1869, blicken wir heute auf eine mittlerweile 145-jährige Firmengeschichte zurück, während der Böker kontinuierlich und ohne Pause für Innovationen in der Messerbranche sorgt. Zur Feier unseres Jubiläums haben wir eine Anniversary-Sonderserie entworfen, die die unterschiedlichen Messer aus unserem Sortiment in eine stilistische Richtung bringt. Die berühmten Messer mit dem weltweit bekannten Baumzeichen werden seit 1869 in Solingen von Hand gefertigt. Seit der Gründung hat bis heute kein Messer unsere Manufaktur ohne dieses Qualitätssiegel verlassen. Die lange Historie des Böker Baumwerks ist geprägt von ereignisreichen Zeiten. Eines ist aber in über 145 Jahren immer gleich geblieben: unsere Leidenschaft und Begeisterung für außergewöhnliche Messer.
A message from Gary Fadden, President of Al Mar Knives:Since 1979, Al Mar Knives™ has been committed to making unique designs at quality levels that rival custom, hand-made knives. Today, each knife crafted by Al Mar is hand-finished and hand-sharpened by craftsmen dedicated to creating the very best possible. Each Al Mar knife features flat-ground blades for strength and superior performance - and that's just one reason to trust the Al Mar name. At Al Mar Knives, A Warrior's Edge ™ means Factory Perfection ™.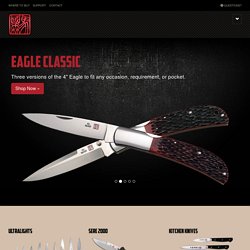 Al Mar Knives 1979
Chris Reeve
Wenger 1893
Coffret "Le Petit Chef" Pour les petits gourmands et apprentis cuisiniers, Opinel a créé un coffret spécial. Il se compose d'un protège-doigt, d'un éplucheur et d'un couteau de cuisine au bout arrondi avec anneau pédagogique pour aider à bien positionner les doigts et empêcher la main de glisser sur la lame.Comment bien choisir son couteau de cuisine ? Découvrez la collection Intempora et ses différentes lames et caractéristiques techniques pour des couteaux de cuisine de pro...!
Opinel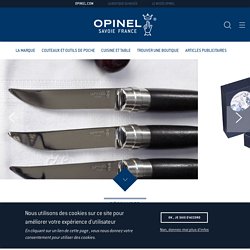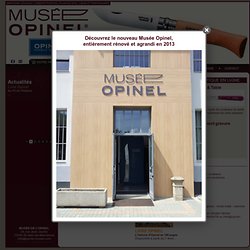 En 1890, Joseph Opinel était taillandier à Albiez-le-Vieux, petite commune près de Saint-Jean-de-Maurienne en Savoie. Avec son père, il forgeait les outils dont se servaient les paysans d'alentours et déjà on venait de loin pour acheter les haches, serpes et serpettes réputées qui sortaient d'un petit atelier familial. Or ce rude savoyard fabriquait pour quelques amis des couteaux de poche, simples, robustes, et bon marché.
Musée de l'Opinel