Recycle
elemental THREADS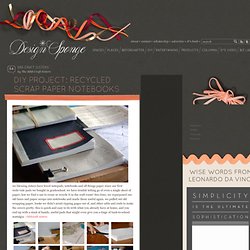 we blessing sisters have loved notepads, notebooks and all things paper since our first wide-rule pads we bought in gradeschool. we have trouble letting go of even a single sheet of paper, lest we find a use to reuse or recycle it in the craft room! this time, we repurposed our old faxes and paper scraps into notebooks and made them useful again. we pulled out old wrapping paper, books we didn't mind ripping pages out of, and other odds and ends to make the covers pretty. this is quick and easy to do with what you already have at home, and you end up with a stack of handy, useful pads that might even give you a tinge of back-to-school nostalgia. –bbbcraft sisters CLICK HERE for the full how-to after the jump!
Road Sign Stools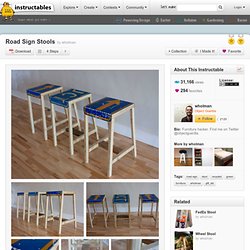 Given a heavy, yet healthy, obsession with road signs, I created these stools for my new apartment. They use a simple metal-bending technique to turn down the sharp edges of the signs and simultaneously brace the legs. You can see some of my other projects that use signs and this bending technique here: http://www.instructables.com/id/Road-Sign-Coffee-Table/ and here: http://www.instructables.com/id/Nine-Square-Chair/.
From the Museum of Modern Art Press Release: The Museum of Modern Art and P.S.1 Contemporary Art Center present an installation in P.S.1's outdoor courtyard by Los Angeles-based firm Ball-Nogues, led by Benjamin Ball and Gaston Nogues, winner of the eighth annual MoMA/P.S.1 Young Architects Program. The competition invites emerging architects to propose an installation for the courtyard of P.S.1 in Long Island City, Queens. The objective of the Young Architects Program is to identify and provide an outlet for emerging young talent in architecture, an ongoing mission of both MoMA and P.S.1.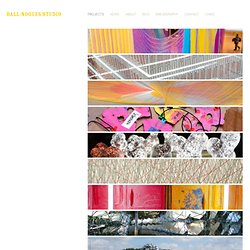 Plastic Bag Crafts : Daily source of DIY craft projects and inspiration, patterns, how-tos | Craftzine.com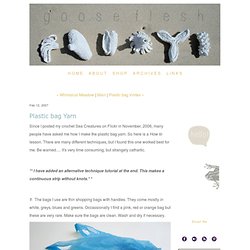 Plastic bag Yarn - gooseflesh
Since I posted my crochet Sea Creatures on Flickr in November, 2006, many people have asked me how I make the plastic bag yarn. So here is a How to lesson. There are many different techniques, but I found this one worked best for me.
tuesday tutorial: recycled crayon alphabet | One Charming Party
Tuesday, July 14, 2009 directions: 1.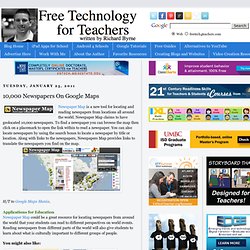 10,000 Newspapers On Google Maps
Newspaper Map is a new tool for locating and reading newspapers from locations all around the world. Newspaper Map claims to have geolocated 10,000 newspapers. To find a newspaper you can browse the map then click on a placemark to open the link within to read a newspaper.
Apr I have the same problem as Teri in that when food comes in a great zip top bag I feel like I should be able to reuse it. That is just what she's done. Hop on over to the blog …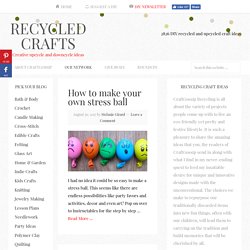 Photos via Carolina Fontoura Alzaga Artists Carolina Fontoura Alzaga has a way with bike chains. She transforms old bike parts into some seriously cool one-of-a-kind chandeliers. They have a certain steam punk style that we love, while also upcycling up what might otherwise go to the landfill. Carolina states, "This body of work draws inspiration from Victorian chandeliers, DIY and bike culture, and the use of unartistic materials."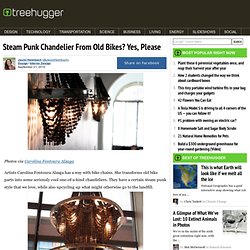 Steam Punk Chandelier From Old Bikes? Yes, Please