Craft collections
A little thank you. I'm a fan of thank you notes, and I would like my kids to be too.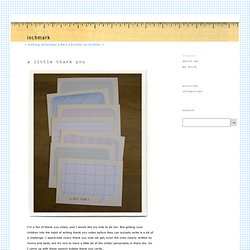 But getting your children into the habit of writing thank you notes before they can actually write is a bit of a challenge. I appreciate every thank you note we get, even the ones clearly written by moms and dads, but it's nice to have a little bit of the childs' personality in there too. So I came up with these speech bubble thank you cards.. Cereal Box Journal. Here's a quick and easy way to re-use a cereal box and make a useful journal from it.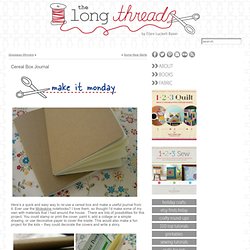 Ever use the Moleskine notebooks? I love them, so thought I'd make some of my own with materials that I had around the house. There are lots of possibilities for this project. Folding Trees. Kanzashiflower. Poppytalk. A Little Hut - Patricia Zapata. Most gawked last 7 days. All Posts. Search: how tuesday :: Etsy Blog. How-Tuesday: Shibori-Dyed Table Runner Add some hand-dyed pop to the table with this easy-to-execute project.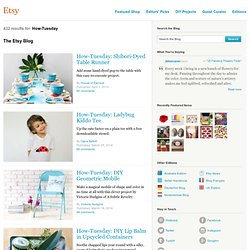 By House of Earnest Published: April 1, 2014 How-Tuesday: Ladybug Kiddo Tee Up the cute factor on a plain tee with a free downloadable stencil. By Oana Befort Published: March 25, 2014. Top 100 Tutorials of 2008. Happy New Year!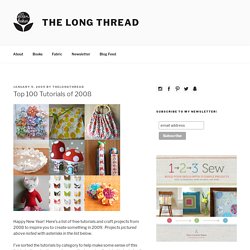 Here's a list of free tutorials and craft projects from 2008 to inspire you to create something in 2009. Projects pictured above noted with asterisks in the list below. I've sorted the tutorials by category to help make some sense of this list, but otherwise they are in no particular order. Cut Out + Keep | Make and share step-by-step craft tutorials. Make: Projects How-to Projects Library — Electronics, Arduino, Crafts, Solar, Robots. Craft Tutorials.
---