Art-collected
This December, in a surprisingly simple yet ridiculously amazing installation for the Queensland Gallery of Modern Ar, artist Yayoi Kusama constructed a large domestic environment, painting every wall, chair, table, piano, and household decoration a brilliant white, effectively serving as a giant white canvas. Over the course of two weeks, the museum's smallest visitors were given thousands upon thousands of colored dot stickers and were invited to collaborate in the transformation of the space, turning the house into a vibrantly mottled explosion of color. How great is this? Given the opportunity my son could probably cover the entire piano alone in about fifteen minutes.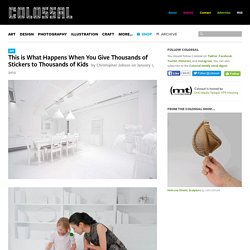 This is What Happens When You Give Thousands of Stickers to Kids
Home
Artsicle - Home
Art House Co-op
Illusion 360 - The World's most amazing Art, Design, Technology and Video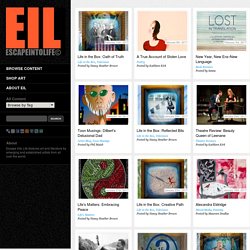 How Long Will I Cry?: Voices of Youth Violence Edited by Miles Harvey with an Introduction by Alex Kotlowitz Big Shoulders Books, DePaul University 2013 Reviewed by Seana Graham First, a little background. On September 24, 2009, a shooting in the Roseland area of Chicago's Far South Side led to factional fighting between two groups […] Read More Achilles and Cerberus, oil on canvas, 38″ x 49″, 2013 Arroyo, oil on canvas, 37″ x 62″, 2013 Creator, oil on canvas, 50″ x 54″, 2013 In the Forests of the Night, oil on canvas, 60″ x 80″, 2012 Small Glory, oil on canvas, 28″ x 50″, 2013 Hard Rain, oil on canvas, 28″ x […]
Escape into Life™ | Online Arts Journal | Poetry, Essays, Reviews, Art
Culturazzi: Oasis of the Arts | Cinema, Music, Literature, Photography, Theatre, Art
Cooper Cole Vanessa Maltese April 10 - May 10, 2014 Participating artists include: Vanessa Maltese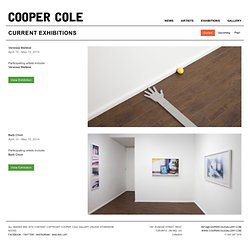 Show &amp Tell Gallery
Welcome
More than 400 invited guests attended the opening event of The Art Hunter in Sydney on Tuesday night. The Art Hunter launch is a collaboration between The Cool Hunter and Jaguar, and the opening night was also the Australian debut of the spectacular Jaguar C-X17 concept car. To present The Art Hunter, we engaged our dream team of collaborators, led by the incomparable Natalie Longeon and Peter Pengly from The Artistry (they designed and executed our Summer Lovers Rotate store as well), to transform a 500 m2 warehouse in Alexandria into a genuinely exciting, temporary three-week art exhibition experience. The Art Hunter is not a white-walled space where you quietly walk past pieces of art. Instead, it is an eclectic and vibrant environment where every wall is a different color (by our paint sponsor Taubmans), where there is no natural light and where the work of more than 40 artists, curated by us, is not only on display but also for sale.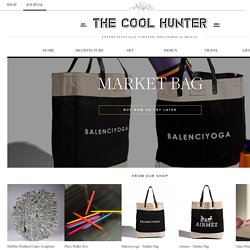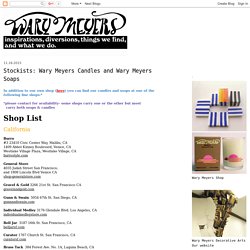 We've redesigned our packaging now that we have a hot foil letterpress, a rubber stamp maker, and a die cutting machine. The new (and sturdier) boxes are pressed with the new Wary Meyers logotype, then rubber stamped with all the type, then stuck with two stickers we made- one a cloud (or water), the other a sun (or moon). The cloud/moons are made of foil stickers (except in the case of Mainely Manly, where it's grey; and the moons are non-foil (except MM, where it's copper foil). These same stickers are then put on the candle jar, and everything looks fantastic. New scents include Hippie Hollow- a vetiver lemon scent, Brasilia- a rosewood musk scent, and Violet Pepper.
Wary Meyers
dear ada
It's been nearly 5 years since I began writing dear ada. Some 3,100+ posts later, I find myself at a crossroad. What started out as a love letter to a dear friend, over time has also became a personal exploration and celebration of amazing art and artists throughout the world. This blog has turned out to be a wonderful journey where I've "met" such lovely people, all of whom share a deep love and appreciation for art in the world. It has been such a joyful ride. Also, in the process of writing dear ada, I found a new energy and desire to make art again.
jamsnation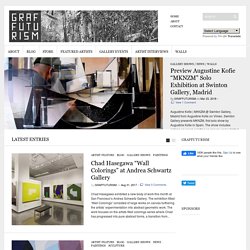 Mural Update "OGARNA 2.0″ by Urban Forms Foundation in Gdansk Poland Urban Forms Foundation continues to raise the bar with their public art projects. The newest project "Orgarna 2.0 was put together by Urban forms and took place in Old town of Gdansk Poland. The artists included Mariusz M-city Waras, Daniel Chazme, Krzysztof Syruć Proembrion, Wojciech Otecki, Bartek Świątecki Pener, Cekas, Adam Romuald Kłodecki, Maciej Pakalski,... Video Mural Update KNARF, MAFIA and FRESH MAX "3500″ EIN WANDBLATT AUS WIEN_ 3 5 0 0 from wandblatt on Vimeo.
GRAFFUTURISM
Curated Marketplace-Art Gallery-Art Wall Online
WebUrbanist | From Urban Art & 3D Graffiti to Abandoned Cities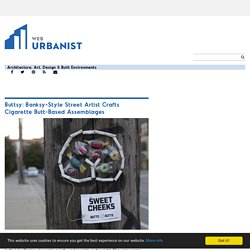 Analog stickering is taking on a new dimension in the hands of these street artists, a pair of creatives selectively defacing signs, billboards, mailboxes, graffiti and more. Click Here to Read the Rest of This Article Bad Ads?