Beauty
How To Put Your Hair Up In A Cute Bun | Guide « Wonder How To. Comb your hair carefully to eliminate any tangles or knots.Take some hair from the top of your head. 3.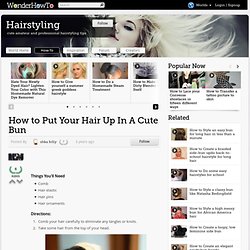 Tie off this hair with a hair elastic. 4. Don't pull off the ends. 5. Makeup Mon...errr Tuesday: Green Eyes. First, I know it's Tuesday and I'm predictably late with Makeup Monday.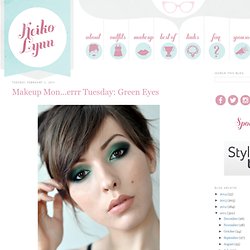 I hope the lack of alliteration doesn't detract from the post; I promise that I have lots of great excuses for not putting this up yesterday. Or, I fell asleep. One of my first forays into the wonderful world of bright eyeshadow was with a beautiful shade of green from Milani (whose older shadows were amazing), and I was forever hooked. Green has since become the most popular color in my rather large makeup collection, though I can't remember the last time I gave them a proper spotlight. That was rectified immediately, upon my recent purchase of the Urban Decay Black Palette, which has a beautiful dark emerald that was surprisingly missing from my arsenal.
Hair Tutorial: The Perfect Mermaid Curls. Although "perfect" is a relative term, this method for curling hair is pretty much perfect by my standards, mostly because it isn't fussy.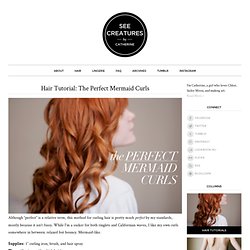 While I'm a sucker for both ringlets and Californian waves, I like my own curls somewhere in between: relaxed but bouncy. Mermaid-like. How to curl your hair with a sock! No heat. How to make your own pore strips. You know those Biore pore strips you buy at the drugstore for about $12 a pop? Yeah, those. Today I'm going to teach you how to make your own homemade pore strips. 25 Beauty Tips Reusing Household Items – Homemade Beauty Tips on ELLE. 1.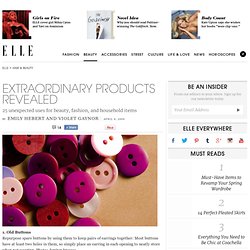 Old Buttons Repurpose spare buttons by using them to keep pairs of earrings together: Most buttons have at least two holes in them, so simply place an earring in each opening to neatly store when not wearing. Photo: Jupiter Images 2. Eyebrow Brush Stuck without a lint-remover? Use this handy makeup tool to remove unwanted fuzz from your shirt.
Sea of Shoes: HAIR HOW-TO. I am sometimes asked how I style my hair, and while my method is far from perfect, I thought I'd show you how!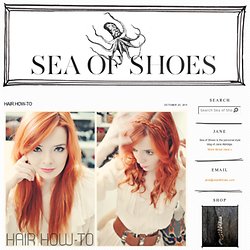 My hair is pretty straight and fine naturally and I always let it air dry. Since I go about three days between washes, I like to curl it on the first day and let it mellow out into some nice waves over the next two. Let's get started! If your hair doesn't hold curl very well then you may want to put a palmful of curling mousse in it when it is halfway dry. Follow the Trend With Colorblocked Nails! Why not try it out on your nails instead?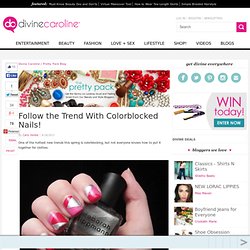 You can keep it simple within the same color family or go bold and crazy—whatever suits your mood! Step 1: Get Your Supplies Together.
---