Merabbihakim
A l'ombre des jeunes filles en fleurs
tu perds ton temps sur le net ma fille
Akon.com The Official Site | | The Official Site for Akon | Here you'll find the latest news, music, videos, albums, tours and more for Akon.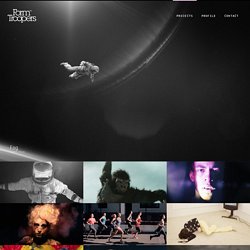 FormTroopers™ - Motion Graphics and Graphic Design
FormTroopers is a Copenhagen based multi-disciplinary design studio established by creative duoJeppe Bingestam and Toke Blicher Møller. Since 2009 we've directed and produced work that combinedesign, animation, live action and visual effects. At the core of all our projects is the design. Our goal is always to make whatever we are working on look great - and always using whatever techniques and media that are appropriate. Over the years we have worked on Commercials, Motion Pictures and Television for clients such as Adidas, Formula 1, Pepsi, Discovery Channel and MTV - just to name a few. We have a sincere desire to create and we love what we do,and so we take on every job with absolute commitment.
I can Read Movies
Art Design Montreal : Julien De Repentigny
The Dieline's Latest Top 10 Package Designs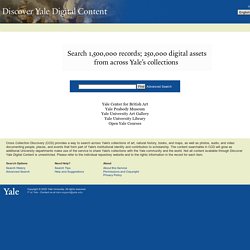 Cross Collection Discovery (CCD) provides a way to search across Yale's collections of art, natural history, books, and maps, as well as photos, audio, and video documenting people, places, and events that form part of Yale's institutional identity and contribution to scholarship. The content searchable in CCD will grow as additional University departments make use of the service to share Yale's collections with the Yale community and the world. Not all content available through Discover Yale Digital Content is unrestricted. Please refer to the individual repository website and to the rights information in the record for each item.
Base d'images INHA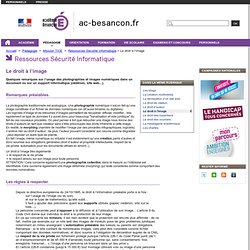 Remarques préalables. La photographie traditionnelle est analogique. Une photographie numérique n'est en fait qu'une image constituée d'un fichier de données numériques (on dit aussi binaires ou digitales).Les logiciels d'image et de retouches d'images permettent de récupérer, diffuser, modifier... très rapidement ce type de données Il y aurait donc pour beaucoup "banalisation et vide juridique" du fait de ces nouveaux procédés. On peut penser à tort que retoucher une image nous donne des droits d'auteurs en tant que créateur sans s'être préoccupés des droits inhérents à cette image.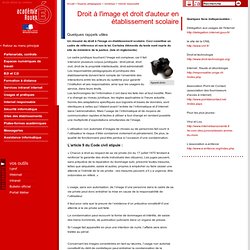 Appareil photo Le cadre juridique touchant l'image est complexe, car il fait intervenir plusieurs corpus juridiques : droit pénal, droit civil, droit de la propriété intellectuelle, droit administratif. Les responsables pédagogiques et juridiques des établissements doivent tenir compte de l'ensemble des interactions entre les acteurs du système pour garantir l'institution et ses responsables, ainsi que les usagers du service, dans leurs droits. Les technologies de l'information n'ont dans les faits rien et tout modifié.
Droit à l'image et droit d'auteur en établissement scolaire
Acdémie Reims
Formation cartes mentales
artistes femmes fraclimousin
Planet Yang
les moustaches sonores (Franz Gallo)
demenagement ! Parce que la PUB sur canalblog y'en a marre , ce blog bouge ICI ! Ca marche aussi en cliquant sur l'image hein .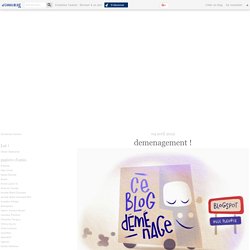 // Exhibition and presentation of the series "Laura Varsky & Ángel Estrada" (notebooks, notepads and folders) at Bookshop and Gallery Moebius. March 21 - Buenos Aires - Av. Sta. Fe 2729 / 20 Hs. Argentina // Exposición y presentación de la serie "Laura Varsky & Ángel Estrada" (cuadernos, blocks y carpetas) en Librería y Galería Moebius. 21 de Marzo - Buenos Aires - Av. Sta.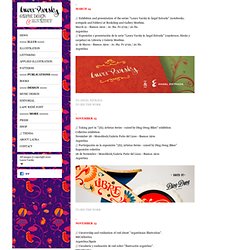 news : Laura Varsky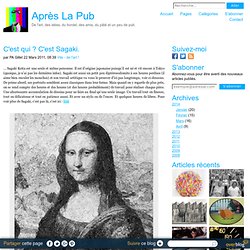 est qui ? C'est Sagaki.
... Sagaki Keita est une seule et même personne. Il est d'origine japonaise puisqu'il est né et vit encore à Tokyo (quoique, je n'ai pas les dernières infos). Sagaki est aussi un petit peu diptérosodomite à ses heures perdues (il aime bien enculer les mouches) et son travail artitique va vous le prouver d'ici pas longtemps, voir ci-dessous. De prime abord, ses portraits semblent assez classiques dans leur forme.
index.html
Kerry Ropper
Adam Connelly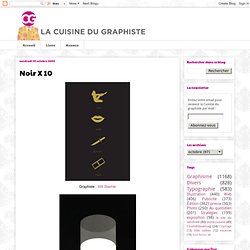 octobre 2009
Si vous êtes à Paris le 14 novembre prochain, guettez un bus aux couleurs de Mailorama (un site spécialisé dans le remboursement partiel des achats effectués sur des sites de commerce en ligne).Le 14, donc, ce bus se rendra entre 14H et 17H dans trois endroits de la capitale pour donner 5 000 bourses qui contiendront chacune entre 5 et 500 euros.La Préfecture de police a indiqué à l'AFP qu'elle «étudi(ait) avec attention le risque de trouble à l'ordre public que pourrait représenter cette distribution d'argent».Ça c'est de la com ! Source Stratégies
Here's a glorious bit of design nostalgia for the New Year. It's hardly a new find on the web; designer Nick Job first started this archive of the British Rail identity manuals in 2011, but I've just been reminded of it. Somehow I've never written about it either, which is a bit of an oversight given the entirely-unofficial and tongue in cheek name of this site: the British Rail alphabet and signage guidelines were also used by the British Airports Authority and National Health Service, making them as much a government standard as Britain ever usually manages. The alphabet had two variants, one for dark-on-light type and one for light-on-dark. Light (and illuminated) type on dark backgrounds creates an optical effect known as 'halation' - i.e. it develops a halo, a slight sense of the letterforms being thicker than they are.
Art of Vincent Hui
Marianne Ratier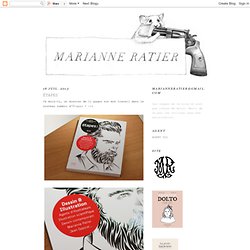 Illustration et interview pour le très beau magazine australien de mode enfantine Papier Mache. When did you first decide you wanted to be an artist ? When I was a little girl I wanted to make kids' books. But after my Baccalaureate, I thought it would be too difficult to make a good living from drawing. So I went on to study Art, and then Applied Arts. After which I worked in advertising for a while.