Animals
Pea-Sized Frog. Aug. 25, 2010 - Researchers have discovered a new species of frog in Borneo which only grows to the size of a pea.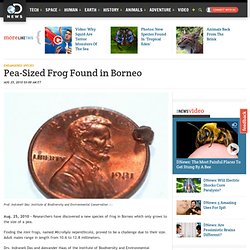 Finding the mini frogs, named Microhyla nepenthicola, proved to be a challenge due to their size. Adult males range in length from 10.6 to 12.8 millimeters. Drs. Indraneil Das and Alexander Haas of the Institute of Biodiversity and Environmental Conservation at the Universiti Malaysia Sarawak, and Biozentrum Grindel und Zoologisches Museum of Hamburg, respectively, tracked the amphibians by their call. The bernese mountain dog home page. Polar bear baby with man. Whale next to man. Chain Reaction. Owl with his head down. Elephant and her baby. Mimic Octopus.
Puppies All Carrying One Stick. What Do Pets Do When You Are Gone. Little White Puppy. Animal Pictures. Maltese Puppy. Man Touching Whale. Dog Breeding Website. Life Advice from Murphy. Play more.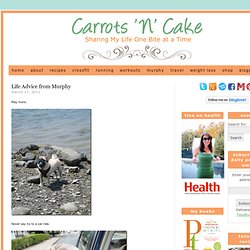 Never say no to a car ride. Don't be afraid to look silly. Breathe deeply. Make exercise fun. Travel as much as possible. Deer And Dog. Dog with Chicks. 70 Cutie Baby Animals Bring You a Good Mood | The Design Inspiration - StumbleUpon. Cuteness is usually characterized by some combination of infant-like physical traits, especially small body size with a disproportionately large head, large eyes, and round and softer body features.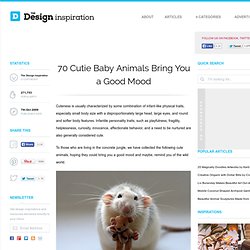 Infantile personality traits, such as playfulness, fragility, helplessness, curiosity, innocence, affectionate behavior, and a need to be nurtured are also generally considered cute. To those who are living in the concrete jungle, we have collected the following cute animals, hoping they could bring you a good mood and maybe, remind you of the wild world. Spider Cat.
---