Visualization
mitozoos - application
description Mitozoos is an interactive artificial life model created with the objective that through experimentation and play participants will understand t he relationship between genetic code and life.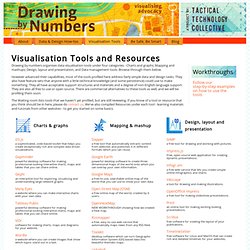 Drawing by numbers organises data visualisation tools under four categories - Charts and graphs; Mapping and mashups; Design, layout and presentation; and Data management tools. Browse through them below. However advanced their capabilities, most of the tools profiled here address fairly simple data and design tasks.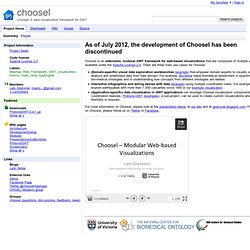 Choosel is an extensible, modular GWT framework for web-based visualizations that are composed of multiple views. It is available under the Apache License 2.0 . There are three main use cases for Choosel:
crowdflow.net | combining crowdsourced geodata
3d Sensing and Visualization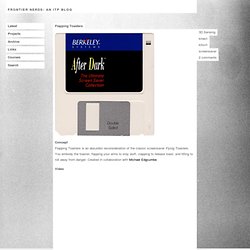 Flapping Toasters | Frontier Nerds
Concept Flapping Toasters is an absurdist reconsideration of the classic screensaver Flying Toasters . You embody the toaster, flapping your arms to stay aloft, clapping to release toast, and tilting to roll away from danger. Created in collaboration with Michael Edgcumbe . Video Screenshots Clockwise from top left: Basic flapping / Multi-player / Tilting to roll / Clapping to release toast.
TSPS
Documentation « TSPS
James George | open source
Toolkit for Sensing People in Spaces OpenTSPS is an application and code base for creating interactive software through computer vision. Designed for use in art, commercial, and educational environments.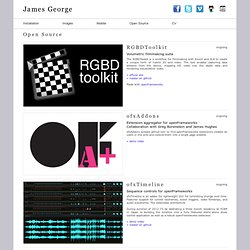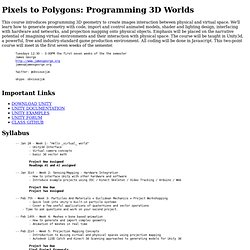 Pixels to Polygons: Programming 3d Worlds
This course introduces programming 3D geometry to create images interaction between physical and virtual space. We'll learn how to generate geometry with code, import and control animated models, shader and lighting design, interfacing with hardware and networks, and projection mapping onto physical objects. Emphasis will be placed on the narrative potential of imagining virtual environments and their interaction with physical space. The course will be taught in Unity3d, a powerful, free and industry-standard game production environment. All coding will be done in Javascript. This two-point course will meet in the first seven weeks of the semester.
Avoir absolu