Tutos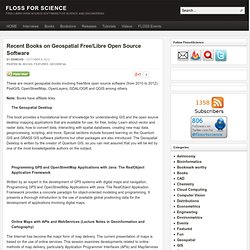 Recent Books on Geospatial Free/Libre Open Source Software
These are recent geospatial books involving free/libre open source software (from 2010 to 2012): PostGIS, OpenStreetMap, OpenLayers, GDAL/OGR and QGIS among others. Note: Books have affiliate links. The Geospatial Desktop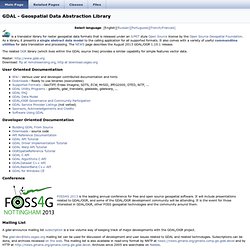 Select language: [English][Russian][Portuguese][French/Francais] is a translator library for raster geospatial data formats that is released under an X/MIT style Open Source license by the Open Source Geospatial Foundation. As a library, it presents a single abstract data model to the calling application for all supported formats.
GDAL - Geospatial Data Abstraction Library
Horde (software)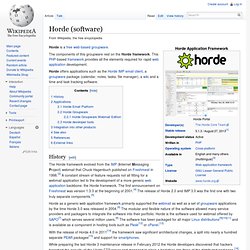 Horde is a free web-based groupware. The components of this groupware rest on the Horde framework. This PHP-based framework provides all the elements required for rapid web application development.
Designing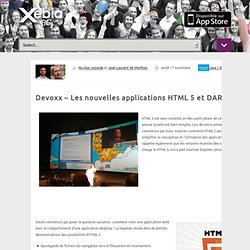 Devoxx – Les nouvelles applications HTML 5 et DART
HTML 5 est sans conteste un des sujets phare de ce Devoxx 2011. Pour preuve la salle est bien remplie. Lors de cette présentation David Chandler commence par nous montrer comment HTML 5 peut nous aider à simplifier la conception et l'utilisation des applications Web. Il nous rappelle également que les versions récentes des navigateurs prennent en charge le HTML 5, mis à part Internet Explorer (étonnant non ?) David commence par poser la question suivante : comment créer une application Web avec le comportement d'une application desktop ? La réponse réside dans de petites démonstrations des possibilités d'HTML 5 :
L'application Xebia pour iOS a été mise à jour spécialement à l'occasion de la conférence Devoxx France 2014 pour vous permettre de suivre le programme depuis votre iPhone ou votre iPad. Vous pourrez ainsi retrouver dans le menu de votre application: Le planning de la journée d'université, ainsi que les 2 journées de conférence.La liste des speakersLe programme par track et par salle Vous pourrez également voter pour donner votre feedback sur les conférences grâce à un système de vote qui sera activé automatiquement au sein de l'écran de détail d'une session 10 minutes après son démarrage.