Tutos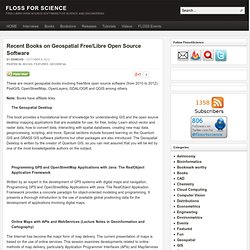 Recent Books on Geospatial Free/Libre Open Source Software
These are recent geospatial books involving free/libre open source software (from 2010 to 2012): PostGIS, OpenStreetMap, OpenLayers, GDAL/OGR and QGIS among others. Note: Books have affiliate links. The Geospatial Desktop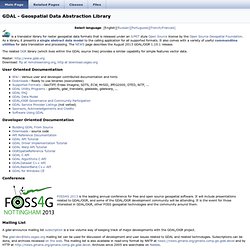 Select language: [English][Russian][Portuguese][French/Francais] is a translator library for raster geospatial data formats that is released under an X/MIT style Open Source license by the Open Source Geospatial Foundation. As a library, it presents a single abstract data model to the calling application for all supported formats.
GDAL - Geospatial Data Abstraction Library
Horde (software)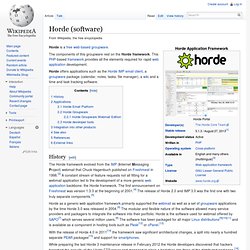 Horde is a free web-based groupware. The components of this groupware rest on the Horde framework. This PHP-based framework provides all the elements required for rapid web application development.
Designing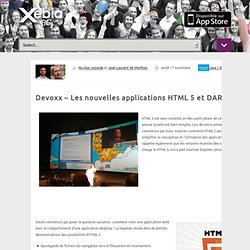 Devoxx – Les nouvelles applications HTML 5 et DART
HTML 5 est sans conteste un des sujets phare de ce Devoxx 2011. Pour preuve la salle est bien remplie. Lors de cette présentation David Chandler commence par nous montrer comment HTML 5 peut nous aider à simplifier la conception et l'utilisation des applications Web. Il nous rappelle également que les versions récentes des navigateurs prennent en charge le HTML 5, mis à part Internet Explorer (étonnant non ?) David commence par poser la question suivante : comment créer une application Web avec le comportement d'une application desktop ? La réponse réside dans de petites démonstrations des possibilités d'HTML 5 :
Xebia aura le plaisir d'accueillir ce mardi le premier French Kanban User Group (FKUG). L'événement se déroulera le 21 Janvier à partir de 18h30, dans les locaux de Xebia situés au 156 Boulevard Haussmann (Paris 8), au 7ème étage. Cet événement, gratuit, est ouvert aux membres inscrits au Meetup FKUG (à l'heure où j'écris ces quelques lignes les 30 places disponibles ont été réservées). La rencontre débutera par une présentation des objectifs du FKUG, d'environ 20 min, qui sera l'occasion de faire connaissance et de répondre aux questions des participants.La session sera ensuite suivi par la présentation de deux retours d'expérience client, sur les pratiques Kanban :