Python
Companies and collaboration Give every user their own phone number, web phone, personal conference line, and voicemail (with transcription). Dial whole departments, and share voicemail messages with the team. Phone tree designer Build better customer experiences with advanced menus, text-to-speech, call recording and more, using a dead-simple, drag 'n drop call flow designer.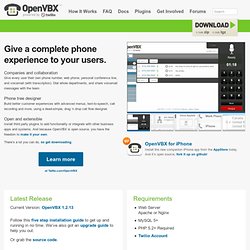 OpenVBX: the Web-based, Open Source Phone System for Business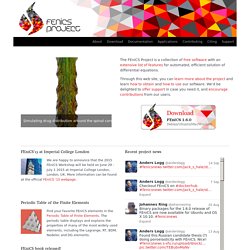 Automated Solution of Differential Equations by the Finite Element Method — FEniCS Project
FEniCS'14 at The Center in Paris, University of Chicago The 2014 FEniCS Workshop will be held 16-17 June 2014 at The Center in Paris, University of Chicago, Paris, France. Information on registration and on reaching the workshop can be found here. FEniCS'13 at University of Cambridge The 2013 FEniCS Workshop was held 18-19 March 2013 at Jesus College, Cambridge.
FEniCS tutorial (Python) — FEniCS Project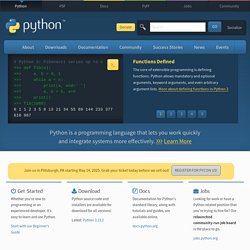 Get Started Whether you're new to programming or an experienced developer, it's easy to learn and use Python. Start with our Beginner's Guide Download
2orPython3
What are the differences? Short version: Python 2.x is legacy, Python 3.x is the present and future of the language Python 3.0 was released in 2008.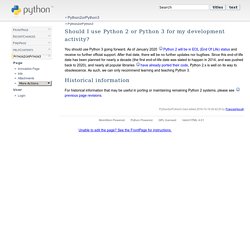 Cython is an optimising static compiler for both the Python programming language and the extended Cython programming language (based on Pyrex). It makes writing C extensions for Python as easy as Python itself. Cython gives you the combined power of Python and C to let you write Python code that calls back and forth from and to C or C++ code natively at any point.easily tune readable Python code into plain C performance by adding static type declarations.use combined source code level debugging to find bugs in your Python, Cython and C code.interact efficiently with large data sets, e.g. using multi-dimensional NumPy arrays.quickly build your applications within the large, mature and widely used CPython ecosystem.integrate natively with existing code and data from legacy, low-level or high-performance libraries and applications. The Cython language is a superset of the Python language that additionally supports calling C functions and declaring C types on variables and class attributes.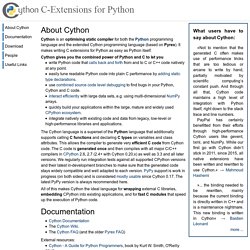 Cython: C-Extensions for Python
Get Traits, Chaco, and Mayavi, as well as all the other open source projects that Enthought has created for building scientific applications: Enaml: Library for creating professional quality user interfaces combining a domain specific declarative language with a constraints based layout. TraitsUI: A UI layer that supports the visualization features of Traits.
Enthought, Inc. :: Open Source Python Software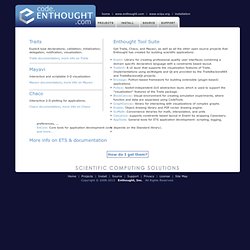 The Enthought Tool Suite (ETS) is a collection of components developed by Enthought and our partners, which we use every day to construct custom scientific applications. It includes a wide variety of components, including: an extensible application frameworkapplication building blocks 2-D and 3-D graphics libraries scientific and math libraries developer tools
Tool Suite :: Enthought, Inc.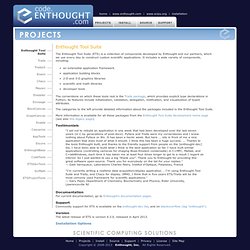 Enthought Tool Suite
This wiki and issue tracer contain documentation of the Enthought Tool Suite through January 2011, and are still useful for reference. We are gradually migrating these reference pages to the current ETS site https://github.com/enthought/mayavi . Please submit all new issues and comments to the ETS github site.
MayaVi – ETS
NumPy is the fundamental package for scientific computing with Python. It contains among other things: a powerful N-dimensional array object sophisticated (broadcasting) functions tools for integrating C/C++ and Fortran code useful linear algebra, Fourier transform, and random number capabilities